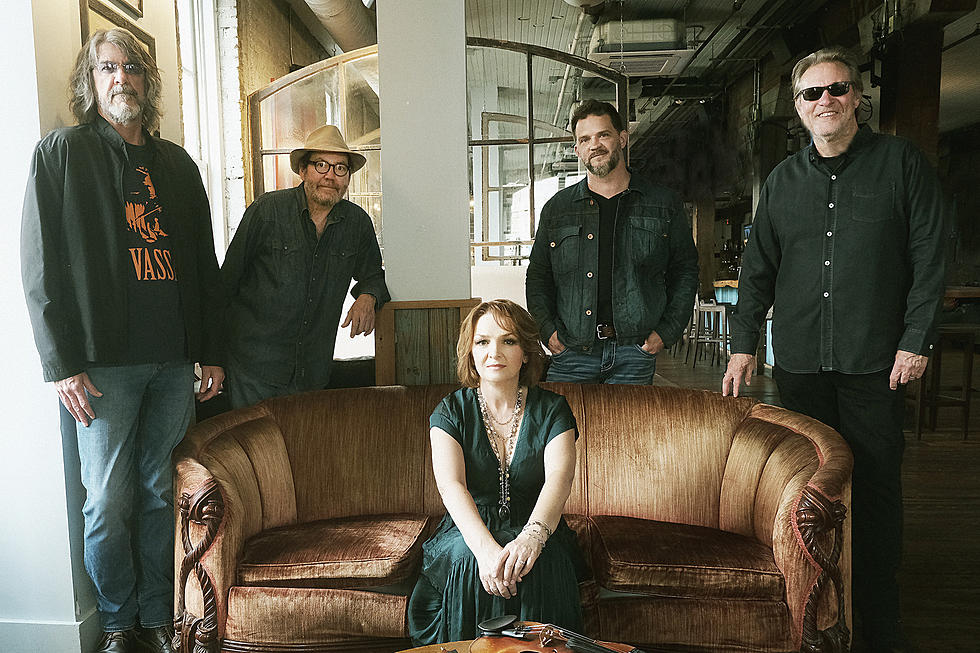 SteelDrivers' 2023 Ridin' the Rails Tour Is Their Biggest Yet: 'It Feels Like a Long Time Coming'
Anthony Scarlati
The SteelDrivers are hitting the road in 2023 for their most extensively planned tour to date. The Grammy-winning bluegrass group launched their 2023 Ridin' the Rails Tour in late March, and in a new interview, founding member Tammy Rogers says it's been a long road back from what she ruefully calls "the COVID years."
2023 actually marks the first time the group have rolled out their entire year of tour dates at once.
"We've announced seasonally in years past; spring tour, fall tour or whatever," Rogers — who plays the fiddle and sings harmony in the group — tells Taste of Country.
Though the SteelDrivers have toured sporadically since COVID, the new dates really represent the first time the group has recovered its momentum.
"We had a really big year lined up in 2020, which, like everybody's, got completely blown up," she says. "It feels like a long time coming."
Rogers — who helped found the SteelDrivers in 2008 — says the group will probably add even more dates to the tour, bringing the total to between 50-60 concerts for the year.
The SteelDrivers are also working on music for a new project that will mark their first new release since Bad for You in 2020. Rogers says fans can look for some live previews of new material "probably starting sometime in mid-summer," with an eye toward a fall release.
"It'll be nice. Our last record came out in 2020, in February, of all times," she says with a frustrated sigh that turns into a laugh. "We got five weeks of really solid touring that year, and we'd worked so hard at the timing of everything ... and who could've predicted it?"
"It was very, very difficult" for the group to lose that revenue and momentum, she admits, but fortunately, Rogers and her husband, celebrated Nashville guitarist Jeff King, were able to turn their attention to studio work from home, along with many of the other band members.
The challenges of that time period actually proved too much for SteelDrivers singer Kelvin Damrell, who announced his departure from the group in July of 2021 and returned to a job outside of the music business.
The 2023 Ridin' the Rails Tour features Rogers, bass player Michael Fleming, banjo player Richard Bailey, mandolin player Brent Truitt and lead vocalist Matt Dame, who's actually the fourth singer Rogers has sung harmony with since the group's debut in 2008. A pre-fame Chris Stapleton was the SteelDrivers' lead singer from 2008-2010, followed by Gary Nichols (2010-2018), Damrell and now Dame, who joined upon Damrell's departure.
"We've been really fortunate with this band that, even though we've had different voices, by and large they've all had a similar quality and style," Rogers notes. "And now Matt — he certainly has a gritty quality to his voice, but in some ways, he's a little bit more, hearkens to a country kind of singer."
The SteelDrivers' 2023 Ridin' the Rails Tour launched on March 31, and it's currently set to run through Nov. 11, when it will wrap up in Ft. Pierce, Fla. For more information, visit the group's official website.
The Best Country Singer From Every State
Some states, like Oklahoma and Texas, are loaded with famous country singers. Others, like Nevada and Maine, are still looking for a real breakthrough artist. See the best and most successful country music artist from all 50 states, starting with
Hank Williams
and Alabama.
More From Taste of Country