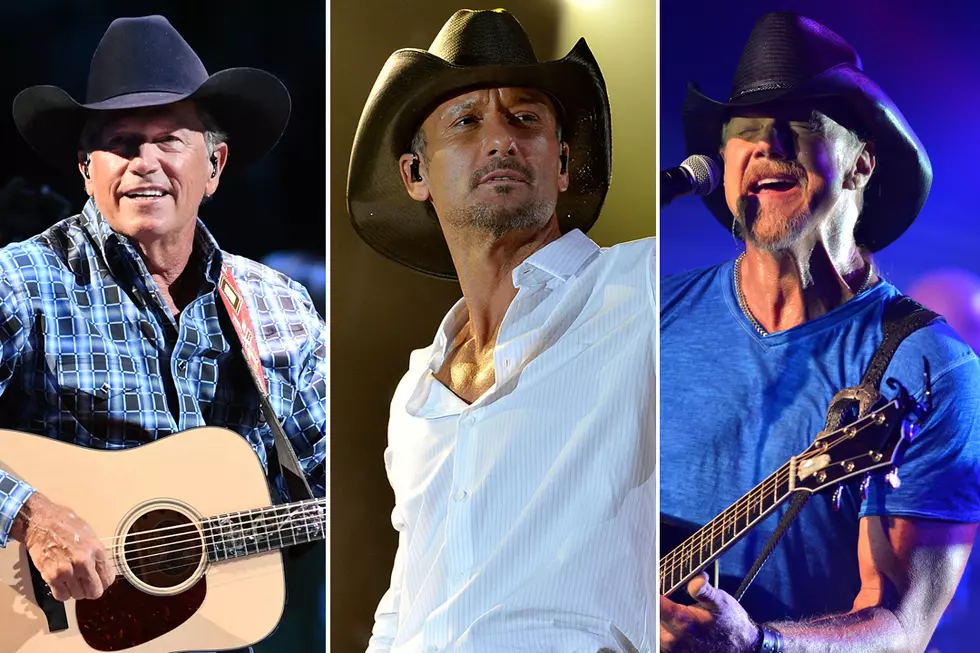 20 Terrible Country Songs by Great Artists
Ethan Miller / Jason Davis / Frederick Breedon IV, Getty Images
Hey, nobody's perfect. Some of the most beloved artists in country music occasionally miss what they're swinging at and wind up releasing a bad song or two. We still love them anyway!
We didn't discriminate when compiling this list of terrible country songs by great artists. You'll find titles from men and women, from contemporary stars and some of the most classic artists that made the country music genre what it is.
Some of these terrible songs by great artists were big hits, and we know some of them will cause quite a bit of back-and-forth, since one man's treasure is another man's trash. You can't expect to list songs from artists as big as Tim McGraw, Toby Keith, Alan Jackson and Shania Twain without ruffling some feathers, after all. Even legends like Johnny Cash are not exempt (sorry).
Scroll through our list of 20 terrible country songs from great artists, and let us know if you agree or disagree.
20

"Indian Outlaw"

Tim McGraw

Yes, we know — a lot of you really like this song from McGraw's breakthrough Not a Moment Too Soon album. It also gave him his first Top 40 hit and led to the rest of his career, which is chock full of great songs. Unfortunately, with lyrics including "You can find me in my wigwam / I'll be beatin' on my tom-tom / Pull out the pipe and smoke you some / Hey and pass it around," this song is so cliched and trite that it had to be included on the list of terrible country songs from great artists.

19

"She Thinks My Tractor's Sexy"

Kenny Chesney

Kenny Chesney has had all kinds of great songs over the years, including gems like "You and Tequila," "There Goes My Life" and more. But for many fans (and especially critics), "She Thinks My Tractor's Sexy" remains a real head-scratcher. "She thinks my tractor's sexy / It really turns her on / She's always starin' at me / While I'm chuggin' along," Chesney sings over the top of a music track that's so relentlessly frenetically energetic that it either makes you want to dance along, or turn it off and never hear it again.

18

"Save a Horse (Ride a Cowboy)"

Big & Rich

It's not overstating the case to say that Big & Rich touched off a revolution when they released "Save a Horse (Ride a Cowboy)" to country radio in 2004. It was one of the first successful songs to blend country and rap, a fact that draws praise from some quarters and condemnation from others. But even leaving aside the question as to whether those two genres should have ever been combined, the hyper-masculine posturing of the lyrics can wear thin in a hurry.

17

"Chattahoochee"

Alan Jackson

Okay, okay ... before you get all crazy and demand, "How dare you include Alan Jackson on a list of terrible country songs by great artists?" let us just point out that the opening lines to this song are, "Way down yonder on the Chattahoochee / It gets hotter than a hoochie coochie." So we rest our case.

16

"Boys Round Here"

Blake Shelton

Blake Shelton has scored a long string of great songs ... and then there's "Boys Round Here." Released in 2013 at the height of the bro-country craze, it comes off as an older artist than that demographic trying to chase artists younger than him and their fans by pandering. And while there's no denying the absolute catchiness of the track, it out-clevers itself with lines like, "Backwoods legit, don't take no s--t / Chew tobacco chew tobacco chew tobacco spit." 

15

"Chicken in Black"

Johnny Cash

See? Even a country icon like Johnny Cash has an off moment or two. In 1984, the country legend released "The Chicken in Black," which is truly one of the most perplexing songs ever released in country music. The lyrics are a self-parody of Cash's serious "Man in Black" image, telling of Cash's brain being transplanted into a chicken while Cash received a bank robber's brain in return. Some have suggested Cash deliberately recorded a bad song to protest Columbia Records' indifference to his new music, but biographer Robert Hilburn says Cash willingly participated, only to withdraw the single and video after Waylon Jennings told him it made him look foolish.

14

"Big Blue Note"

Toby Keith

Toby Keith is known for his patriotic anthems and drinking songs, but this bizarrely cheerful heartbreak song from 2005 just doesn't work. In "Big Blue Note," the protagonist finds a big blue note from his wife informing him that she has left, but the morose theme is set to an inanely upbeat music track and coupled with a spoken word vocal performance from Keith that makes it even worse. That said, the song still went all the way to No. 5 on Billboard's Hot Country Songs chart.

13

"River of Love"

George Strait

George Strait has landed 60 No. 1 hits, more than any other artist in country music. One of the was "River of Love," which gave the King of Country his 44th No. 1 hit in 2008. But despite its success, "River of Love" lands on the list of terrible country songs by great artists chiefly because of trite lyrics including, "I've got the paddle, I've got the boat / Come on baby I know she'll float / We'll go rollin' on the river of love."

12

"Stuck Like Glue"

Sugarland

You can't accuse "Stuck Like Glue" of being false advertising. This Sugarland track will indeed get stuck like glue in your head after hearing it, but not necessarily in a good way. The short bursts of phrasing and herky-jerky production elements make it catchy, but they are also the parts that make it so annoying, especially when you can't forget them. Jennifer Nettles' ill-advised attempt at a sort of Jamaican-rap fusion doesn't help things, either.

11

"Party for Two"

Shania Twain

Shania Twain was at the peak of her career when she released "Party for Two," which went to country radio as a duet with then-newcomer Billy Currington. The track is just lightweight fluff with no substance, featuring a fairly unremarkable guitar-driven dance track and a terribly silly lyric: "It doesn't matter what you wear / 'Cause it's only gonna be you and me there / I'm having a party / A party for two / Invitin' nobody / Nobody but you." That didn't stop "Party for Two" from becoming a hit all over the world in multiple genres, including a pop remix with Sugar Ray singer Mark McGrath.

10

"I Love My Truck"

Glen Campbell

Glen Campbell is one of the most beloved singers and guitarists in history, and his hits have been loved by generations. You can't argue that "I Love My Truck" is one of the high points in Campbell's decades of music, though. The song, which appeared on the soundtrack to the movie The Night the Lights Went Out in Georgia, seems almost like it's meant as a joke, but you can't quite tell who the joke is on with hokey lyrics including, "Well, I just don't care / When them times get hard / 'Cause I got everything I need / Right out in my yard / I love my truck/ She's right outside / I ain't got much luck / But I sure got a ride / It don't matter who lived / It don't matter who lied / I got my truck right by my side."

9

"Brown Chicken Brown Cow"

Trace Adkins

We apologize in advance to Trace Adkins, who is much, much bigger than us (and most other people). But we bet even he would have a hard time defending "Brown Chicken Brown Cow" in retrospect. The song was very obviously intended tongue-in-cheek, but there's tongue-in-cheek, and then there's just plain ol' dumb. "Brown Chicken Brown Cow" talks about a country couple who want to get frisky in the barn, so they're "climbin' up the ladder, clear to the loft / Shuckin' those dirty ol' work clothes off / Singin' brown chicken, brown cow / (Ain't nobody watchin' but the) / Brown chicken, brown cow / Yeah." A video featuring Muppets getting their freak on did not improve the matter, and the song, which peaked at No. 39, was withdrawn from release after just nine weeks, with Adkins later publicly apologizing to radio insiders at the Country Radio Seminar in 2011 for sending them the song.

8

"Watermelon Crawl"

Tracy Byrd

Tracy Byrd has released beloved songs including "Holdin' Heaven" and "The Keeper of the Stars," but "Watermelon Crawl" is probably not going to be on anyone's list of classic country tracks. Released in 1994, the song was a hit, but has been widely ridiculed for the premise of its lyrics, which admonish people not to drink and drive, but instead take part in a dance: "He said we got a hundred gallons of sweet red wine / Made from the biggest watermelons on the vine / Help yourself to some but obey the law / If you drink don't drive do the Watermelon Crawl."

7

Craig Morgan is at his best when he's singing down-home country songs about the simple life and American values, as he did so successfully in "That's What I Love About Sunday" and more classic tracks. He is not at his best singing dreck like "Corn Star," which comes off like an older artist trying to chase a radio trend that couldn't be a worse fit. The song is trying to be sexy and clever, talking about a local country girl who's sexier than anything you'd see in a magazine, but with lyrics like, "No, you won't see her in the centerfold of Playboy magazine / No, she's too busy gettin' dirty in a field of green / She's a corn star / The talk of the crop at every county fair y'all / Corn star / Blue ribbon winner for the last five years," the song is just hopelessly dead on arrival.

6

"I Don't Want to Miss a Thing"

Mark Chesnutt

Mark Chesnutt is one of country music's staunchest traditionalists, and he admits that he regrets recording this Aerosmith hit in a country version to this day. "I Don't Want to Miss a Thing," which was forced on him by his record label, was the last of his eight No. 1 hits, and fan backlash was strong from his traditional-minded fans, while his reluctance to record more songs in the same vein had a negative impact on his label career. Even worse, "George Jones got mad at me for doing that," Chesnutt recalls. "I don't blame him. I don't blame him at all. Here's this guy singing 'Bubba Shot the Jukebox,' 'Too Cold at Home' … I'm doing all these country songs, and then all of a sudden, here I am singing with a big-ass orchestra behind me, doing an Aerosmith cover."

5

Okay, now we've gone and really made you mad. We know what you're thinking ... Tom T. Hall is one of the greatest singer-songwriters in country music history! And he is, we're not arguing. But despite this song's status, we offer these lyrics as proof that it belongs on the terrible country songs by great artists list: "I love leaves in the wind / Pictures of my friends / Birds of the world and squirrels." Now, picture Taylor Swift singing that. Are you still so quick to defend it?

4

What the truck was Tim McGraw thinking when he recorded this thinly-premised song? This is another one that seems like an older artist chasing themes better suited for a younger artist, if anyone at all should have recorded this song. The whole song seems built around the single notion of creating a moment where people can put their fists in the air and scream "Truck yeah," and while that's okay for a truck advertisement, it's not much to hang an entire song around.

3

"I'll Come Back as Another Woman"

Tanya Tucker

Uh ...  just to clarify, how exactly are you gonna do that, Tanya? In this track from 1982, Tucker bizarrely promises that she will return to life as someone else to steal the heart of the man who has hurt her so she can hurt him in return. The lyrics don't actually get around to explaining how that might be remotely possible, and even if it was, if the narrator died right this second and was reborn later today, by the time she got to adulthood wouldn't this dude be way out of her age range, or even dead? Seems like this revenge plot might need a wee bit of work.

2

"Scarlet Fever"

Kenny Rogers

Kenny Rogers has had such an amazing career that covers so much musical ground, it's easy to forget this incredibly ill-conceived song from 1983. "Scarlet Fever" was a No. 5 hit for Rogers at the time, but the story of an underage stripper and the older man who becomes obsessed with her seems really creepy in retrospect, despite its peppy pop production. "She looked 25 but I was told she was just 16 / She had a way of making a man believe she danced for only him / As she tantalized I fantasized and felt the sound of my heart beat / And every night I'd dream she'd fall in love with me," Rogers sings.

1

"Country Rap"

Bellamy Brothers

The Bellamy Brothers have recorded a long, long list of hits and have had a huge career all over the world. They were pioneers in some ways, too, as is the case with "Country Rap" from 1987. The brothers have claimed that it was the first country rap song, and that may be so, but that doesn't make it good. The song is actually neither quite country nor rap; it's a kind of country-blues hybrid with spoken word, with some truly silly lyrics: "We got pickup trucks, chicken clucks / Happy even when we're down on our luck / We got fatback, that's a fact / And if you don't know that's a country rap."
More From Taste of Country