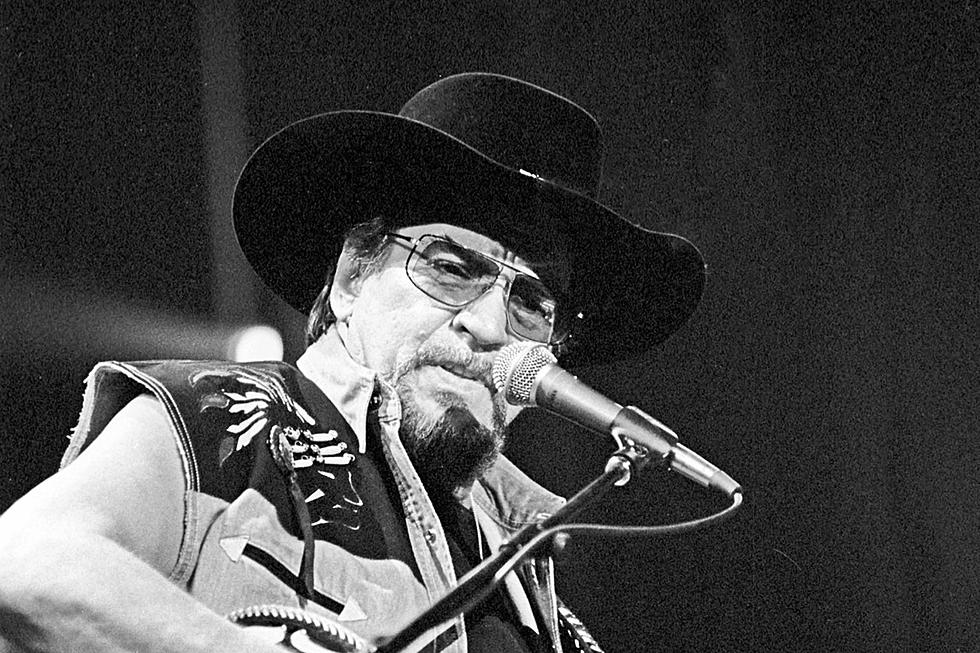 Waylon Jennings' 10 Best Songs Show His Outlaw Side
Rusty Russell, Getty Images
Waylon Jennings died 2002, at the age of 64, one year after being inducted into the Country Music Hall of Fame. Throughout his career, however, he remained an honest artist fighting to record the music inside him the way he wanted to hear it.
Jennings' career began in 1958, when he became a member of Buddy Holly's Crickets. After Holly's death one year later, on Feb. 3, 1959, Jennings spread his wings as a solo artist and found a home of his own in country music.
Below, Taste of Country has compiled a list of songs that best represent the career of this legendary outlaw, from popular Willie Nelson duets to the theme from The Dukes of Hazard to final chart toppers including "Wrong" and "Rose in Paradise." These are the Top 10 Waylon Jennings songs.
10

"Wrong"

From 'The Eagle' (1990)

In 1990, Jennings proved that he still had a few hits left in him, even though he was already considered a legend. The Class of '89 -- Garth Brooks, Clint Black, Alan Jackson and Travis Tritt -- were starting to control the charts with the new, young country movement, leaving less room for the veterans of the genre. The humorous single accompanied by a comical video gave Jennings the final Top 5 hit of his career. "Wrong" is a right way to start our list of the Top 10 Waylon Jennings songs.

9

"Mamas Don't Let Your Babies Grow Up to Be Cowboys"

From 'Waylon and Willie' (1978)

Originally released by its writer Ed Bruce in 1975, "Mamas Don't Let Your Babies Grow Up to Be Cowboys" was re-recorded by Jennings and Nelson in 1978. Not only was it a No. 1 hit and a Grammy winner, but its chorus is one of the most widely known lyrics in American music. It would be no more a surprise to hear a family singing this song around a campfire than it would be to hear it blaring in a crowded honky-tonk.

8

"Rose in Paradise"

From 'Hangin' Tough' (1987)

In 1987, Jennings earned the final No. 1 song of his career with "Rose in Paradise," although he would continue to record and tour up until his untimely death in 2002. At the time this song was a hit, Jennings was also riding high as a member of the Highwaymen with his peers Johnny Cash, Willie Nelson and Kris Kristofferson, formed in 1985. The quartet launched a number of tours and three albums together.

In 1998, Jennings would also be a part of another supergroup called the Old Dogs with Mel Tillis, Jerry Reed, Bobby Bare and producer Shel Silverstein.

7

"Good Hearted Woman"

From 'Wanted: The Outlaws' (1976)

Jennings originally recorded this song in 1972, then re-recorded it as a duet with co-writer Nelson for the Wanted: The Outlaws album in 1976. The "outlaw" explosion of the late '70s was actually RCA Records' marketing finally catching up with what Jennings had been doing for years. Quickly, the conservative country industry accepted hippies and smokers alongside rhinestone-wearing Grand Ole Opry stars. "Good Hearted Woman" is a prime example of a classic "outlaw" hit during this period, and a must-have on our list of the Top 10 Waylon Jennings songs.

6

"Are You Sure Hank Done It This Way?"

From 'Dreaming My Dreams' (1975)

In 1975 -- the year Jennings was named the CMA's Male Vocalist of the Year -- he wrote a tribute song to his hero, Hank Williams. No matter where he played or how many hit songs he had on the radio, Jennings always included at least one Williams song at each concert; he also recorded an entire album of his hero's hits on the CD Waylon Sings Hank Williams. In 2001, this song was recorded by Alabama for the tribute album Waylon: The Music Inside.

5

"America"

From 'Waylon's Greatest Hits, Vol. 2' (1984)

In 1984, Jennings sang "America" on a Statue of Liberty restoration television special. The exposure helped the single peak at No. 6 on the Billboard country charts while earning Song of the Year nominations. Sammy Johns, known for his 1975 hit "Chevy Van," penned the song, and also found  more country music success by writing the No. 1 hit "Desperado Love" for Conway Twitty.

4

"I'm a Ramblin' Man"

From 'The Ramblin' Man' (1974)

From the moment Jennings signed with RCA Records in 1965, he battled with label executives over the polished "Nashville sound" that was used in several recording sessions. Jennings didn't want the lush orchestration and background choruses on his songs; rather, the musical outlaw wanted to play his music his way, choosing his own songs and arrangements and using his own band. Jennings' basic live-sounding production earned him many hits, including "I'm a Ramblin' Man."

3

"I've Always Been Crazy"

From 'I've Always Been Crazy' (1978)

The album I've Always Been Crazy produced two major hits for Jennings: the title track and a song called "Don't You Think This Outlaw Bit's Done Got Out of Hand," which was Jennings' personal statement on the state of the outlaw movement at the time. Although being an outlaw was more about musical style than behavior, this song was written after Jennings was detained by the Drug Enforcement Administration in 1977 for possession of cocaine and conspiracy to distribute (he was never convicted of the crime due to faults in the legal process). "I've Always Been Crazy" is a shoo-in on our list of the Top 10 Waylon Jennings songs.

2

"Good Ol' Boys" (Theme From 'The Dukes of Hazzard')

From 'Music Man' (1980)

Jennings first served as the narrator for 1975's Moonrunners, but the movie was later re-worked to create the television series The Dukes of Hazzard, which premiered on CBS in 1979. In addition to lending his voice to the show, Jennings also wrote the theme song, "Good Ol' Boys." Released as a single, the tune hit No. 1 on the Billboard Country Singles chart and became his biggest hit on the Billboard Hot 100 all-genre chart. The record was also certified double platinum by the Recording Industry Association of America.

1

"Luckenbach, Texas"

From 'Ol' Waylon' (1977)

"Luckenbach, Texas" is a song that many people assume Jennings wrote, but it was actually penned by Chips Moman and Bobby Emmonds. Ironically, the tribute to an easy way of life in a small, laidback Texas town was written and recorded by men who had never been to Luckenbach: Jennings recorded the song because he liked the overall theme of getting back to the basics of love. The single was also Jennings' biggest Billboard chart hit, staying at No. 1 for six weeks.
More From Taste of Country