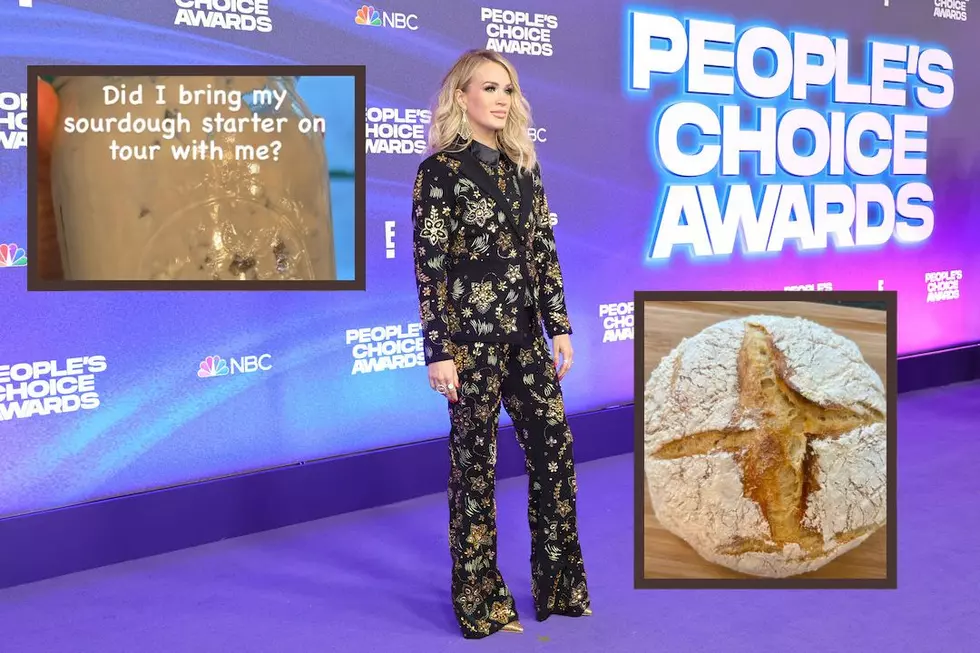 You're Dang Right Carrie Underwood Is Baking Sourdough Bread on Her Tour Bus!
Amy Sussman, Getty Images
Chart-topping country singer, award-winning entertainer, fitness guru and ... mobile baker? Carrie Underwood's skill set knows no bounds, even when she's working with limited resources.
The star is currently headed back out on the road for a new leg of her Denim & Rhinestones Tour, which is set to resume on Thursday (Feb. 2) in Miami, Fla. But just because she's living out of a tour bus for the next couple of months, doesn't mean she has to abandon her passion for bread-baking: Underwood's bringing all the ingredients she needs along with her.
Find Carrie Underwood Tickets Here
"Did I bring my sourdough starter on tour with me?" she wrote in her Instagram Stories on Tuesday (Jan. 31), answering that question with a close-up shot of a jar full of bubbly, ready-to-go starter.
Making sourdough bread can be a hefty effort — in addition to ripe starter at just the right temperature, you need an oven, plus time for the bread to rise. Fortunately, Underwood apparently has both at hand as she travels: She followed up her starter photo with another shot, this time of the finished product.
Of course, Underwood doesn't have her full baking setup at her disposal when she's on tour, but the finished product is still pretty impressive.
"Limited tools and resources, but I got it done!" the singer writes, adding that having homemade bread around "feels like home."
Bread-baking is just one of the hobbies that Underwood has been cultivating in recent months: In addition to making sourdough, her social media has showed a lot of chicken-tending and vegetable growing in the singer's recent past. She's been documenting her bread-baking journey along the way, including this shot of a loaf from a few days after the New Year.
There will likely be many more on-the-road sourdough loaves in Underwood's future: Her Denim & Rhinestones Tour is scheduled to run through mid-March.
The Best Country Singer From Every State
Some states, like Oklahoma and Texas, are loaded with famous country singers. Others, like Nevada and Maine, are still looking for a real breakthrough artist. See the best and most successful country music artist from all 50 states, starting with
Hank Williams
and Alabama.
More From Taste of Country