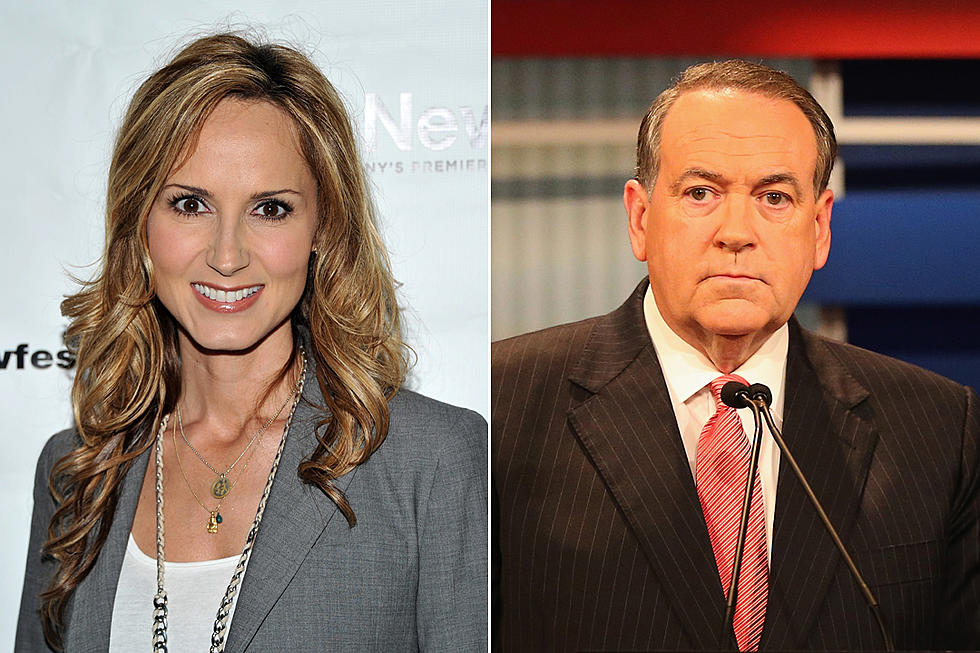 Chely Wright Rips Mike Huckabee Over Anti-LGBTQ Stance After CMA Resignation
Stephen Lovekin / Scott Olson, Getty Images
Wright took Huckabee to task after he said the CMA had been "bullied" over his religious and political beliefs, calling him out for his longtime, publicly stated anti-LGBTQ positions. She said Huckabee's views were hurtful to young LGBTQ people, citing herself as someone who's been harmed by his words and actions in the past as she wrote, "You affected my life in some pretty negative ways."
The former Republican governor of Arkansas and two-time presidential candidate resigned from the Country Music Association Foundation's board of directors less than a day after he was appointed, after widespread criticism over his views. In 1992, he stated in a questionnaire for the Associated Press, "I feel homosexuality is an aberrant, unnatural, and sinful lifestyle, and we now know it can pose a dangerous public health risk." He has never walked that position back, and he has repeatedly come out against marriage equality, same-sex civil unions and LGBTQ couples being able to adopt.
The Tennessean reports that multiple prominent country music executives threatened to boycott the CMA over the appointment. Jason Owen, co-president of Monument Records and owner of Sandbox Entertainment — which represents artists including Little Big Town, Faith Hill and Midland — said it was a "grossly offensive decision" and warned that none of his companies or the artists he represents would support the foundation if Huckabee remained. Owen and his husband have a son, and are expecting twins.
That sentiment was echoed by fans online, forcing Huckabee's resignation.
The CMA Foundation works to give musical instruments to children in schools, among other musical outreach programs, and in his letter, Huckabee said his critics were essentially working against those kids. Recalling how getting his first guitar at age 11 was life-changing, he cited a long list of public education and arts programs that he spearheaded as the governor of Arkansas.
"Until recently, the arts was the one place America could set aside political, geographical, racial, religious, and economic barriers and come together. If the arts community becomes part of the polarization instead of bridging communities and people over the power of civil norms as reflected in the arts, then we as a civilization may not be long for this earth," Huckabee wrote. "I hope that the music and entertainment industry will become more tolerant and inclusive and recognize that a true love for kids having access to the arts is more important than a dislike for someone or a group of people because of who they are or what they believe."
Country Stars Supported CMT's Cody Alan When He Came Out
Wright turned to Facebook to post a long, thoughtful letter after receiving a number of media requests for comment on the matter. She came out in May of 2010, and she's since become a very vocal supporter of LGBTQ rights. Wright also founded Reading, Writing & Rhythm, a non-profit group that provides musical instruments to public schools.
"Not so fast, Mr. Governor. Your letter is a predictable attempt to convince folks that this is a binary choice; the battle between (your side) people of faith who care about providing schoolchildren with musical instruments and (the lefty liberals' side) affirming LGBTQ people. You're sneaky, Mike, but we've seen your colors before," she writes in part.
"Mike, everyone cares about music in schools. We all do. Stop trying to pretend that it's not important to all of us or that you're the only one who can bring this idea to the table," Wright adds. "The CMA Foundation will continue this important part of their mission without you, I assure you. And stop using students and country music fans as pawns to validate your bigotry toward LGBTQ people and our incredible straight allies. Pitting people of faith against the equality movement is a fool's errand."
Wright — who scored a No. 1 hit with "Single White Female" in 1999 — goes on to say that it was people like Huckabee who made her life so difficult before she came out.
"The work you did to convince people (many of them country music fans) that gays and lesbians are lesser human beings and deserve less was brilliantly executed… and it scared me to death."
The singer says Huckabee's positions are harmful to many of the very kids he says he wants to help.
"You know those schoolchildren that you say you care so much about? Many of them are LGBTQ students and even more of them are the friends and classmates of those students," she writes. "If you care about them the way you say you do— about their education, their spiritual well-being, their hopes and dreams, you'll understand that what they need from you — and others with big platforms and a lot of power— is for you to stop maligning your fellow Americans due to their sexual orientation or their gender identity expression."
"This is your brand, Mr. Huckabee. And your brand is precisely why there was such an explosion of outrage that you'd become the newest member of the CMA Foundation Board ... Mr. Huckabee, you were the governor of Arkansas during what would be the years I enjoyed the most commercial success in country music (1996-2007) and your voice and condemnation were booming. You affected my life in some pretty negative ways," she writes in closing.
"I cannot let you do that to today's generation of young people and sit by, saying nothing; so I'm saying it here and now."
Country Stars' Reactions to the Supreme Court's Gay Marriage Ruling
More From Taste of Country