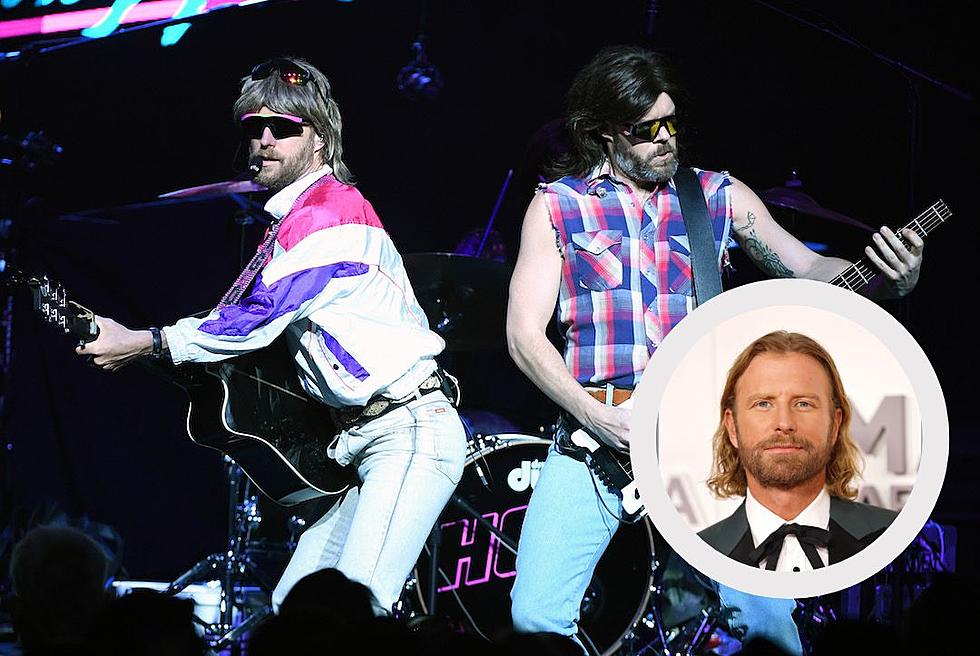 Dierks Bentley Has a Huge Hot Country Knights Update
Ethan Miller, Jason Kempin, Getty Images
In February, Dierks Bentley suggested that the Hot Country Knights' stint on his upcoming Gravel & Gold Tour might be their last, saying that the Knights are finally contemplating retirement.
But as is often the case, Bentley and Knights seem to have different ideas — or at least, if they're going out, they're going out with a bang.
In a new interview with Taste of Country Nights, Bentley reveals that Doug Douglason and the gang are eyeing a new project of some kind. Not only that, but the '90s themed country group — who tapped older stars like Travis Tritt and Terri Clark as duet partners on their 2020 album, The K is Silent — have enlisted some young blood to join them this go-around, collaborating with the likes of Lainey Wilson.
"She may be doing something with the Hot Country Knights," Bentley hints. "I heard from those guys, and they're trying to pull in some A-List artists — they're way over their skis on that one."
When pressed for more details, Bentley demurs, saying "I don't know much about it."
Still, it seems like the duet with Wilson that's currently in the works is just one piece of a bigger puzzle. "They're trying to work with her and they're trying to have some big artists on their next project. We'll find out this summer when they're on the road with us," he allows.
The Knights themselves have indicated that something might be on the horizon, according to a cryptic Instagram post from early February, which simply reads, "We're back."
For the uninitiated, the Hot Country Knights emerged in around 2015 — or in the mid-'80s, depending on who you asked — dressed to the gills in mullet wigs, acid-wash jeans, fanny packs and aviator sunglasses. It should be noted that their lead singer, Doug Douglason, bears a suspicious resemblance to Bentley, and the rest of the gang look a whole lot like his road band.
There's comedy to spare whenever the Knights take the stage, but make no mistake: To call their show parody would be a disservice to the sheer attention to detail and entertainment value of the band's persona. In recent years, the Hot Country Knights' opening set has been a high point of Bentley's shows, and they're a fan-favorite at his Seven Peaks festival, too, especially on the show's annual '90s night.
But Bentley — who produced The K is Silent for the Knights, and assumes the role of their reluctant collaborator, despite the fact that he and Douglason routinely disparage each other in interviews — says that the Knights aren't content to be an opening act anymore.
"Well, these guys used to come out and go on the stage first. They thought being first was No. 1, the winner. So they opened the show," he explains. "They didn't realize that's actually not the preferred slot to be in ... so they started closing the show, really just trespassing."
Now, he says, the Knights' set is a post-show experience. "They would just come to the concert venue, and the show's over, 'Drunk on a Plane''s done, and they come out there, sing a few songs. I think that's probably gonna happen again this year," he says as he looks ahead to his next tour.
"I've tried to ban them from the shows, but you know, Doug has a way of sweet-talking his way past the ladies. Usually the security at our show is ladies 65 and older, and that's kinda his wheelhouse. He has a real way of charming those gals," Bentley continues.
He gets that van backstage, next thing you know, they come out on stage. So. I expect they'll be there in Toronto when we kick the tour off."
Too Hot to Handle: 20 Country Songs That Got Banned
What do Morgan Wallen, Loretta Lynn and Lil Nas X all have in common? They — and many more country artists — have all released songs that wound up getting banned on country radio. Here are some of the most controversial country songs of all time.
More From Taste of Country