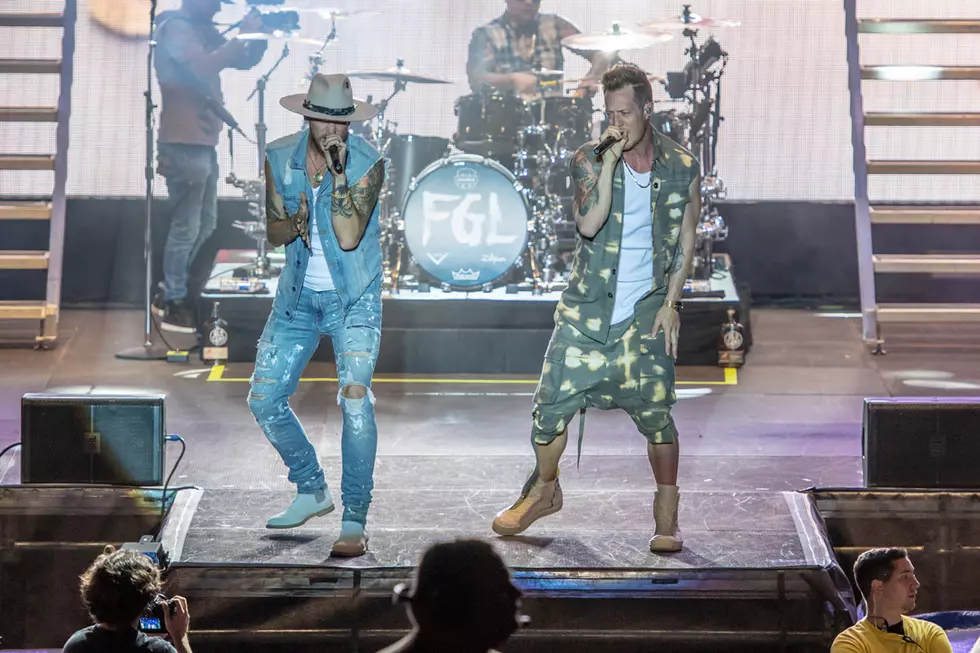 Florida Georgia Line Leave Fans Hyped at Taste of Country Music Festival
Patrick Tewey for Taste of Country Festival
Florida Georgia Line asked the Taste of Country Festival masses to show them how they roll, and the crowd — packed so tightly spilled beer hardly had room to run — obliged.
The duo's energy was only matched by near-nuclear heat given back to them during opening night of the three-day country music festival. The day's supporting lineup (Devin Dawson, Dustin Lynch, Kane Brown) prepared the crowd for FGL's 75-minute set. It was a mix of hip-hop, pop, rock and country all day long — yeah, they were ready to party.
"Anything Goes" opened the set, with Tyler Hubbard and Brian Kelley appearing from the rear riser amidst flames and light sorcery. It was the first of three songs (out of the opening four) that set the tone for their modus operandi. "It's Just How We Do" and "Round Here" were also part of the opening volley before "Smooth," "Confession" and catalog cuts like "Stay," "Dirt" and "Sipping on Fire."
The two are well-rehearsed co-frontmen, comfortable sharing a spotlight. They trade vocals effortlessly and banter between themselves and with the crowd like they're in front of a few old friends. There wasn't much back-and-forth beyond the usual shows of gratitude, however. They recognized Bebe Rexha was from New York before playing "Meant to Be" and set up back-to-back love songs mid-set, but that was about it for this straight-forward concert.
The duo's two new songs went over well for a crowd that seemed to know every word to every song. "Simple" and its de facto B-Side "Colorado" came early. "Meant to Be" didn't include a Rexha appearance, but the fans didn't seem to mind her recorded vocals. Likewise "God, Your Mama and Me" wasn't made worse by Backstreet Boys not being around to sing their verse. A wedding video from Hubbard's nuptials filled in nicely on the back screen.
When "H.O.L.Y" starts, you get a glimpse of FGL's generosity. Hubbard performed the song on an ivory white piano, but Kelley hardly plays the wallflower. His performance actively supports his longtime friend and bandmate, but he keeps his signature style, dancing around the stage with limbs cutting tight angles and body parts occasionally kicking away from his tall, athletic frame. He's a fascinating character to watch for an hour-plus show.
"Sundaze" and "Get Your Shine On" closed the main set before an encore that featured "This Is How We Roll" and "Cruise." Florida Georgia Line don't have the catalog to truly turn their sets into emotional roller coasters, so they operate at the same high-octane energy level until the end. The result is a crowd left buzzing long afterward, as heard past 1AM in the adjoining campgrounds.
5 Unexpected Moments from Day 1 of the 2018 Taste of Country Festival
More From Taste of Country