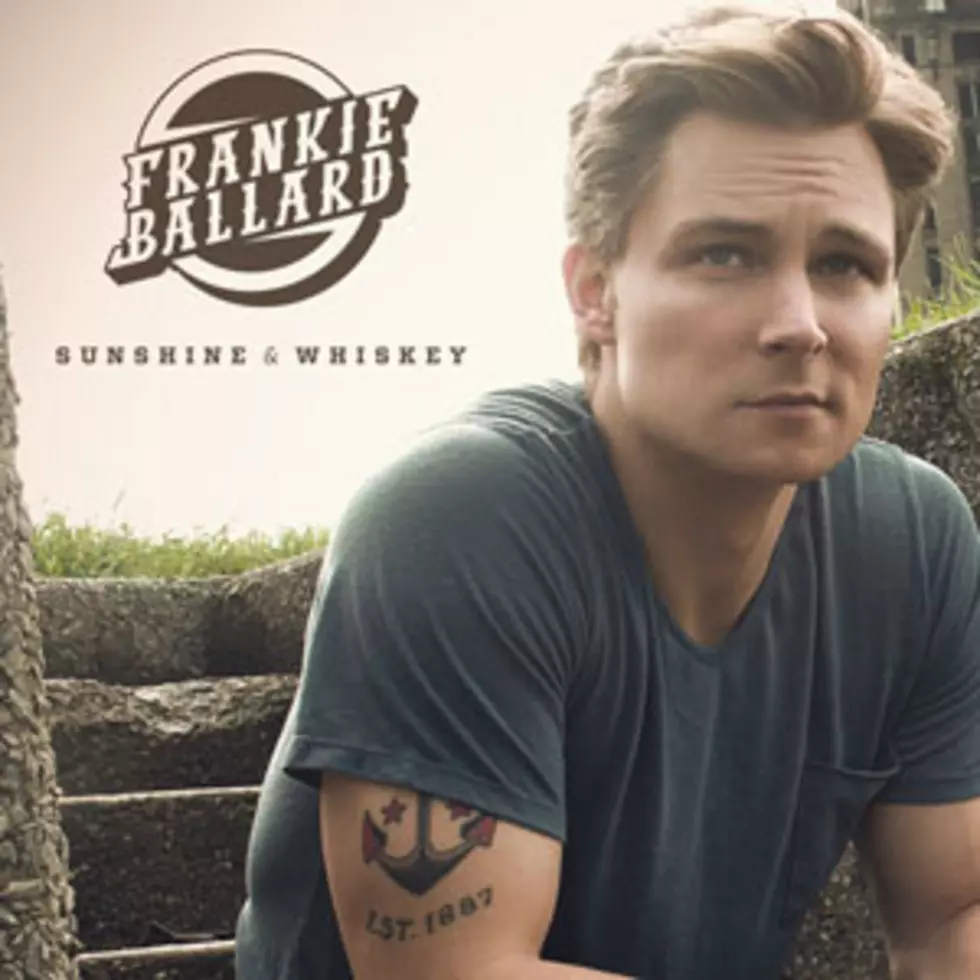 Album Spotlight: Frankie Ballard, 'Sunshine & Whiskey'
Warner Music Nashville
Frankie Ballard is a man of his influences. His new album 'Sunshine & Whiskey' is distinctively midwestern, from the blue-collar themes and the gravel in his bluesy delivery, to the artists he'll be compared to.
Variety is a strength. The Michigan native doesn't rely only on love stories or lonesome heartbreakers. He shows potential as a storyteller on 'Don't Tell Mama I Was Drinking.' During 'Tip Jar,' he steps back to share some of the finer nuances and lessons one learns from playing a stage for tips.
Of the more straightforward country ballads, 'Sober Me Up' is strongest. It's one of few vocal showcases for a singer who is more comfortable playing rowdy than he is revealing his vulnerabilities. 'I'm Thinking Country' will make a great live track, as will 'Young & Crazy' and the cleverly titled 'Drinky Drink.'
The title track is a candidate for a future single. Ballard's approach will draw Uncle Kracker comparisons. Both men share a similar patter, and like Kracker, this singer's voice is hoarse -- like that of a heavy cigarette smoker. He may not smoke, and this is no criticism. In fact, that raw, stouthearted sound helps distinguish him from others on country radio.
"Don't wanna get a DWK / Drivin' while kissin', they'll put you away," Ballard sings during 'Sunshine & Whiskey.' It's a corny line, but not one he should hide.
'It Don't Take Much' -- a warning about diving too deep into a pool of excess -- is a signature track, although it's unlikely to become many people's favorite cut from this album. John Mellencamp's influence stands out here. Elsewhere, one hears Chicago blues influences, especially when this talented guitarist takes a solo.
'Sober Me Up' and 'Tell Me You Get Lonely' were included on Ballard's debut album and eight-song mini-LP that deserved more credit than it got in 2011. 'Sunshine & Whiskey' is an extension of that project, one that further defines who this 31-year-old is as a singer and songwriter.
Key Tracks: 'Helluva Life,' 'Drinky Drink,' 'Don't You Wanna Fall'
The Ideal First Date?: For Frankie Ballard, a girl better like baseball and Chicago. He told the Boot his ideal date would be a Chicago Cubs game, followed by dinner in Little Italy and a night a blues club like Kingston Mines.
Did You Know?: Ballard is a reality show winner ... sort of. He got his start by winning Kenny Chesney's Next Big Star contest in 2008. Chesney held these contests in cities across America, and then the finalists competed for a chance to open for Chesney, $25,000 and an audition with Sony BMG.
More From Taste of Country