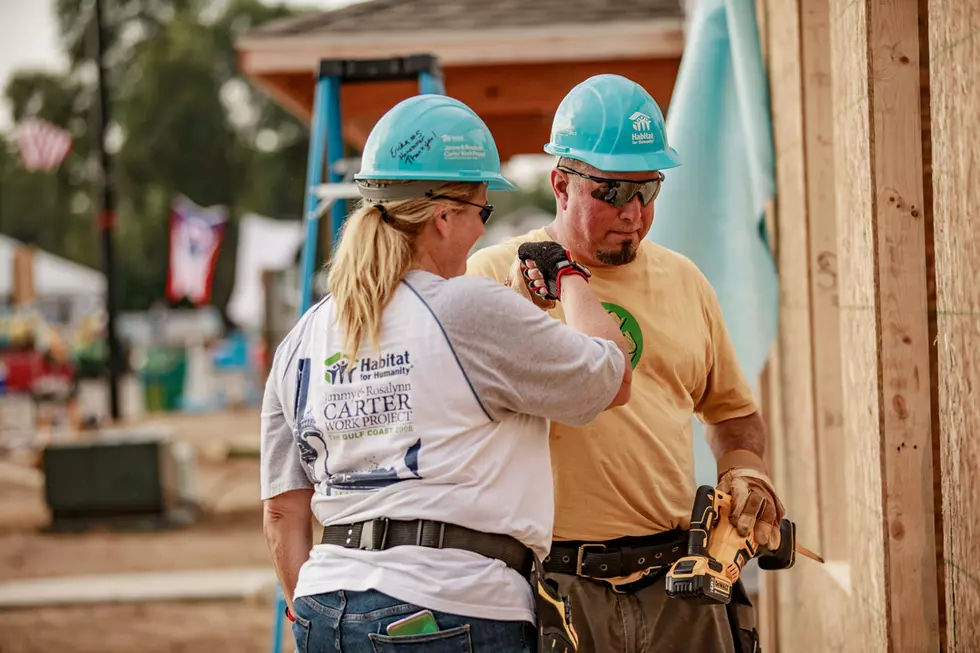 Garth Brooks and Trisha Yearwood Reflect on Emotional Habitat for Humanity Build
Bryan Thomas
Even after a week of swinging a hammer, cutting lumber and doing press for the 35th-annual Habitat for Humanity Jimmy and Rosalynn Carter Work Project, Garth Brooks dotes on his wife.
"My wife is fresh as a daisy, I'm worn out," the singer says as Trisha Yearwood laughs alongside him.
"That is not even true," she responds.
The couple are calling to discuss their tenth trip to help President Carter build houses for a community in need. This time they're working on 41 homes in Mishawaka, Ind., a community east of South Bend where the country superstar will play Notre Dame stadium on Oct. 20. On Monday, these houses were cement slabs. Four days later, each has a frame, roof, windows and doors.
Their appearance is not gratuitous. Much like the former President and First Lady, Brooks and Yearwood arrive early — at 7:30 or 8, Yearwood says — and work until 4PM. Sure, there's a couple of hours of press each day, but "The rest of it is hammering and nailing and gluing and sawing and whatever needs to be done," Yearwood says, also emphasizing how much they enjoy it.
Through the phone you can hear the smiles on their lips, even on Day 4 of their hard work. Families who will live in these houses need to put in 250 hours of sweat equity to be considered. At the end of the week, the President ceremoniously turns over the keys and a Bible to each family and poses in a photo with each home's crew. One such ceremony on Thursday was extra special.
"I got to see a president of the United States cry today, and he couldn't stop himself," Brooks recounts. A mother and her kids had been working all week, but she'd not told them why. Mr. Carter called the children forward, "And the president and Ms. Rosalynn walked up and said, 'You know whose house this is?'" Yearwood recalls. "And they said, 'No.' And he tried to say, 'it's your house ...'"
"He just never got it out," Brooks adds.
"He never really got it out, he got so emotional." Yearwood goes on to say that she's never seen that from President Carter — it was a moment that moved them all.
Brooks and Yearwood have been mentioned as possible ambassadors for the program once the 93-year-old former President steps away. They seem willing to do whatever they're asked for Habitat for Humanity.
"I'm just glad he gave us a 20-year notice," Brooks says, laughing.
Garth Brooks' New Song Is a 'Damn Good Honky-Tonk Song'