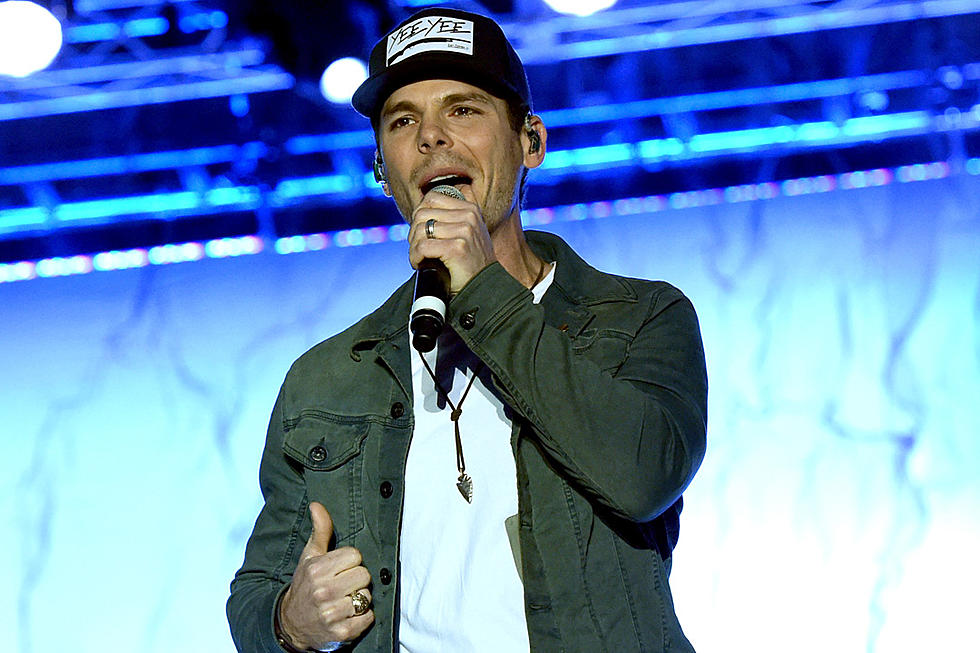 Granger Smith Confronts Twitter Scammers Ripping Off Fans
Rick Diamond, Getty Images
Granger Smith didn't just get angry upon learning about the multiple fake accounts misrepresenting him on Twitter and Facebook, he got answers. During a remarkable episode of his new Granger Smith Podcast, Smith explores the dark world of social media scamming.
To do so, he creates a fake account to phish the phishers. Instead of being a 38-year-old Texan, he's a young girl from Illinois, and within hours he's direct messaging with someone pretending to be Garth Brooks. Within three days he's talked to fake Toby Keith, fake Dustin Lynch, fake Loretta Lynn, fake Kenny Chesney and more. Some even step out from behind the curtain, send a real selfie and get honest about their motivations. That's where the story takes a dark turn.
The motivation is always money. Someone who has copied an artist's account will follow someone they think might be a fan. To some degree, Twitter assists this by suggesting accounts to follow upon signup. A small percentage of civilian users engage in a short conversation and an even smaller percentage follow through on promises to send iTunes gift cards. But it's a quantity game, and the money adds up. Instead of being friended by @garthbrooks (Brooks' official Twitter account, as noted by the blue check mark) the "Happens Like That" singer was followed by a duplicate account that slightly adjusted the Twitter handle. It could be @garth_brooks or @garthbroooks or @TheGarthBrooks.
In total, Smith tells Taste of Country he had significant conversations with about two dozen fake Twitter users, and was able to get about four or five to drop the veil and converse with him man-to-man.
"They all approached me as 'Hey pretty girl (or) Hey beautiful girl (or) Hey sweet baby girl, I'm married but I'm having problems in my marriage and I'm needing someone to be a friend to me,'" he says. "That was always their hook. It would always end up with money but it always started that way and I never went far enough down that path to see (if they'd ask for something more illicit)."
First, the scammer would ask for a gift card and if Smith agreed, he'd be asked to take a screenshot photo of it because the series of numbers on the back are all that's needed to use it. Some would ask for money, and on one occasion he played along to see how that part of the scam works.
"I wanted the exact instructions on how to do this," Smith says. "He said, 'Are you close to a Walmart?' And I said 'Yes.' He said, 'Go there now and I'll wait for you.'"
A few minutes later Smith told the other user he was there and the scammer told him to find the Moneygram machine. From there they'd exchange user and receiver numbers and the money would swap hands.
"It seems like $100 was the minimum of what they're asking for," he says.
There are red flags, but only those users web-savvy enough to spot them will know to avoid them. Often it appears as if the person messaging back is using a translation website to help with his or her English. According to Smith's research, most people are actually based in Nigeria, and many copy and paste messages to several users, speaking to all of them at once. They'll promise meet and greets in exchange for the money or gifts, but what's a promise worth on Twitter? There's actually a name for this type of scam. It's called a 419 Scam, and Smith notes that what he's done to investigate is illegal in at least one state (Louisiana) and implores people not to try it on their own.
This scam is the new version of the old email scam that includes a photo of a pile of money and a request to send a check to cover delivery costs. It's near-laughable to imagine people are still falling for that old trick, and Smith admits he was surprised to learn people are falling hard for V2.0.
"The point is they are falling for it," he says. "I wish that everyone was very perceptive on social media but I think they're a little clouded that maybe this is really Garth Brooks talking to them that they're overlooking the language."
In the few minutes Smith's Twitter chat with fake Garth Brooks took, his teenage girl alter ego was followed by fake Lynch, fake Jason Aldean, fake Danielle Bradbery, two fake Dierks Bentleys, another fake Brooks, a fake Darius Rucker and about a dozen more. He started conversations with all of them and got the general sense that these people were being forced to do the work. The fight isn't against a scammer or a singular phisher, it's against an entire operation, but who should lead that fight?
"I feel like it needs to start with these social media companies," Smith says, suggesting Twitter go as far as to block all accounts logged in from Nigeria from communicating with western Europe and the United States because the government there is unable to regulate the crime. Or maybe Twitter, Facebook, Instagram and other social media companies need an algorithm that red flags a popular American username that is logged in from an African nation. From there it's about creating social awareness.
"We have learned over the last 1,000 years as humans that you need to be aware of your surroundings. You don't walk into a dark corner, a scary alley. You look both ways as you cross the street. We have learned as humans to be street smart and we're going to have to re-learn to be web smart and we're just not right now."
The full 43-minute-long episode shines a light on how this scam works. It's something he's experienced first hand (Smith's own mother once thanked him for a Facebook follow, something he's not able to do through his fan page) but more so through his friends and contemporaries. Chris Lane tells a story midway through the podcast that depicts how devastating this can be to fans, emotionally and financially.
One anecdote that didn't make the podcast describes what happens when the script is flipped. For a final act, he engaged with fake Darius Rucker, using tactics he'd learned.
"Only a huge country star like you can understand a fan like me, can I trust you?" he said. From there he described his plight and asked for money to help his sick mother in Illinois. The user said he'd help, so Smith's teenaged alter-ego asked him to find a Walmart with a Moneygram. He'd wait.
The next message was a long thread of foreign words that loosely translated, Smith says, means "You'll never be one of us." Then Smith's phone rang.
He let the Washington state number go to voicemail but the message was a British man telling him the United States government had flagged him for fraud and he'll be found. And thus ended phase one of his investigation. Stage two involves spreading the word to country fans worldwide.
More From Taste of Country