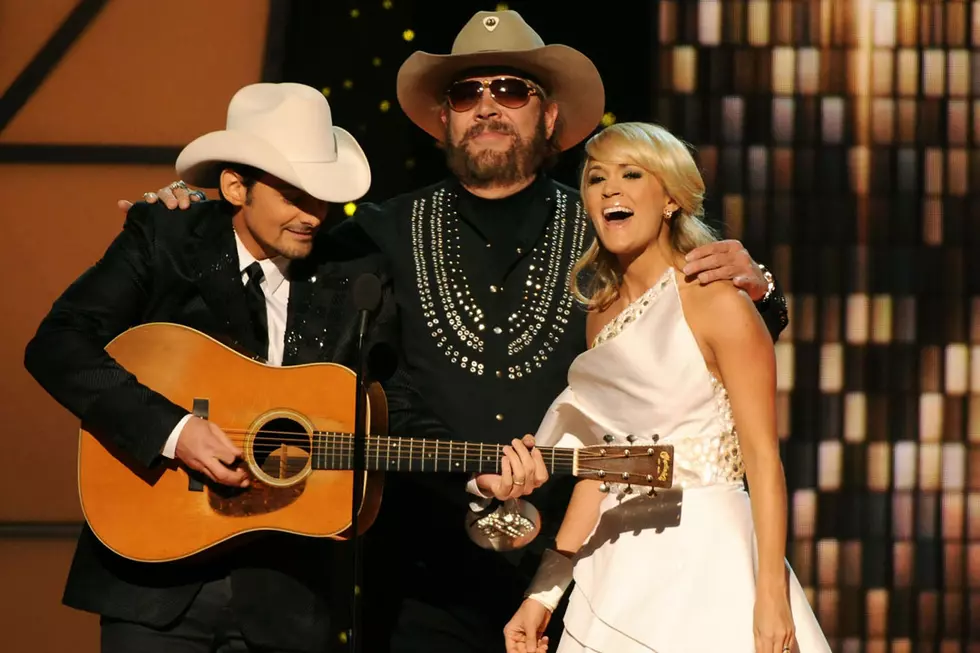 Remember the Last Time Hank Williams, Jr. Appeared at the CMA Awards?
Rick Diamond, Getty Images
The announcement that Eric Church will join forces with Hank Williams Jr. to open the upcoming 2015 CMA Awards puts us in mind of the last time Williams appeared on the awards show, as part of one of the funniest opening monologues in recent memory.
The appearance took place in 2011, not long after Bocephus made his now-infamous remarks about President Obama after the president and Speaker of the House John Boehner met over golf. "That'd be like Hitler playing golf with Netanyahu," Williams told Fox & Friends, resulting in Monday Night Football parting ways with Williams, whose music had opened the show for years.
Brad Paisley kicked off the broadcast with his own version of Williams' famous opener, singing, "Are you  ready for an awards show? Are you ready to party?" as a hapless Carrie Underwood stopped him, saying, "You cannot sing that song!" She then whispered the reason to a comically confused Paisley, who pretended to be unaware of the controversy.
"Oh ... all right, plan B," he said, and launched into a parody of Williams' signature song, "Family Tradition." The altered lyrics spoof the notion that Williams might have been intoxicated during his Fox & Friends appearance, with Paisley singing, "Hank, why do you drink?", and Underwood interjecting, "Before an interview!?"
Paisley drew a big cheer with the line, "Football ain't the same without that song that you wrote," but the biggest impact lines were, "Stop and think it over / Let me help you get the picture / You can get drunk and start carrying on / But you can't compare the president to Hitler." 
The applause got even louder as Williams himself joined Paisley and Underwood onstage, crossing his arms as Paisley asked, "Is there anything you'd like to say tonight?"
"No," Williams said simply with a sly smile, indicating that he had no intention of offering any apology for his remarks — which drew a massive standing ovation from the crowd.
See 2015 CMA Nominations Surprises and Snubs:
More From Taste of Country