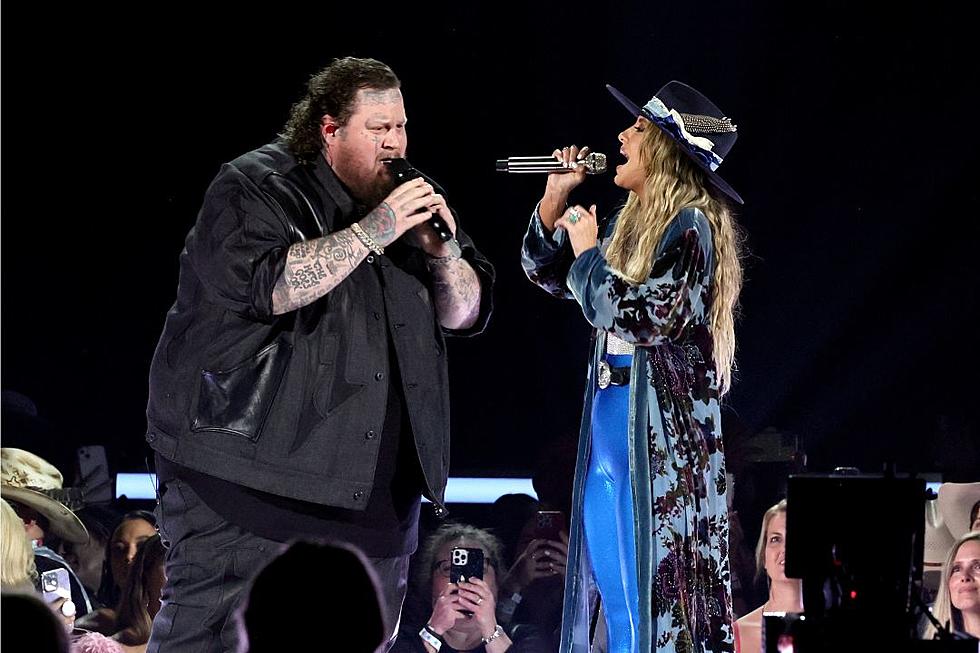 Jelly Roll + Lainey Wilson Bring Searing 'Save Me' Duet to the 2023 ACMs
Theo Wargo, Getty Images
Two of country music's hottest new hitmakers came together onstage at the 2023 ACM Awards on Thursday night (May 11).  Jelly Roll and Lainey Wilson brought the crowd to its feet with a soaring performance of "Save Me."
Jelly Roll began the song alone, singing the wistful heartbreak tune alongside dramatic, country-infused instrumentation. The Tennessee native's voice pierced through Ford Center as he gave his all to the performance, as if he'd lived the words he's singing.
"I'm a lost cause / Baby, don't waste your time on me / I'm so damaged beyond repair / Life has shattered my hopes and my dreams," he sang in the chorus.
Wilson — a surprise guest — joined for the second verse, giving a female perspective to the song about a couple who can't seem to find the light in the darkness. She delivered powerhouse vocals as she sang with commitment.
The two finished out the song together, tight in harmony and locking eyes with one another as they sang.
Originally recorded by Jelly as a solo effort in 2020, "Save Me" is a bluesy ballad that grapples with the experience of addiction, and feeling caught between the feelings of wanting to cling to a loved one as a way out of the destructive cycle, and wanting to send them packing so you don't damage them any further.
As first reported by the New York Times, Jelly re-recorded "Save Me" as a duet with Wilson for his upcoming debut country album, Whittsitt Chapel, which is due out on June 2.
That project is heavily inspired by faith: Prior to the ACM Awards, Jelly told Taste of Country that he scrapped 70 songs and started over on the album after watching his teenage daughter, Bailee Ann, attend church. The powerful experience — including, ultimately, Bailee's decision to get baptized — reminded Jelly of the church he attended as a child, Whittsitt Chapel — a church that now lends itself to the title and album cover art.
The 2023 ACM Awards aired live from Frisco, Texas' Ford Center. Dolly Parton and Garth Brooks co-hosted the show.
Country Stars Step Out On the Red Carpet at the 2023 ACM Awards
See Dolly Parton, Jelly Roll, Ashley McBryde and more stars walk the red carpet ahead of the 2023 ACM Awards.
More From Taste of Country