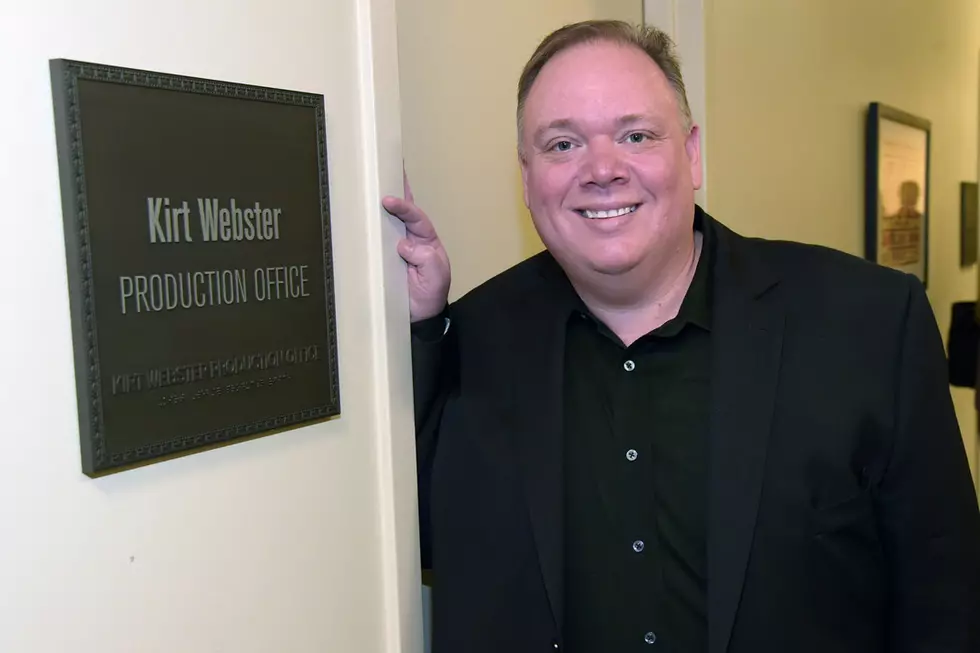 Accused Sexual Predator Kirt Webster Reveals New Consulting Business Aimed at Young Newcomers
Rick Diamond, Getty Images
Kirt Webster, the powerhouse Nashville publicist who's been repeatedly accused of sexual harassment and assault, has revealed a new consulting business that's aimed squarely at the very kind of young newcomers he's been accused of exploiting.
Webster has launched a new website that boasts his expertise in a wide range of music industry-related fields, from public relations to how to get a record deal, management, promotion, sales, marketing, distribution, publishing, radio and touring. The website caters directly to young aspiring artists, featuring one section titled "To Moms & Dads" that warns parents of young aspiring performers about the pitfalls of dealing with shady or dishonest people in the music business, or of attempting to represent their child themselves. Another section titled "The 10 Commandments of PR" offers tips about dealing with public relations and imaging in order to bolster an artist's brand.
Webster himself has been repeatedly accused of being one of the very sharks that his new service offers to protect young newcomers from. He was one of the most high-powered publicists in country music before his empire abruptly came crashing down in November of 2017, after former aspiring country singer Austin Rick came forward with allegations against his former publicist. Rick alleges that when he was Webster's client from 2007-2008, he was the subject of Webster's ongoing and unwanted sexual advances. He says Webster bullied him into accepting oral sex and more, finally ending in an incident where he alleged he was drugged during a party at Webster's house and woke up in Webster's bed to find the publicist kissing him. Rick was 21 at the time.
Rick abandoned his career and Nashville after that incident, and he claims he continues to suffer from extreme anxiety, PTSD and more. He says he tried to take his own life multiple times before his therapist convinced him to come forward to accuse Webster in public. After he did so, authorities concluded that the statute of limitations on the alleged crimes had passed, and Webster has never faced charges.
Webster resigned from and ultimately closed Webster PR within days of Rick's initial allegation after multiple other alleged victims and former employees came forward to share similar stories. Taste of Country has spoken to nearly two dozen former employees who recount a toxic work environment rife with verbal intimidation and sexual harassment and assault that was so widely known in Nashville that former employees referred to it as "publicist boot camp."
One former Webster employee told Taste of Country that working there was "the darkest period of my life." Staffers report fearing that their phones and emails were being monitored and they were under surveillance, both in and out of the office. Both artists who have worked with Webster and former business associates allege that he specifically targeted young people who were new to Nashville, often using interns or employing people directly out of college who held no social or economic power.
It appeared that Webster had been ruined after he closed his business, but in January of 2019, the former executive revealed that he was getting back to work, adding that he had been working behind the scenes for much of the time that he had been quiet.
In a statement to Taste of Country on Monday (March 18), Rick expresses deep concern for the nature of Webster's new consulting venture.
"Kirt is targeting newcomers for the specific purpose of molding young hopefuls who simply don't know any better about how the business works and what traps to be on lookout for. These people are known as 'headhunters,'" he says. "When you're fresh and, by no fault of your own, naive, you're the perfect target for a predator dangling faux music industry glamour in front of you. Before long you find yourself at the conman's mercy, and it's too late for course correction. This is exactly what Webster's doing right now."
The former aspiring country star says he's seen it all before.
"When I read Kirt's 10 Commandments of Public Relations, I laughed. I encountered most of these, if not all of them, during my year spent with Webster," he explains. "The commandments taken together, there is a clear aim: to maximize an artist's fear of missing out, and to bolster Kirt's standing in the power dynamic gradually being improperly forged between himself and the fresh musical talent. I fell for these, and I even viewed Kirt as someone who could help me navigate the ruthless industry he was painting a picture of. Little did I know at the time, of course, Webster had a completely different goal in mind. He was hunting me — a young, naive artist. I've been there, and so all I can hope is that any new artists having an inkling they might sign on with Kirt's promises reach out and contact me first."
In a statement to Taste of Country in January, Webster categorically denied all of the allegations against him, though he acknowledged, "I've learned that some people were offended by things said or done in my presence. Never was there ever any intention of offending anyone or hurting anyone's feelings. So to anyone that I hurt or offended, I apologize. I have reflected on things said and have processed it over and over in my head to make sure that going forward nobody is ever made to feel uncomfortable."
Note: Webster offers a free how-to guide on the subject of getting started in country music for download on his new website. The Media Relationships portion of that document uses both Taste of Country's official logo and the official logo of our partner site, The Boot, without authorization. 
These Singers Left Webster PR After Allegations Became Public
More From Taste of Country