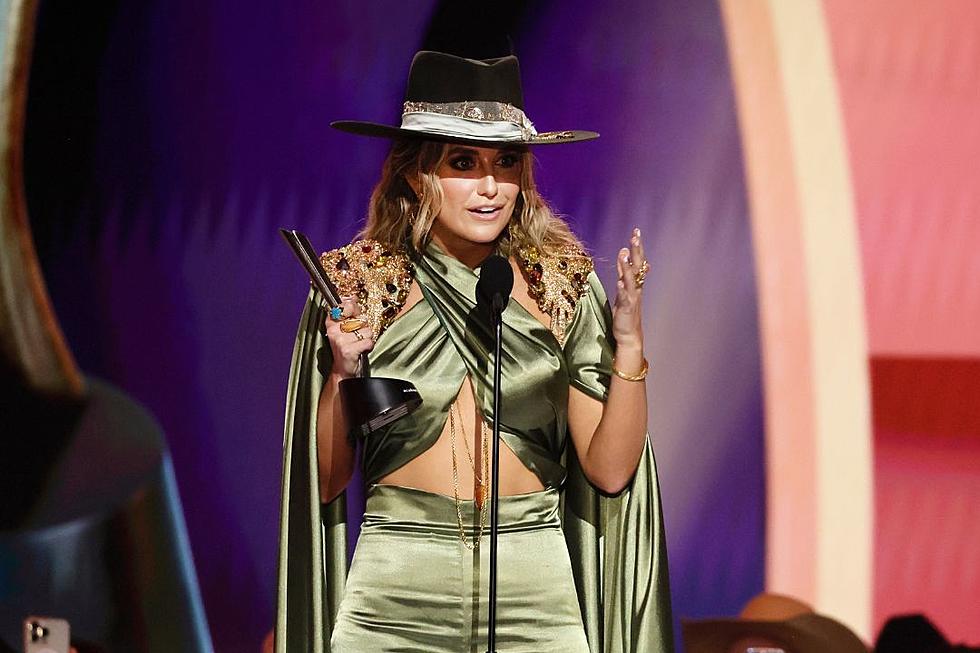 Lainey Wilson Wins Female Artist of the Year Trophy at 2023 ACM Awards
Theo Wargo, Getty Images
Lainey Wilson brought home the Female Vocalist of the Year trophy for the second year in a row at the 2023 ACM Awards on Thursday night (May 11).
She emerged victorious over a fiercely competitive pack of nominees: Miranda Lambert, Ashley McBryde, Carly Pearce and Kelsea Ballerini were also nominated in this category.
After being announced as the winner by ACM co-host and resident country music icon Dolly Parton, Wilson took to the stage to accept her award, but she had one thing she needed to say before officially beginning her speech.
"I can't believe I just met Dolly Parton, first of all," she remarked, standing at the microphone.
She then gave an inspirational speech that offered thanks to her family and team, as well as to the other women in the category and all of the female country artists who came before her.
"The ladies in this category, I look up to y'all so much, and I'm here because of y'all, because of people like Dolly Parton paving the way," she said. "I'll tell you what, everybody in this category didn't just wind up there by happenstance. They have worked their fingers to the bone, they have put the blood, sweat and tears and years into this."
"Made so many sacrifices, missed a lot of weddings, a lot of people's funerals, not that I wanted to go to all of them anyway, but I'm just saying," she continued.
As someone who has seen a meteoric rise in country music within the past couple of years, Wilson also offered encouragement to all the dreamers watching her triumphant moment on television.
"To all the little girls watching this, this right here stands for hard work," she said. "If you're going to be a dreamer, you better be a doer."
Few artists have seen their star rise quite so dramatically as Wilson did in 2022, with a growing string of No. 1 hits and increasingly high-profile tour slots. Awards shows have taken notice: Over the course of the 2022 CMA Awards and 2023 CMT Music Awards, Wilson has been one of the most-nominated and most-awarded contenders.
The 2023 ACMs proved no different: She walked into Thursday's awards show with six nominations to her name, three for her latest No. 1 hit, a duet with Hardy called "Wait in the Truck." Wilson and Hardy had already taken home awards for Music Event of the Year and Visual Media of the Year for "Wait in the Truck" by the time she picked up Female.
Wilson's Female Artist of the Year victory also marks the first time she's ever been nominated in this category, and she's now the reigning champ in this field across two awards shows, since she won Female Vocalist of the Year at the 2022 CMA Awards last November.
The 2023 ACM Awards took place in Frisco, Texas and streamed live on Amazon Prime Video. Garth Brooks and Dolly Parton co-hosted the show, marking the first time the two living legends have worked together — and the first time Brooks has ever hosted an awards show.
Country Stars Step Out On the Red Carpet at the 2023 ACM Awards
See Dolly Parton, Jelly Roll, Ashley McBryde and more stars walk the red carpet ahead of the 2023 ACM Awards.
More From Taste of Country