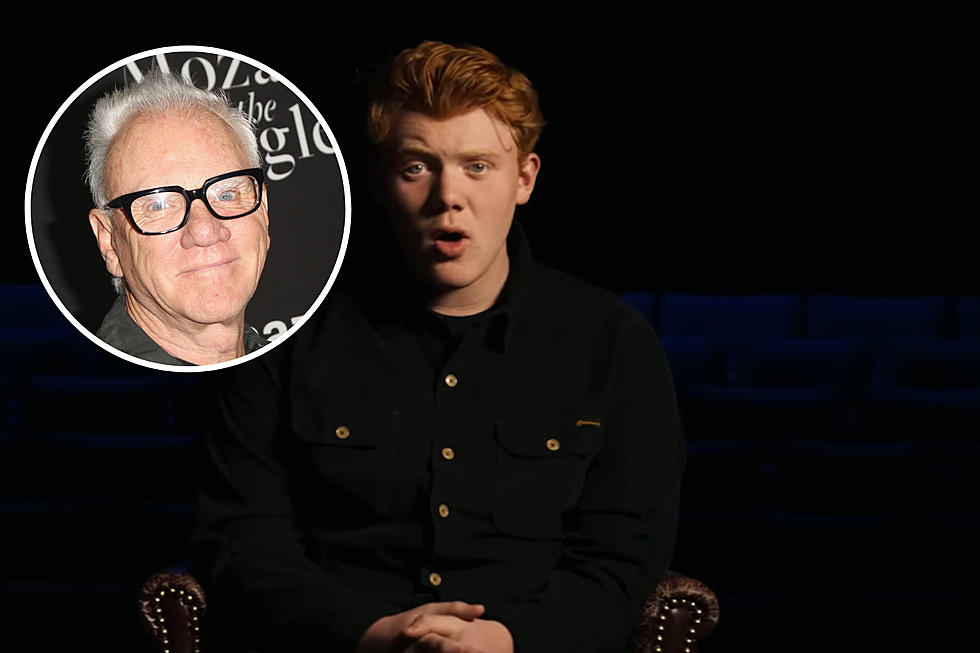 Malcolm McDowell's Son, Beckett McDowell, Leaves 'American Idol': 'I Am Forever Grateful'
YouTube/Tomasso Boddi, Getty Images
Actor Malcolm McDowell's son, singer Beckett McDowell, has dropped out of Season 21 of American Idol after making it into the Top 26, and he turned to social media to clarify that it was his decision not to continue.
Idol host Ryan Seacrest announced during Monday night's (April 17) episode that one of the singers vying for the crown had decided to "bow out" of the long-running reality singing competition. Judges Luke Bryan, Katy Perry and Lionel Richie made the decision to call back Paige Anne, who had been voted off American Idol the week before, to make up for the departure.
McDowell posted to his Instagram Story later that night, according to People, writing, "I'm not going to say why I didn't decide to continue in the competition but what I will say is that it was my choice. I am forever grateful to my American Idol family and I will always look back at the experience with the utmost gratitude and fondness. Please go vote for my friends now as they continue on in the competition."
The 19-year-old singer's famous father is best known for his iconic role in A Clockwork Orange, and he's had a long career that also includes film roles in Caligula, Time After Time, Cat People and more. His television credits include Entourage, Heroes, Mozart in the Jungle and more.
Beckett McDowell grew up in Ojai, Calif., and according to Idol Chatter, he began performing at age 8 and started writing his own original songs at 14. The transition to online learning during the pandemic gave him the time to really pursue music, and he's released several songs digitally, including one titled "Pale Blue Eyes" that was inspired by his father. Malcolm McDowell starred in the video for the song, telling People it was a "father's dream."
"There is nothing more special for a parent to witness one of his children blossom into such an extraordinary talent," he said.
American Idol airs on Sunday and Monday nights at 8PM on ABC.
PICTURES: See Inside Carrie Underwood's Beautiful Post-'American Idol' Home
Carrie Underwood invested her money wisely after winning American Idol in 2005. One of her first big purchases was a 3,099-square-foot home in the well-to-do Nashville suburb of Franklin, Tenn. Underwood paid $384,000 for a luxurious 3-bedroom, 3.5-bathroom stone and stucco home in a private gated community.
The house features a library, a vaulted ceiling and lovely amenities throughout, but while it's very nice, it's certainly not the kind of home you'd picture for a budding country superstar. Underwood wound up being a huge success right out of the gate with her debut album, Some Hearts, and she sold the home in Franklin for $372,500 in 2007, when she purchased the Brentwood mansion that she would later share with her husband, Mike Fisher.
PICTURES: 'American Idol' Producers Selling Spectacular $22 Million California Winery
American Idol producers Nigel Lythgoe and Ken Warwick also have a longtime wine business, and they are selling their spectacular California winery for $22 million. Their stunning winery, Villa San-Juliette, is located near Paso Robles, Calif. According to the listing, the luxury 160-acre estate includes two Tuscan-style residential villas, pool, a tasting room and state-of-the-art vineyards and winery facilities. There are also extensive lush lawns with dazzling views in every direction.
Country 'American Idol' Stars Who Disappeared
We cheered for them. We voted for them. We followed them. Then, these seven American Idol stars vanished. Or, at least it seems like it.
What happened to some of country music's best American Idol contestants over the last 20 years? This list of country American Idol stars who disappeared includes a winner, a runner-up and a third place finisher, plus several early cuts who enjoyed radio success before losing touch with fans.
More From Taste of Country