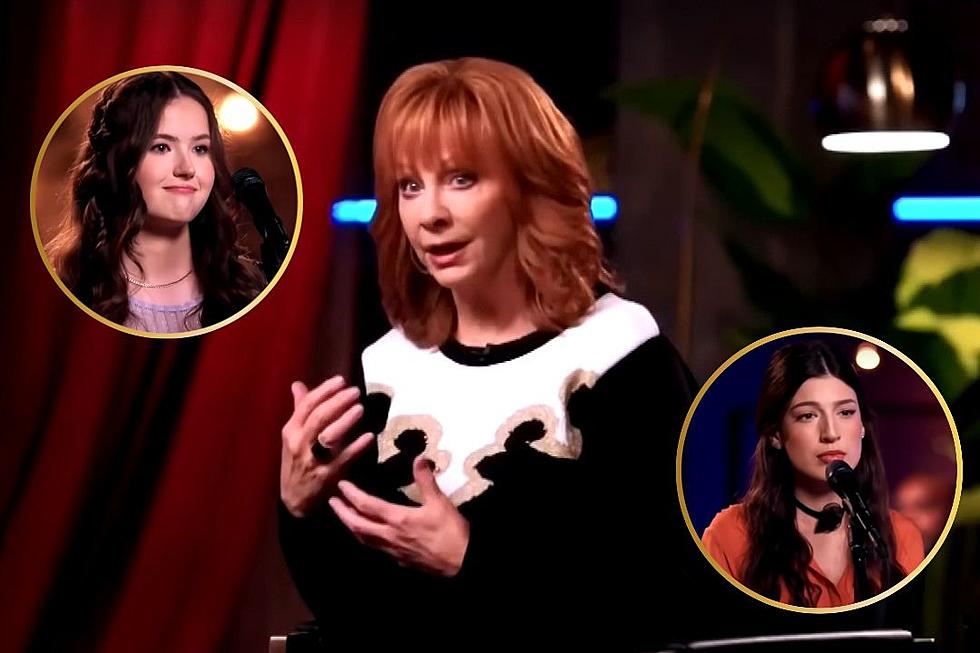 Reba McEntire Breaks Down in Tears on the Set of 'The Voice' [Watch]
'The Voice,' YouTube
A great song will make anyone emotional — even a seasoned music industry professional like Reba McEntire.
In an episode of The Voice that aired on Monday (Oct. 23), McEntire was hoping to test her contestants' ability to make an emotional connection with their audience. Voice hopefuls Alison Albrecht and Angelina Nazarian aced the test a little too well: They brought their coach to tears while rehearsing the song she chose for them, Lauren Daigle's "You Say."
That song isn't country — it's a contemporary Christian ballad about finding acceptance in faith, even when you can't find that acceptance in yourself — but it tugged at McEntire's heartstrings through the rehearsal process.
In fact, she started to cry before she even heard the two young singers' rendition of it, according to ET Online, who shared footage of the rehearsals.
"Now, this is a song, in my mind, a conversation between me and the Lord," McEntire said, getting choked up. "And [when] I am in a very depressed state, I think I'm worthless. So when you are singing this song, it's very humbling. It's baring your soul. So it's not much movement when you're performing. It's — you're broken."
The country star might have been teary-eyed before the young women even performed, but afterwards, emotions ran even higher. Not only did their version of "You Say" get the tears flowing, but it also served as a celebration of faith and love of God.
"Angelina got it right away. I mean, she got into that space and it transformed Alison, and she lit up," McEntire explains. "And by the time we finished their segment, I was bawling. I mean, I threw both hands in the air, praising the Lord."
"I believe it. Absolutely, I believe it. Y'all hit me really hard," an emotional McEntire told the contestants after they finished their duet.
Albrecht and Nazarian brought emotion to the table when they performed the song for the coaches panel, too, and McEntire applauded their efforts — but also said they didn't quite convey the subtle, nuanced intimacy they achieved during rehearsals.
"I know you're a little nervous and I totally understand that. You're both great vocalists and I'm very proud of you," she told them.
Ultimately, McEntire selected Albrecht as the winner of the Battle Round. She advanced to the next round of competition, the Knockout phase, as a member of Team Reba. The Voice airs on Monday and Tuesday nights at 8PM on NBC.
The Top 40 Country Songs of 2023, Ranked
The best country songs of 2023 fit snugly over your life and experiences. Each is written from personal experiences, but somehow, translate as if they were custom to each of us.
We've loved, we've longed, we've lost and we've cut loose in the country.
Airplay charts, sales data and streaming numbers helped make this list of country music's
Top 40 songs of 2023
, but staff and Taste of Country reader opinion were most influential. Songs included on previous Top Country Songs lists were not eligible. A song may have been released in 2022, but it had to have the majority of recorded airplay or impact this year to count.
Gallery Credit: Billy Dukes
More From Taste of Country