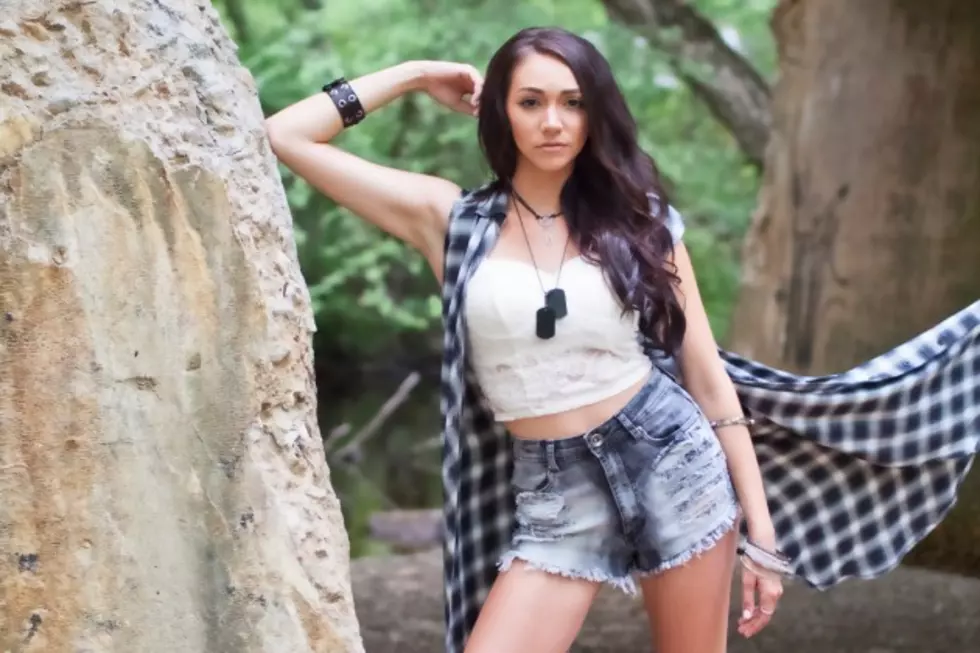 Party for One? Sarah Ross Has a Secret She Wants You to Know
Krista Marie Photography
Sarah Ross' biggest fan may be her grandfather. He calls her nearly every day saying he's playing a song from her new Calm Before the Storm EP to one of his friends. That's cute, right? One imagines this group of old men passing around a pot of coffee at Denny's while listening to sweet, sweet country music — if you're forecasting a big "but," take a step back, because one is coming.
"He's hilarious," Ross says, laughing. "Picture a big old Italian guy with a big belly, he's that guy."
The 20-year-old singer has a voice that would make any grandfather proud. Melodies roll sweetly from her lips as she sings of love and heartbreak and other things girls her age sing about. And oh yeah, she raps.
Like for real, she raps like Nicki Minaj between choruses that sound like Carrie Underwood with a little more urban street cred. It's not an exaggeration to say she's a sub-genre of one. There is quite literally no other signed female country artist confident enough to work both genres. There are few independents capable of it.
Ross is signed to Colt Ford's Average Joes Entertainment, and like Ford, she's somewhat hesitant to use the "R" word. There's no denying what she does on songs like "Shotgun" is rap, but she's not boxing herself in with a label.
"I don't really see myself as a rapper either, I mean I rap, but …" The New Jersey native is soft-spoken but confident. She's not flashy or boisterous, and she's quick to heap any credit she deserves onto someone else who gave her a lift. That's family, friends and the people she works with.
She's also somewhat bewildered by the success she's had since auditioning for American Idol. The Fox television show isn't responsible her growing fan base (she was eliminated during Hollywood Week in 2013), but her appearance brought new confidence. Positive comments came rolling in on Twitter and Facebook when she performed Underwood's "Mama's Song" and Minaj's "Super Bass." Keith Urban was a fan. Minaj was a superfan. Average Joes label head Shannon Houchins saw her sing and tracked her down.
That moment wasn't one Ross had dreamed of for years. In fact, she didn't start singing seriously until she was 16. Her first performance came at 17, when she sang Pink's "Glitter In the Air" during a benefit show. Now she's touring, recording and trying to figure out who she is, and who her fans are. There's no demographic she can pull back and aim at. So she doesn't worry about it. Most of the time it works, but other times a comment on Twitter reminds her of the new path she's blazing, and how uncomfortable it's making traditionalists. People like to sling arrows at pioneers.
I'm kind of nervous (about it) because everyone's seen the kind of rougher side to my music.
"It doesn't really hurt me," Ross says of any criticism. "It's what I love to do, and someone else's opinion isn't going to change what I love to do."
A remake of Linda Ronstadt's "You're No Good" is Ross's current single, and of course she Ross-ified it. The production is drenched in guitars, and immediately after the first familiar chorus she breaks into her own spoken-word verse.
"I sat in my room for a few hours and I told my mom and my grandma, and they listened to it and I recorded it," she says of how the rap came about. It turns out Grandma is a fan too.
"I mean I rapped random songs on the radio, just joking around but never actually practiced. 'You're No Good' was my first video I ever put rap with country-rock together."
While the music is unique, what truly separates Ross from those who've come before her is that she can truly sing and rap. Both sound genuine. Both come effortlessly. Both are ... good!
The title track from Calm Before the Storm is a swirling acoustic country song, complete with fiddle and a high falsetto that's familiar. Then comes the big country-rock chorus and Ross' spoken-word second verse.
The formula repeats itself on four of the remaining five songs, each standing apart from the last. Only "Happy Hour" breaks away. The vulnerable love song is the one that she worries about.
"I'm kind of nervous (about it) because everyone's seen the kind of rougher side to my music," Ross says of the nostalgic love song. This is the song a major label would lead with. Instead Ross and AJ came with "Shotgun," a song so aggressive that the hair on your neck will try to turn and run. Think of it as a gateway drug to everything Ross stands for and dreams of.
The current radio climate will need to change dramatically for Ross to find herself fighting the likes of Underwood and Lambert for No. 1 hits, but she's with a label that's proven they can win without radio. SiriusXM has been a supporter. She's had two songs on the Mud Digger compilation albums. Live shows are surprisingly easy to book, because she can play several types of venues.
See for yourself. Keep up with Ross at her Facebook at Twitter pages and check out her official website for all tour dates.
Watch Sarah Ross' Video for "You're No Good"
More From Taste of Country