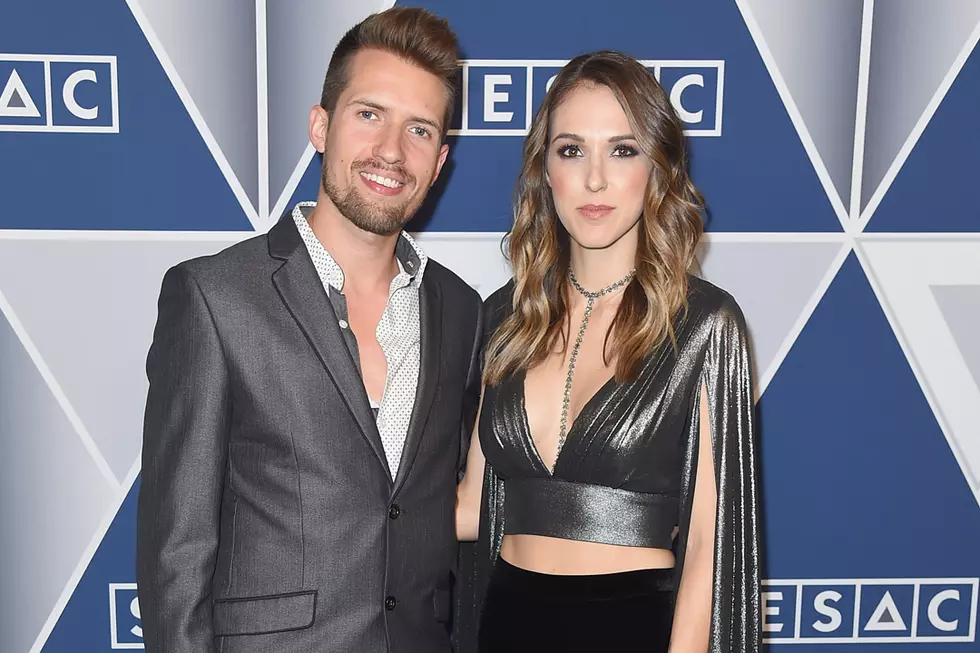 Smithfield's Long, Platonic Road to 'Hey Whiskey'
Michael Loccisano, Getty Images
Go ahead and ask. It's natural! When country duo Smithfield (Trey Smith and Jennifer Fiedler) sing love songs on stage, there's a Johnny and June-like chemistry that leaves fans wondering: Are they dating?
"I think it's such an automatic thing when you see a girl/guy duo, because you can't sing love songs on stage without being together," Smith says (kudos to both for not rolling their eyes when this comes up).
The longtime friends get this question a lot and figure to field it even more when they embark on a radio tour to promote their single "Hey Whiskey" in 2018. It's just that like Charles Kelley and Hillary Scott in early Lady Antebellum days, there's love in their eyes when they lean in close to sing the more emotional songs in their setlist.
"For us, it's like, when I get on stage," Smith continues, "I'm not saying I'm like an actor ... but similar to an actor. It's a show."
Fiedler — seated a few comfortable feet away from her friend — smiles and nods in agreement. Right now their chemistry is more like what Kelley has with Dave Haywood. Any sense that they're about to find the nearest coat closet for a midday rendezvous is absent. The thing about it is there are so many more interesting things to talk about with these Texans. Did you know both separately tried out for American Idol years ago and were cut because neither had a compelling backstory? Did you know that even when SiriusXM the Highway was playing "Hey Whiskey," the duo were still holding down day jobs? That whole starving artist thing is very real.
"I don't think I realized how poor I was at the time," Smith says. "Looking back there was a moment where I was digging through the seats of my car looking for quarters and stuff so I could go down to McDonald's and order off the dollar menu. I got to that spot."
"I worked for an online recording studio for awhile and sang other people's songs for dirt cheap, but it was money," he adds.
Watch Smithfield's Live Sessions Performance of "Our World"
Jobs at a grocery store and with a food delivery service supported roller coaster careers that included an almost-deal with Curb Records and a real deal with the now-shuttered Bigger Picture Records. In fact, the first time Fiedler heard "Hey Whiskey" on the Highway, she was in the car working for Postmates.
"I was like, 'This is not how I pictured this,'" she says at Country Radio Seminar, laughing.
Smith and Fiedler grew up as family friends in Waxahachie (pronounced Wocks-a-hatch-y), a suburb of Dallas. After she graduated from college Fiedler convinced Smith to travel to Nashville with her to compete in a music competition. They'd just started messing around with music as a duo at the time, and Smith agreed. His rock band had just broken up a few months earlier, so his roots weren't deep.
"(I) Was trying the solo thing in this crappy little bar in Arlington every Friday night," he recalls. "There wasn't even a stage in this bar, actually. It was just two speakers set up in a corner."
For a year they traveled back and forth and decided to move permanently once Curb offered them a record deal. That fell through, which sent them on the less glamorous, more common path an artist takes to get on your favorite radio station.
That's the path they're still on. Success at satellite radio and on streaming services created demand for their live show. A performance at the 2017 Taste of Country Music Festival was very well-received. Smith and Fiedler continue to write tirelessly together and have recorded new songs like "When You're Gone," but when it came time to choose a single for terrestrial radio, they went with the hit. "Hey Whiskey" is the song fans demanded, and when you've worked this hard to get to a point that real radio airplay is a possibility, you're humble enough to honor public outcry instead of the ego of the inner-artist.
The Best Country Duet Ever? It's Obvious, Right? 
More From Taste of Country