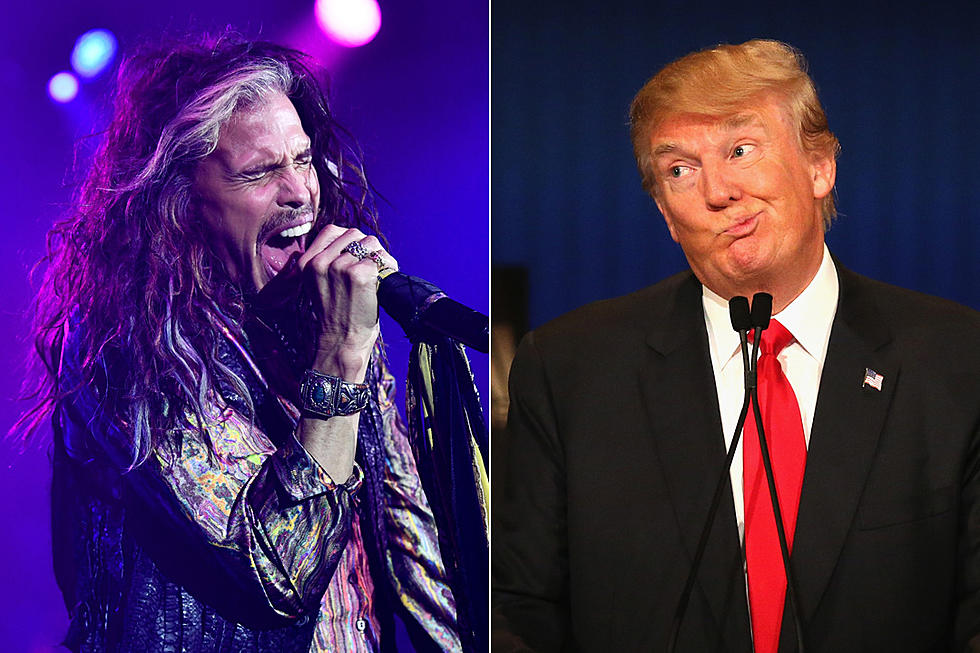 Steven Tyler Hits President Trump With Cease and Desist Over Rally Music
Emma McIntyre / Scott Olson, Getty Images
Aerosmith frontman and sometimes country singer Steven Tyler has issued a cease and desist letter demanding that President Trump stop using Aerosmith's music at his rallies — again.
Trump help one of his frequent campaign-style rallies at the Charleston Civic Center in West Virginia on Tuesday (Aug. 21), and Aerosmith's 1993 hit "Livin' on the Edge" played over the sound system as Trump's supporters filed into the arena. According to Variety, Tyler responded by having his lawyer, Dina LaPolt, send a cease and desist to the White House. Tyler alleges that Trump engaged in willful infringement by broadcasting the song, which Tyler co-wrote with Aerosmith guitarist Joe Perry and Mark Hudson.
LaPolt claims Trump is violating Section 43 of the Lanham Act, as his use of the song "is likely to cause confusion, or to cause mistake, or to deceive as to the affiliation, connection, or association of such person with another person." LaPolt contends that by playing the song in a public arena, Trump and his organization are creating a false impression that Tyler is endorsing Trump's presidency.
Tyler previously took Trump to task during his presidential campaign in 2015 after the then-candidate used Aerosmith's "Dream On" several times at campaign rallies, claiming the real estate developer and former reality TV personality was violating his copyright. Performance rights organization BMI took Tyler's side and denied Trump's campaign the performance rights to the song, a fact Tyler's attorney references in the new cease and desist, writing:
As expressly outlined in the Previous Letters, Mr. Trump does not have our client's permission to use any of our client's music, including "Livin' On The Edge".

What makes this violation even more egregious is that Mr. Trump's use of our client's music was previously shut down, not once, but two times, during his campaign for presidency in 2015. Please see the Previous Letters sent on behalf of our client attached here as Exhibit A. Due to your receipt of the Previous Letters, such conduct is clearly willful, subjecting Mr. Trump to the maximum penalty under the law.
A different performing rights organization, ASCAP, administers the performance rights to "Livin' on the Edge," according to Variety. ASCAP has not weighed in on the matter publicly.
The Most Political Country Singers
More From Taste of Country