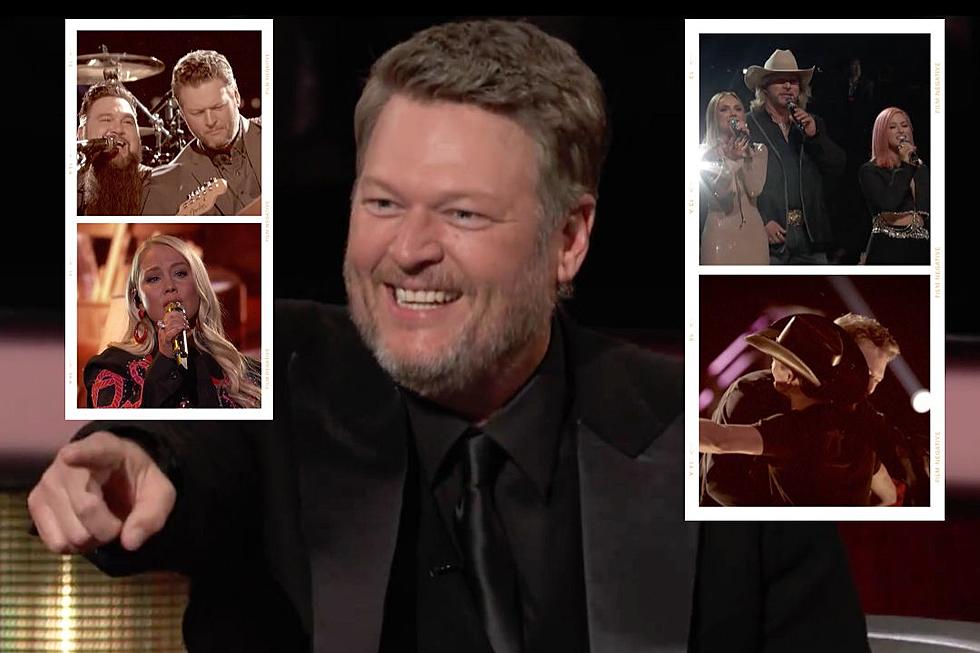 Former Team Blake Members Sing Green Day's 'Good Riddance' to Honor 'The Voice' Coach [Watch]
'The Voice'
The Voice said goodbye to its longest tenured coach, Blake Shelton, on Tuesday night (May 23). Part 2 of a special Season 23 finale was filled with plenty of tributes honoring his time on the show.
And what better way to send Shelton off than with his winning team members from seasons past singing the ultimate goodbye song?
For decades, Green Day's "Good Riddance" has been used at graduation ceremonies and send-off parties — it was even used in a montage during the final season of Seinfeld, and it was appropriate here, too.
Shelton's past team members rose to the challenge and delivered the track effortlessly and with eloquent emotion.
The stage was set with several couches and lamps to look like a cozy living room. All of the seats and those sitting in them faced away from the audience as a projector played clips from past seasons.
Then, each special guest stood and turned to face Shelton as they sang each line. He was stunned:
Bryce Leatherwood, who won Season 22 for Team Blake, opened the song with his deep country voice. He was followed by Jermaine Paul, who won Season 2, and the Swon Brothers, who competed in Season 4.
RaeLynn from Season 2 was the next to take her position, with Danielle Bradbery — winner of Season 4 — singing next. This continued with Season 7 winner Craig Wayne Boyd, Season 11 winner Sundance Head, Season 18 winner Todd Tilghman and Season 3 winner Cassadee Pope.
Also spotted: Dia Frampton (Season 1), Ian Flanigan (Season 19) and Xenia (Season 1).
Finally, all of the former Team Blake members gathered at the front of the stage to close out the song, and Shelton stood with a giant smile on his face as he watched them all harmonize with one another on a few more renditions of the chorus.
"We'll always pick you, Blake," they all said in unison at the end of their performance. Although no tears fell down his cheeks, it did appear that Shelton's eyes had a little extra glisten to them.
Blake Shelton's Winners From 'The Voice': Where Are They Now?
How many of the nine Team Blake winners from
The Voice
can you name?
Blake Shelton
is the show's winningest coach, and several have had hits at country radio and beyond. Several more have shifted genres, changed their name or just flat-out gone missing. Here is the latest on every Team Blake winner from
The Voice.
More From Taste of Country