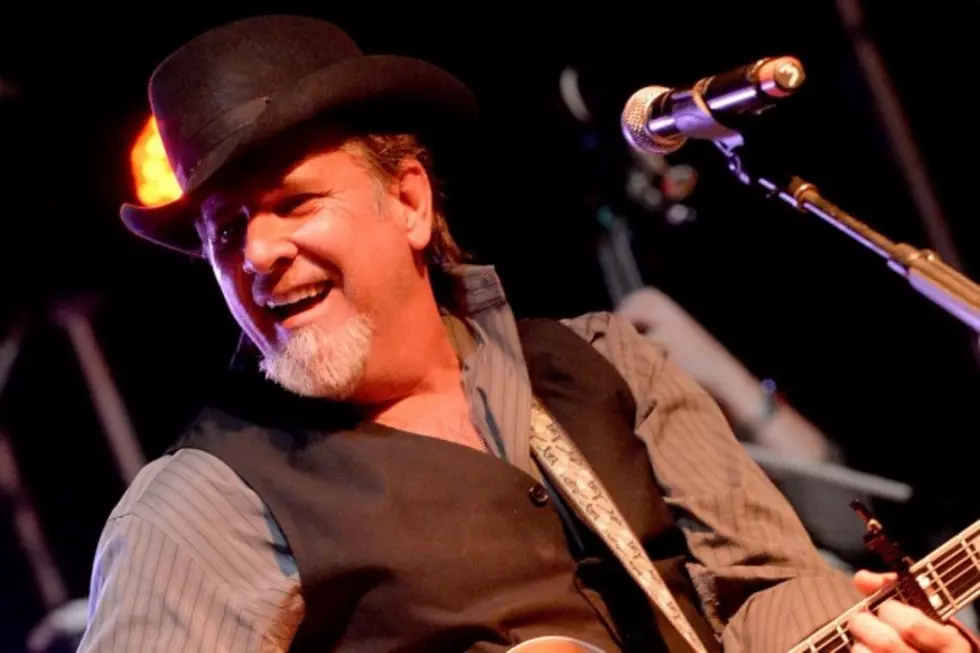 The Mavericks Claim Founding Member Robert Reynolds Was Fired Due to Addiction
Rick Diamond, Getty Images
The Mavericks announced the departure of founding member Robert Reynolds in October, and in a new interview, the band claim he was fired due to an ongoing addiction to opiates.
"This is the worst thing I've ever seen as far as addiction," lead singer Raul Malo tells Rolling Stone. "He's far gone."
The Grammy-winning country group disbanded in 1999 and reunited in 2013 for a new album, 'In Time,' and a tour to celebrate their 25th anniversary. They are set to release another new studio effort titled 'Mono' in February of 2015, but the band members say that Reynolds was barely involved in the new album, and even the previous one, because of his debilitating substance abuse.
The problems were evident when they first reunited, according to drummer Paul Deakin.
"I knew about it from before the band got back together. There were many signs when he first came back into the studio. I confronted him about it, and he denied," he says. "When he finally admitted it, I said, 'I'm not going to sign these [record] contracts until you go into rehab.' On three separate occasions we put him in different forms of rehab over the past three years."
Malo says things got so bad during a run of shows in Australia in September that the bassist was relegated to strumming an acoustic guitar onstage, with the instrument buried in the mix so fans wouldn't be able to hear Reynolds' performance. The group were hopeful that his prescription to Suboxone -- a drug prescribed to help wean addicts from opiates -- would help, but they claim he began abusing that, too. When he turned up at a photo shoot for the new album in poor condition, they were forced to make the decision to let their longtime friend and musical partner go.
"At some point, you start to look at it as we're not making it any better, so we're part of the problem," Deakin says. "It's devastating -- it's our good friend this is happening to. There are so many emotions that are mixed up in it."
The Mavericks posted to their Facebook page in October announcing his departure, but not the underlying reasons. Reynolds' second wife, Angie (his first wife was country star Trisha Yearwood) is battling cancer, and many fans assumed that was the reason for his lack of involvement in the new album and tour. His former bandmates say they were forced to reveal his addictions after they found out he had been hitting up fans for money.
"We set up, inadvertently, some assumptions," Deakin says. "Everybody assumed it was about his wife's struggle with cancer, when in fact it wasn't. We let that go, but then the situation got worse and we had to make something more final."
Malo adds, "It's like, man, what if he hits somebody up for five grand, and then they go, 'Why didn't you guys tell us anything?' And now we put this fan in harm's way and they're out five grand because we didn't have the balls to say anything about it."
The show must go on for the rest of the group, who are moving forward without Reynolds for now. They say the door is still open to him, if he will clean up and commit to an ongoing recovery program. "But the reality is even if he goes to rehab tomorrow, it's going to be a long time," Malo cautions. "He's got to work the program and make sure it sticks."
"I feel a little angry and upset because, man, he should be here enjoying this with us," says guitarist Eddie Perez. "We are having such a ball and are excited about this next chapter we're doing, but Robert and his addiction are keeping him away."
'Mono' is set for release via Valory Music Group on Feb. 17, 2015.
Best of Country Music in 2014
More From Taste of Country