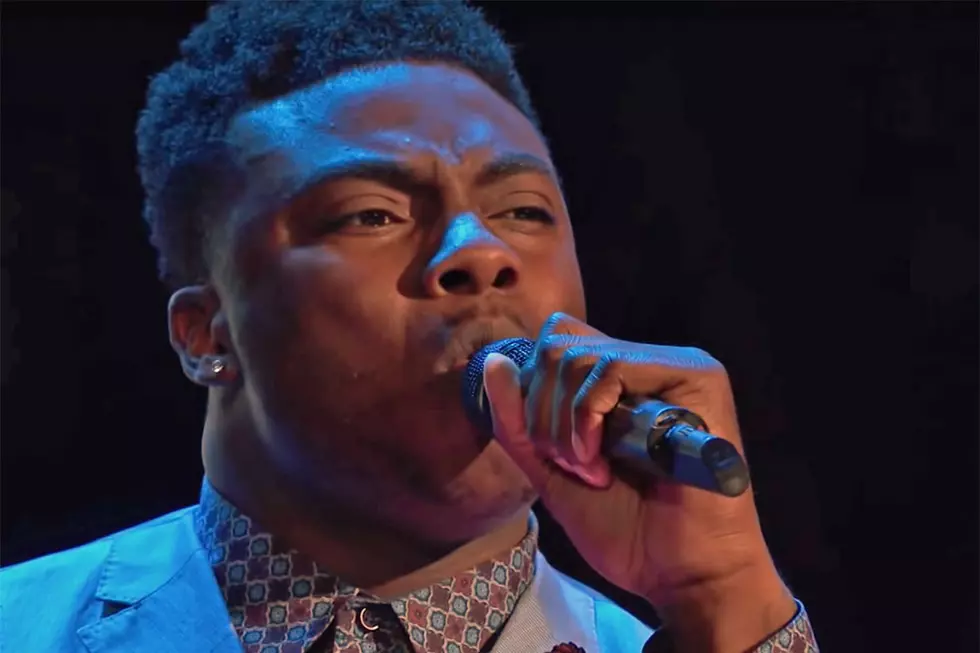 'The Voice': Alabama Soulful Singer Gets Four-Chair Turn With Rascal Flatts Cover
YouTube
The Voice's Season 15 Blind Auditions continued this week on Monday night (Oct. 8), allowin coaches Adam Levine, Kelly Clarkson, Jennifer Hudson and Blake Shelton to further build their teams for the upcoming weeks.
A particularly interesting standout was 22-year-old Kirk Jay who grew up on limited means in Alabama, living in a trailer with very few amenities. He blasted out a soulful version of Rascal Flatts' 2004 hit "Bless the Broken Road," which had first Shelton, then Levine, and then Clarkson and Hudson at the last minute swiveling their chairs.
When discussing the performance after, Levine noted that it was like "CeeLo Green and Blake made a country baby," to which Shelton gave a perplexed (and not totally convinced-sounding) "Oh, yeah."
Shelton took matters into his own hands, walking up to give Jay a hug and saying "Good to finally meet you, son." Following that, Levine decided he was totally out of the game, and endorsed Shelton, unless there was a whisper of a prayer that Jay would want to join his own team.
Clarkson did her best to protest, comparing the Flatts' Gary LeVox to Brian McKnight, which she said she heard in Jay's delivery. "I'm interested in what kind of record you want to make," she asked.
"Country, to the day I die," replied Jay.
Clarkson put up a fight, noting that she'd toured with Rascal Flatts and that she would be able to take both his country and soul strengths and mix them into something perfect. However, Levine interjected again on Shelton's behalf, saying "For the first time maybe in my life, I want to see you on Blake's team." (Shelton gave Levine a kiss on both cheeks as a reward for this.)
Hudson, ever practical, took things into her hands and asked Jay why he chose the Flatts song to begin with. "It was the first country song I ever heard in my life," Jay noted, explaining that he heard the song on the way to school one day and experienced chills all over his body. "I started crying," he elaborated. "I'm country 'til I die, I promise."
With all that, it's not too surprising that Jay went for the obvious. Can you guess? Of course, Team Blake.
We'll be following all the Voice shenanigans from start to finish this season, with a focus on country music's offerings, so check here each week to see how your favorites are faring. We'll keep you up to date!
Country's 10 Most Successful The Voice Contestants Yet:
More From Taste of Country