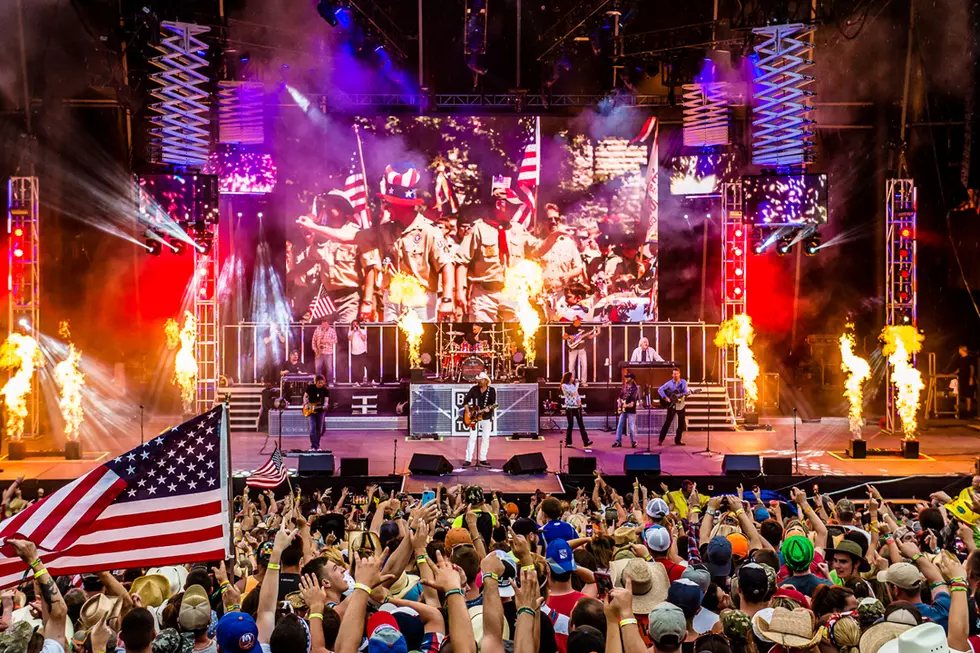 Toby Keith Closes Taste of Country Music Festival With Power, Patriotism
Joshua Timmermans
Toby Keith playing "Courtesy of the Red, White and Blue" to a packed crowd of screaming country music fans will never get old. The singer closed the 2015 Taste of Country Music Festival with his two most patriotic songs, but those were far from the only two highlights from Sunday night (June 14).
The set relied on his hits — and there were a lot of hits. Rarely did he stop for longer than a breath. Only Scotty Emerick's appearance on "I'll Never Smoke Weed With Willie" broke the set up. Keith rarely performs the song, but Emerick was on the road with him, so he took the opportunity to sing it after telling the story of how it came to be. You see, Keith was in Las Vegas that night years ago, scheduled to attend NBA player Charles Barkley's birthday party at midnight ...
"We went over to hang with Willie (Nelson) at eight and we never did make Charles' birthday party," Keith shares. Thus was born one of his most popular bus songs.
Early set highlights included "American Ride" and "Beer for My Horses," which the iconic Nelson joined him on via a video recording. Prior to beginning the song Keith saluted firefighters and police in New York state.
"You can only hope to contain the 'Red Solo Cup,'" Keith said before two enormous Solo cups were wheeled out for the unlikely hit song. Then was "Who's Your Daddy?," featuring a great guitar introduction, horn solo and a quasi-Elvis impersonation.
Keith took the stage early due to impending rain showers, but a steady drizzle didn't dampen anyone's enthusiasm. "A Little Less Talk and a Lot More Action" featured another great horn spotlight. Then came his one cover, a blazing version of Ted Nugent's "Stranglehold" with guitars flying around like American flags.
The encore featured "American Soldier" and "Courtesy ..." Even the most modest, polite country girl threw an arm up reflexively when the star shouted, "Hey Uncle Sam put your name at the top of his list / And the Statue of Liberty started shakin' her fist" during the song's final chorus. He reminded fans to tell anyone that asks you to apologize for being patriotic should be given a two-word response that begins with "F" and ends with "U."
Keith will perform next Sunday at Country Jam in Grand Junction, Colo. He closed the third day of the 2015 Taste of Country Music Festival, following headliners Keith Urban and Tim McGraw.
Next year, Kenny Chesney will headline country music Woodstock. Tickets go on sale to the public on Monday morning.
Sights and Sounds from 2015 Taste of Country Music Festival
More From Taste of Country