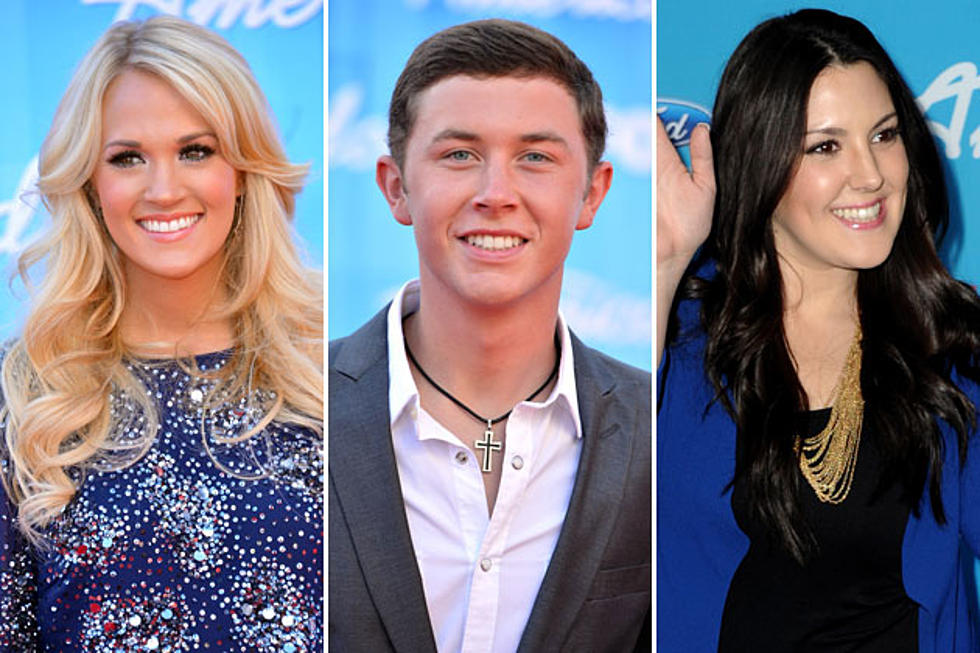 Top 10 Country 'American Idol' Singers
Alberto E. Rodriguez (2) / Kevin Winter, Getty Images
The country artists who found success after appearing on American Idol can be credited with the show tapping a country judge to lead the Season 12 of the show in 2013. Carrie Underwood and Scotty McCreery are two of the 15 winners of the reality singing show, but another winner is spending a lot more time in Nashville these days.
Where should Trent Harmon fall and who is the top country American Idol singer of all time? It was a serious debate! Kellie Pickler continues to find success in non-traditional ways — she' arguably country's most successful reality television star ever. Lauren Alaina is coming on strong of late, but what about artists who have found non-country success?
We weighed each singer's radio and sales success as well as career longevity. A few famous faces won't be found on this list of the Top 10 country American Idol singers, which is a testament to the strength of Nashville talent coming from Hollywood in recent years.
A new season of American Idol has just been announced. It's not clear if Keith Urban and company will return, but the show is set to premiere on ABC in 2018. Could Casey James' tenuous spot at No. 10 be in trouble?
10

Jason Davis, Getty Images

Jason Davis, Getty Images

Casey James took a year away from the spotlight after the ninth season of American Idol, so many people forget he finished third. The Texas-born singer and guitarist was — and is — a fan favorite. He's released three singles from his self-titled debut album on BNA Records, including "Crying on a Suitcase." James came to the show with significant touring experience — something that's apparent if you see him live today. That's not the case with most singers on this list of country's top American Idol singers.

9

Rick Diamond, Getty Images

Rick Diamond, Getty Images

Kree Harrison's performance on Season 12 of American Idol made her an instant fan favorite, but she'll need to prove herself on country radio and to fans during live shows to move up this list. The Texan has been quiet since her time on the show, but in 2016 she released a soulful album called This Old Thing.

8

Alberto Rodriguez, Getty Images

Alberto Rodriguez, Getty Images

Trent Harmon is one of three country winners but like the No. 3 artist on this list he's struggled after the show stopped. "There's a Girl" was a Top 20 radio hit.

7

Rick Diamond, Getty Images

Rick Diamond, Getty Images

One could argue that Kelly Clarkson should top this list of the top country singers from American Idol, and one could argue she doesn't belong at all. The original winner is placed so low because while she's a superstar internationally, her country resume is still limited to a couple of popular duets and a handful of singles. With no country album or solo No. 1 hit on country charts, it's difficult to argue that the Texan belongs higher, though maybe she will soon.

6

Alberto Rodriguez, Getty Images

Alberto Rodriguez, Getty Images

The country favorite from the fifth season of American Idol was Bucky Covington, who finished eighth that year. The singer from Rockingham, N.C. was as charming as any in the show's history, and he turned that into radio gold — his debut album peaked at No. 1 while selling nearly 500,000 copies. A follow-up was expected in 2010, but Lyric Street closed, leaving this singer professionally homeless. Along with James, he is one who came prepared to play live after the series ended.

5

Frazer Harrison, Getty Images

Frazer Harrison, Getty Images

You'd be hard-pressed to name many of the runners-up from the 15 seasons of American Idol, but country fans know Lauren Alaina finished second in Season 10. Alaina was named the New Artist of the Year at the 2012 ACA Awards in Las Vegas. Her debut album Wildflower enjoyed healthy sales, but she wouldn't become a true commercial success until songs from her Road Less Traveled album started topping the charts.

4

Rick Diamond, Getty Images

Rick Diamond, Getty Images

Country music's first American Idol star was Josh Gracin, who released the Top 5 song "I Want to Live" shortly after finishing fourth following the show's second season. Gracin has a gold record, three Top 5 singles — including the chart-topping "Nothing to Lose" — and a number of other songs that earned significant radio play.

3

Jason Davis, Getty Images

Jason Davis, Getty Images

There was little doubt that Scotty McCreery would win Season 10 of American Idol. The Garner, N.C. native delivered dominating performances each week, and his humble charm swept fans off their feet. His debut album went platinum, and he's followed that with a gold Christmas album. Songs from See You Tonight would mark his greatest radio success.

2

Rick Diamond, Getty Images

Rick Diamond, Getty Images

While with BNA Records, Kellie Pickler made a living from mid-charting songs that peopled rushed to buy. However, her best album came as she was splitting from the label. 100 Proof was named one of the top records of 2012 by many critics. Much like the No. 1 singer on this list of the top country singers from American Idol, this North Carolinian combines artistry with commercial success – not to mention a telegenic personality. Add a TV show and a win on ABC's Dancing With the Stars to her post-Idol resume. This is country's most successful reality star if not the top Idol.

1

Ethan Miller, Getty Images

Ethan Miller, Getty Images

It's impossible to ignore Carrie Underwood as the all-time best country singer from American Idol. She's sold more albums than any other singer of any genre that appeared on the show. Five albums have gone platinum and she has nearly 20 No. 1 hits. Underwood is arguably the most recognizable star in the format — something you'd never realize if you ran into her at the supermarket or church. Despite the fame from the show, she has remained humble.

BONUS

Unforgettable Idol Auditions
More From Taste of Country