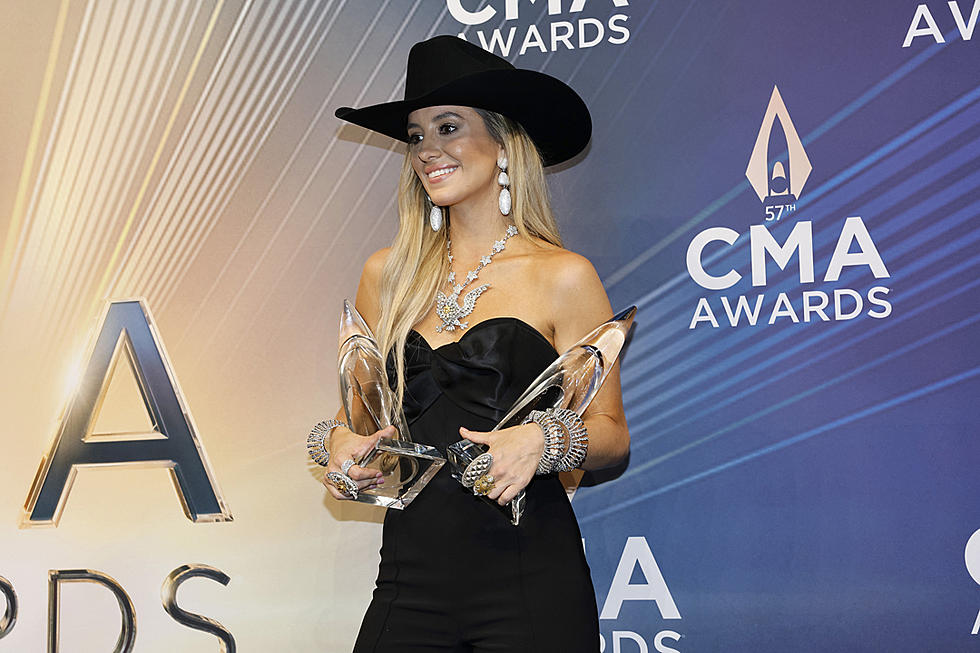 Here's Why Lainey Wilson Won 2023 CMA Entertainer of the Year
Jason Kempin, Getty Images
Lainey Wilson's Entertainer of the Year win at the 2023 CMA Awards was stunning and deserved. The trophy is her reward for 365 days of grit, grind and hustle.
Simply put: Wilson outworked 'em. She turned in songs that fans, critics and country programmers loved to hear and a live show that didn't get as much hype as it should in 2023, because it came before Luke Combs for much of the summer.
Related: Lainey Wilson Has Been Manifesting Her CMA Win Her Entire Life
Then, she went home and called, Zoomed and visited with anyone willing to talk country music with her. She's a woman in country music, so that part of the job came with some nonsense about her butt, her weight and her love life, but she never flinched. In fact, she put on a masterclass in handling personal topics. Standing your ground without shutting a question down is a skill only a handful of artists have.
If somebody tells me I can't do it, hold my beer — watch this."
When that was done, she probably checked in on her Deddy and certainly glammed up for an endorsement deal. How many times was she on TV on Wednesday night? Three big wins and a top notch performance came before, and after, she was urging us to go pour a glass of Stella Rosa.
Endorsements with Dodge and Wrangler helped reinforce her brand as a legit cowgirl in 2023. It all comes at the expense of PTO.
This year, the message is that simply showing up over and over again can be enough to separate you from a crowd. Combs was also very generous with his time in 2023 (of the five, he and Wilson were the only two to visit CMA Radio Row), and to be clear, Wilson's win isn't the default option after voters took issue with the other candidates.
She didn't win because people are still angry with Morgan Wallen, and she wasn't standing up there fighting back tears because Carrie Underwood was overlooked. Nobody is tired of Combs (the LeBron James of this era of country music) winning this award, and people really do think of Chris Stapleton as a true "entertainer."
Voters voted for Lainey Wilson.
In winning, Wilson became the first, first-time nominee to win in 14 years (Taylor Swift). This was somewhat common in the '90s and early '00s (Shania Twain, Keith Urban), but somehow, Entertainer of the Year turned into a legacy award over the last 10 years.
There is a narrative on social media that Wilson is undeserving because several so-and-sos haven't won yet. That's absurd — the CMA Awards are not the checkout line at Kroger. Next-in-line service is not promised. Work hard, deliver great music, take care of your business with class and repeat, and you too can be Entertainer of the Year. That has to be an exciting thought for a half dozen relative newcomers that check those boxes. Don't be surprised if Jelly Roll is standing up there in 2024.
This win is also a win for country radio, where Wilson focused much of her time and energy this year. It's also a win for country music. Swift, Twain and, to a lesser extent, Urban all had massive pop appeal when they won. So too did '70s first-timers like Charlie Rich and John Denver. But Wilson? This girl couldn't be more country if she was made of hay.
The shock is that a first-time winner won, but it's a trend one hopes will continue in 2024 and beyond. Otherwise, rename it Entertainer of the Last Five Years.
2023 CMA Awards Red Carpet Pictures
The 2023 CMA Awards aired live on ABC from Nashville's Bridgestone Arena on Nov. 8. Luke Bryan and Peyton Manning hosted the show for a second straight year. Luke Combs, Carrie Underwood, Chris Stapleton, Lainey Wilson and Morgan Wallen were
nominated
in the Entertainer of the Year category.
Gallery Credit: Billy Dukes
More From Taste of Country