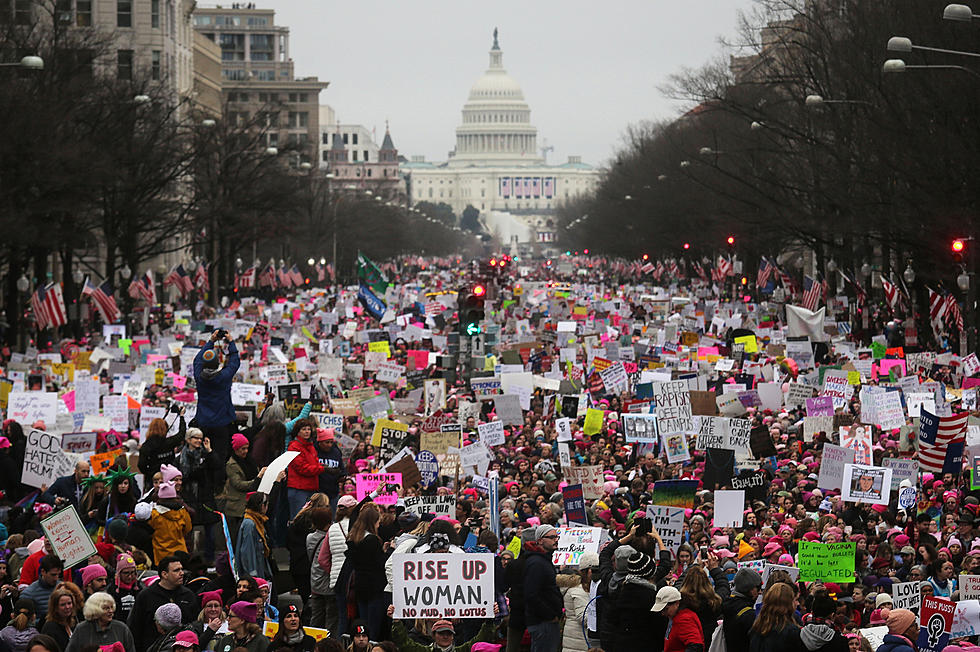 Country Stars React to the Women's March Protests
Mario Tama, Getty Images
Millions of women (and men) all over the world took to the streets to protest the inauguration of President Donald Trump on Saturday (Jan. 21), and country stars were among those who commented on the protests via social media.
The hashtag #WomensMarch trended across social media for most of the day Saturday and into Sunday (Jan. 22), following an unprecedented day that drew a total of more than a million protesters to Washington, D.C., and other cities around the United States, while millions more protested around the world in countries including Mexico, New Zeland, Austraia, England, Isreal, Germany, Spain and more.
Female stars including Taylor Swift, Kelly Clarkson and more shared their support for the proceedings online via Twitter, and even the Brothers Osborne got in on the act, while Charlie Daniels spent much of the day online lamenting the state of affairs, though it wasn't clear if he was alluding to the Women's March specifically, or Trump protests in general. Meghan Linsey was doing more than tweeting -- the former Steel Magnolia singer and The Voice runner-up was in the thick of the action at the march in Nashville.
In addition to the tweets we've collected in the gallery above, Cam turned to Instagram to share her thoughts on the Women's March, and Little Big Town's Karen Fairchild also weighed in via social media, along with LeAnn Rimes and Kacey Musgraves.
According to multiple media reports, the Washington march drew more people to protest the election of President Trump than his inauguration brought out the day before. Trump slammed those reports as inaccurate during remarks he made at the CIA on Saturday, according to the New York Times, while new White House Press Secretary Sean Spicer denounced the media from his podium during a press briefing on Saturday.
Wynonna Judd spent quite a bit of Saturday and even part of the day Sunday engaging fans in a long and civil discussion about the day's events after her sister, actor and activist Ashley Judd, showed up at the Women's March in Washington and read a poem titled "Nasty Woman," in which she excoriated President Trump for misogyny, racism, homophobia and bigotry, and drew a rousing reaction from the other protesters in a moment that went viral online after it aired live and uncensored across multiple networks.
Wynonna Judd Turns to Twitter After Ashley Judd's Women's March Speech
More From Taste of Country