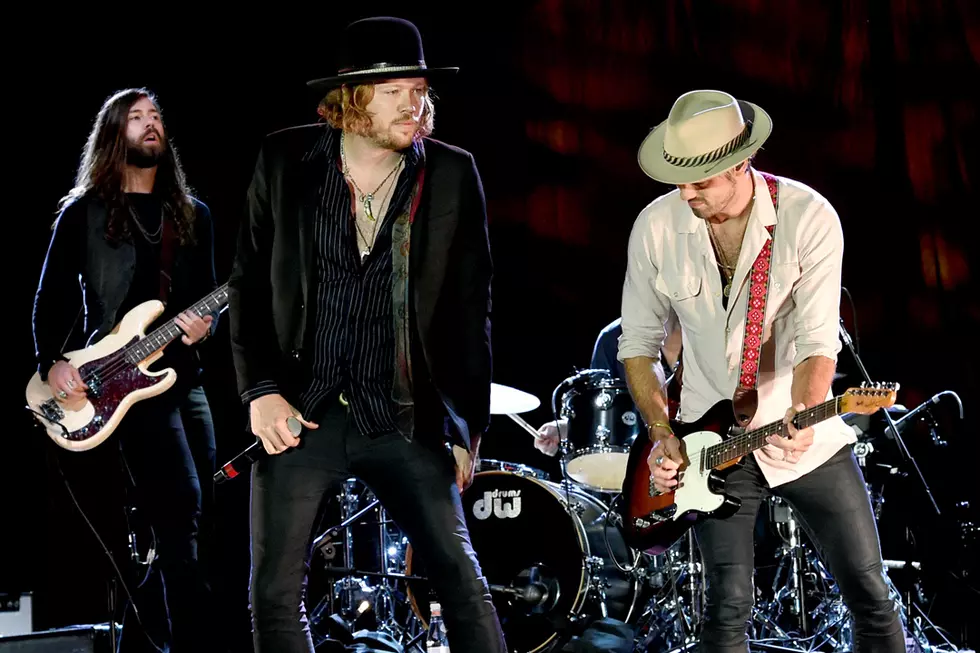 A Thousand Horses Cut Half of Their 'Bridges' Album in London, But Why?
Rick Diamond, Getty Images
A Thousand Horses' new Bridges album is almost a tale of two albums, except that all 13 songs fit a theme. The group says they turned up the volume on what they do best while digging deeper into more relatable experiences. Half of the songs were recorded in Nashville. Half were cut in London.
The result is a textured mix that relies on familiar hometown experiences. "It's just about real things you experience in life," Bill Satcher says of "Bridges," a song that's "just about life." "Weekends in a Small Town" and the single "Preachin' to the Choir" are also universal. You know the guy singing, or you are him.
"Looking back, can't help but laugh at all the pages I've turned / No worries it's just water under the bridges I've burned," they sing. "I think the project in a way is kind of reflective, as a whole ... of exactly how we grew up," Satcher, a South Carolina native, continues.
"One Man Army" is more personal, but still accessible. Singer Michael Hobby co-wrote the song and admits his wife Caroline was on his mind as he penned a love song that's about pledging allegiance to your significant other. In subtle ways you learn more about the band during the six new songs on Bridges than you did on the Southern rockers' previous album. Leaving their flaws and vulnerabilities on this project was important to the band, and they did it quite literally. Six of the final seven songs were cut at Metropolis Studios in London, a studio that has housed nearly every European legend at some point (Adele cut 21 there).
Last fall Hobby, Satcher, Zach Brown and Graham Deloach brought 25 to 30 fans into the studio and played a set that was recorded straight to vinyl. It was a touch terrifying, as there was no room for error. Every note, lyric, misstep and improvisation found a groove. If someone coughed, it couldn't be edited away.
"It went straight from the floor upstairs to the machine and then printed on vinyl, and that was it," Hobby explains. "That was the moment."
Reimagined versions of songs from Southernality and encores of three from Bridges split the six songs cut in London. A live version of "Smoke" recorded in Nashville's Printer's Alley dots the end of the album. The end result — flaws and all — is something they're quite proud of.
"Having the human element on the record is something you don't have anymore," Hobby says, referring to the more modern way of recording albums.
The band are something of an onion in that it's difficult to explore every layer with one song, album or interview. There are four of them, so quite literally it's a more ambitious endeavor to figure out who this band is collectively. This extended EP finds them enjoying blue-collar, everyman pleasures found in any town in America. Bridges fits.
See the Best Albums of 2017 (So Far)
More From Taste of Country