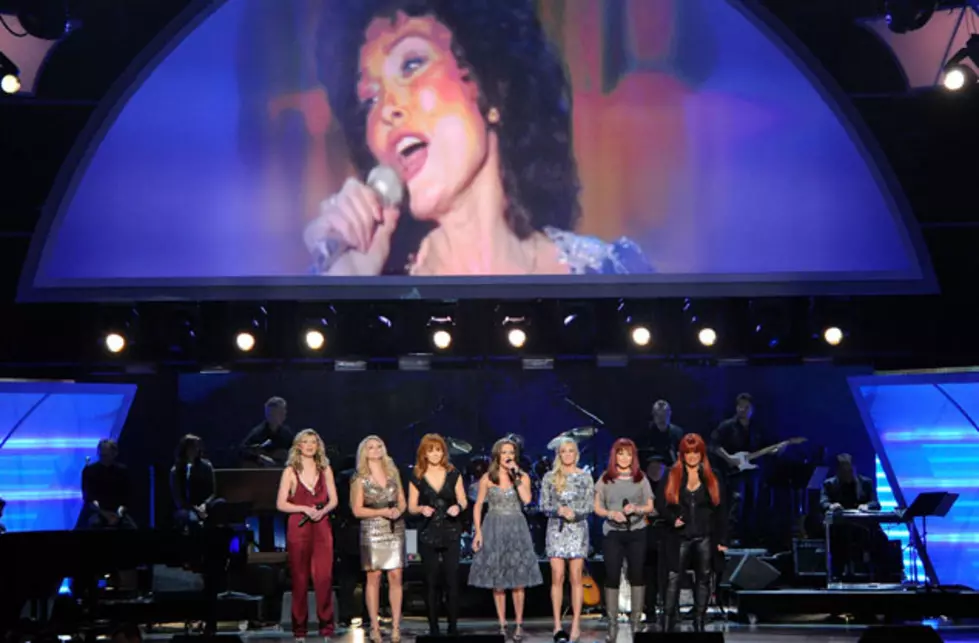 The 'Girls Night Out' Ladies of Country Recognize Loretta Lynn With 'Coal Miner's Daughter'
Reba McEntire, Martina McBride, Carrie Underwood, Sugarland's Jennifer Nettles, Miranda Lambert, and the Judds came together during the 'ACM Girls Night Out: Superstar Women of Country' special in order to pay a unique tribute to a woman who has shaped each and every one of their careers: Loretta Lynn.
The ladies of country music each got their own moment to shine on the CBS special, but as the night drew to a close, they wanted to tip a collective hat to Lynn with a cover of her song, 'Coal Miner's Daughter.'
"None of us would be doing what we do if she hadn't done it first," McBride proclaimed as she welcomed her female peers to the stage. "It's no wonder the first lady of country music is Loretta Lynn."
The girls each took turns singing lines from Lynn's autobiographical 1970 hit, smiling at one another and the crowd as they sang. Lynn -- who is noted as being the academy's only female artist of the decade -- was unable to attend 'Girls Night Out,' based on doctor's orders that she stay home to recover from knee surgery. In a pre-recorded video message, the legend thanked the girls, the crowd, and the ACM for honoring her 50-year career, which boasts 16 No. 1 hits, 52 Top 10 hits, and 16 Academy of Country Music awards.
The collaborative performance of 'Coal Miner's Daughter' was a special way to not only honor where Lynn came from, but recognize her for where she's been and what she's done for country music -- especially the careers of those that followed in her footsteps.
Watch the Ladies of Country Perform Loretta Lynn's 'Coal Miner's Daughter'

More From Taste of Country