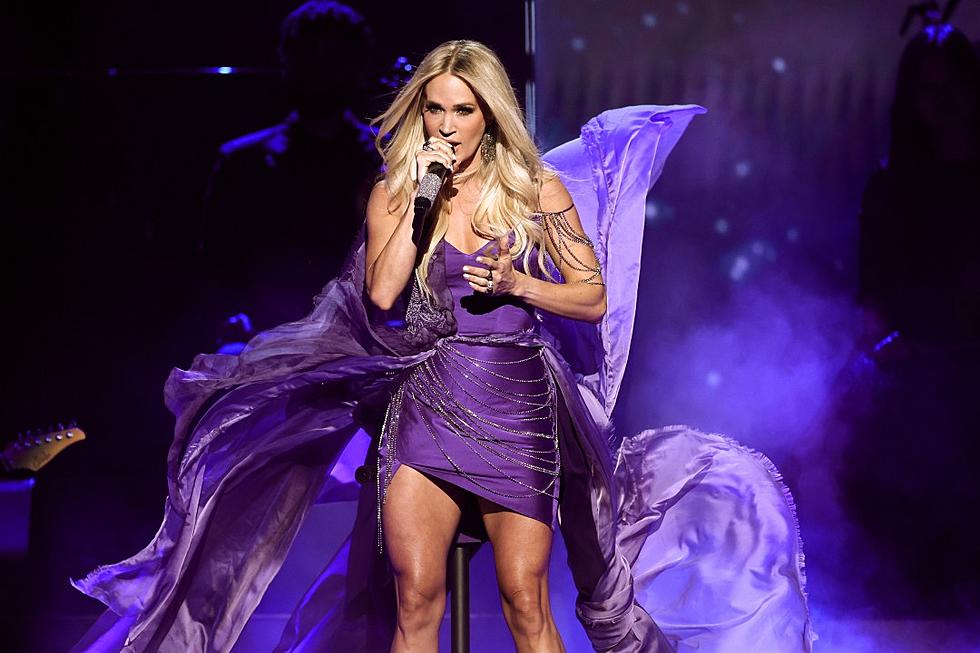 Carrie Underwood Reveals Tracklist for Deluxe 'Denim & Rhinestones' Album
Rich Fury, Getty Images for The Recording A
Carrie Underwood is brining fans more Denim & Rhinestones with a deluxe version of her 2022 release. The juiced-up project — due out in September — will feature six new tracks, in addition to the 12 on the original version.
The "Ghost Story" singer has already shared two of the new songs, "Out of that Truck" and "Take Me Out." The first is Underwood's new single released to country radio and speaks to her memory lingering in the truck of an old flame. Almost a "Ghost Story 2.0" of sorts, she sings of the lingering smell of her shampoo on the seat and the nail polish stains she left on the tailgate. No matter how hard he may try, her ex will never get her out of that truck.
"Take Me Out" offers up a different story. The lyrics detail a long love story that needs some shaking up. Like many know, the chaos of life can sometimes take up the time of two lovers, and Underwood begs to be taken out on a date. It's a reminder to never stop dating your spouse.
The others four tracks will be released when the full deluxe edition drops on Sept. 22.
Underwood took the original Denim & Rhinestones album on the road on a tour of the same name. The trek wrapped in March, but fans can expect to hear some of the songs — perhaps including a few of the new ones — at her Reflection: The Las Vegas Residency show, which picks up again June 21.
Carrie Underwood's Denim & Rhinestones Deluxe Edition Tracklist:
1. "Denim & Rhinestones"
2. "Velvet Heartbreak"
3. "Ghost Story"
4. "Hate My Heart"
5. "Burn"
6. "Crazy Angels"
7. "Faster"
8. "Pink Champagne"
9. "Wanted Woman"
10. "Poor Everybody Else"
11. "She Don't Know"
12. "Garden"
13. "Out of That Truck" *
14. "Give Her That" *
15. "Drunk and Hungover" *
16. "Damage" *
17. "Take Me Out" *
18. "She Don't Know" (live from Denim & Rhinestones Tour) *
* - Deluxe Edition tracks
Carrie Underwood Reflection: The Las Vegas Residency Pictures
Carrie Underwood kicked off her Reflection: The Las Vegas Residency on Wednesday, Dec. 1. The show featured nearly two dozen hit songs plus a dazzling video wall and eight talented dancers who went to great heights to entertain the audience.
More From Taste of Country