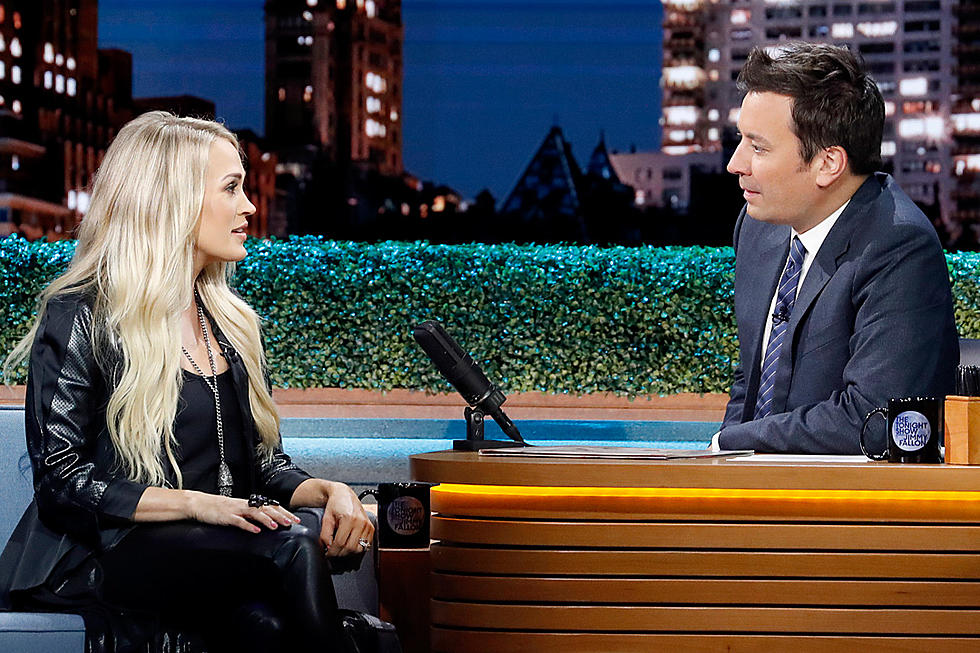 Carrie Underwood Recently Spent Three Days Hospitalized in Germany
NBC
Carrie Underwood had to scrap a couple of scheduled shows in the U.K. earlier this month for an undefined illness that was serious enough to put her in a hospital.
Talking to Jimmy Fallon during her Tonight Show visit on Thursday (Sept. 13), Underwood revealed she woke up with vertigo and needed to be admitted. "They were so sweet and so nice," she says of her caretakers.
No, she didn't come away from the experience fluent in German. Underwood learned the phrase for "no meat, please," to let people know she was vegetarian. As a result of the illness, the 35-year-old pregnant country singer had to cancel appearances at the Long Road Festival and Radio 2 in London's Hyde Park.
Carrie Underwood's Post-American Idol House Is Surprisingly Modest!
"I don't cancel shows," she told Fallon during her appearance. "I will drag myself onto the stage and perform if I have the flu or whatever."
It's the second time in a year she's spent significant time receiving medical care. Last November she fell at her home in Nashville and required wrist surgery and many stitches to her face. The incident did force her to pull out of one scheduled appearance.
Watch: 6 Carrie Underwood Facts That Will Blow Your Mind!
Now recovered and able to promote her new Cry Pretty album in New York City, Underwood talked about co-producing an album for the first time and about her three-year-old son's musical aspirations. Mostly, it's television theme songs for him right now, but he also likes some of the shows she enjoyed as a kid, like Fraggle Rock and DuckTales.
"If he is not musically inclined that is fine," she says. "I'm excited to find out what he loves and is passionate about and is good at, and I will support that. But I really want him to sing."
Later, the "Cry Pretty" singer would perform her new song, "Love Wins," and then play Name That Song with Henry Golding as her partner. She was scheduled to appear on Today Friday morning, but that performance was also canceled due to NBC's coverage of Hurricane Florence.
Relive Carrie Underwood's Best Baby Bump Pictures:
More From Taste of Country