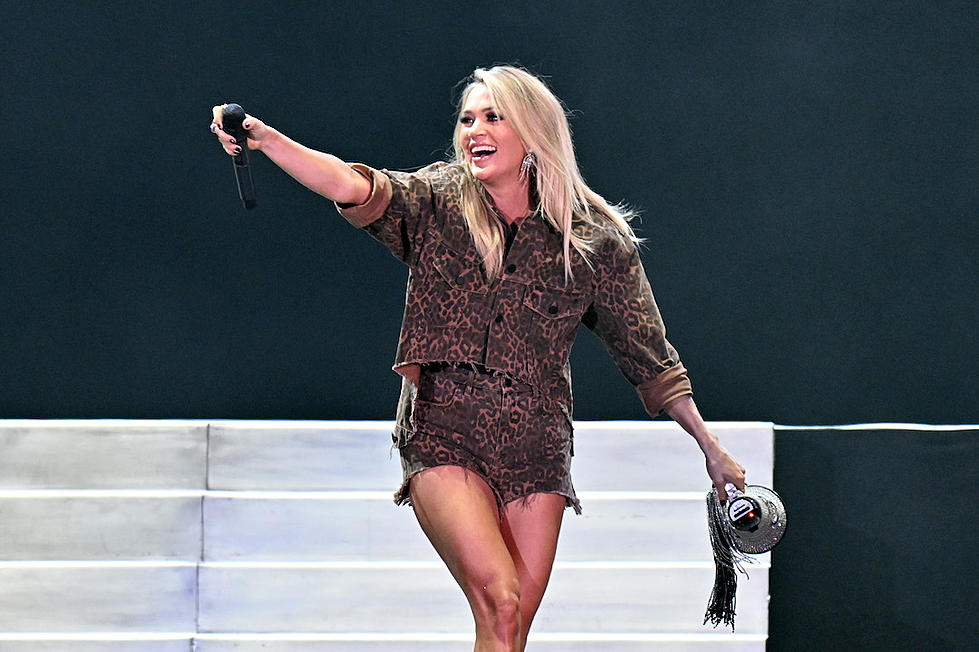 Carrie Underwood to Perform at the 2023 Rock & Roll Hall of Fame Induction
Getty Images for ABA
Carrie Underwood is one of nine stars just added to the guest list of the 2023 Rock & Roll Hall of Fame induction ceremony.
Underwood will perform during this year's show, according to a social media post from the Rock & Roll Hall of Fame. Other newly-announced performers include Stevie Nicks, Adam Levine, Common, Miguel and Sia. The extension to the lineup also includes a handful of presenters, like Queen Latifah, LL Cool J and Ice T.
Underwood is the only country act in the new batch of names, but she's certainly not the only country performer who will take the stage during this year's induction ceremony. Chris Stapleton is a previously-announced performer, as is the country-adjacent Brandi Carlile.
Of course, if you're counting inductees, there's another big country legend set to take the stage: That's Willie Nelson, who was voted into the Hall of Fame earlier this year. Nelson will perform, as will some other inductees, including Sheryl Crow, Missy Elliott and Chaka Khan.
As they count down the weeks leading up to the Rock & Roll Hall of Fame induction ceremony, the performers are still keeping details like whom they're tributing and what songs they've chosen pretty close to the chest. There's been some speculation that Stapleton might be planning a Nelson cover, since both his voice and musical style would fit pretty seamlessly into the county great's discography — plus, they've toured together in the past.
Pop-leaning vocal powerhouse Underwood is a less obvious choice for a Nelson tribute performance, but she just might've dropped a big hint that her induction ceremony performance will indeed involve him. After the two artists  — along with George Strait — headlined this year's ATLive Concert, both Underwood and Nelson posted a photo together to their social media.
"Name a more iconic duo ... you can't," Nelson wrote in the caption of his post.
Sure, they were at the same show at the same time, but it still seems a little out of the ordinary that both artists would share a photo of themselves together by coincidence. Our money's on something big brewing: Perhaps even an onstage moment together at the Rock & Roll Hall of Fame induction ceremony.
The ceremony will take place Nov. 3 at the Barclays Center in Brooklyn, N.Y. Fans will have a rare chance to see the show from home, since it's streaming live on Disney+ starting at 8PM and will be available on-demand immediately afterward. Plus, ABC will air a special performance and highlights special on Jan. 1, 2024 (New Year's Day).
15 Country Artists Who Deserve to Be in the Rock & Roll Hall of Fame
With Dolly Parton's 2022 induction into the Rock and Roll Hall of Fame — and, even more recently, Willie Nelson's nomination for the 2023 class — it's clearer than ever that country artists have a place in the Cleveland-based institution's hallowed halls. But the Rock & Roll Hall of Fame has always shown love to country performers, to a certain extent: Johnny Cash, Chet Akins, Brenda Lee, the Everly Brothers and Hank Williams are all past inductees.
Based on the criteria the Hall has set forth, that nominees should be acts who have had "a profound impact on youth culture," there are still many more country artists who deserve their spot in the Hall. Flip through the gallery below to see Taste of Country's top picks for who the Rock and Roll Hall of Fame should induct next.
More From Taste of Country