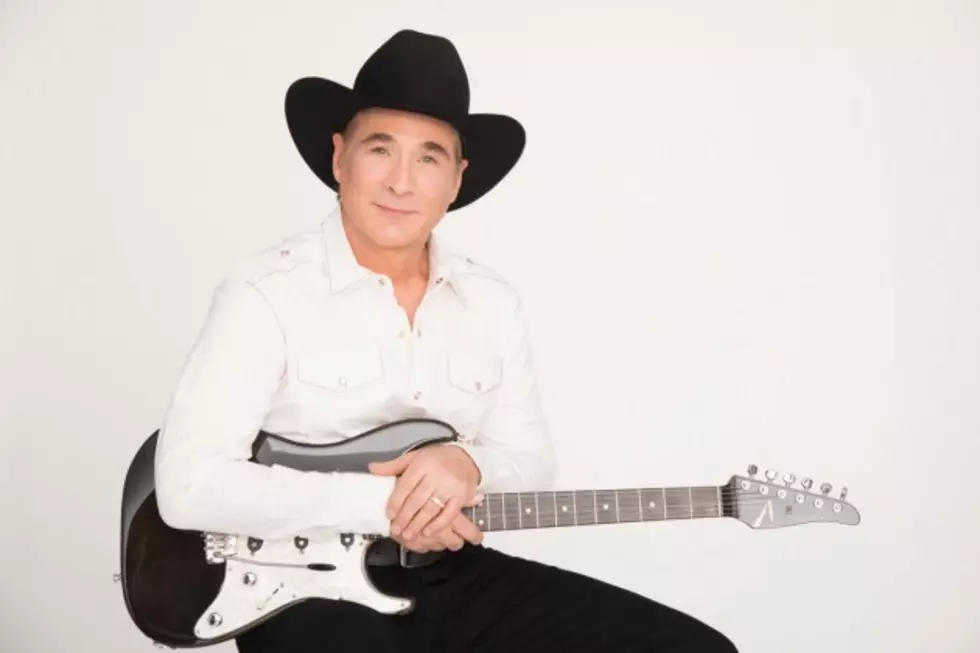 Clint Black Talks New Album, 'On Purpose': 'This Is What I'm Supposed to Be Doing'
Kevin Mazur
Clint Black is releasing his first full-length studio album of new songs in a decade, and it's a collection well worth the wait for fans of true musical artistry.
The singer-songwriter and instrumentalist burst onto the country music scene with his 1989 debut album, Killin' Time, which won him ACM Album of the Year, Top Male Vocalist and Top New Male Vocalist honors. The album was certified triple platinum and scored five No. 1 hits, including "A Better Man," which won him the ACM award for Single of the Year. Black has scored more than two dozen No. 1 hits and 31 Top 10 singles, all of which he wrote.
He is set to drop his new album, On Purpose, on Friday (Sept. 25) via a partnership with Thirty Tigers. Black recorded and produced the 14 new tracks in his Nashville studio, crafting a very diverse group of songs. "You Still Get to Me" marks Black's third duet with his wife, Lisa Hartman Black. He touches on ballads with "Only One Way to Live," "Stay Gone," "Breathing Air" and "Last Day," while "Beer" and "Better and Worse" are more upbeat songs. "Time for That," "Doing It Now for Love" and "Summertime Song" are more groove-laden and catchy, while "Calling It News" is wryly topical, and "The Trouble" borrows from Australian slang. The album is available at iTunes.
Taste of Country caught up with Black recently to talk about the long road to On Purpose. Black is a unique interview; instead of offering up the self-promoting cheerleading that is often the agenda of artists with a new project, he was thoughtful, humble, insightful about the work and the vagaries of the business that ultimately determine how that work impacts the marketplace. The result is an in-depth interview that is every bit as special and one-of-a-kind as the album it is aimed at promoting.
The album title On Purpose borrows from the song "Better or Worse." Why did that phrase jump out at you as the title for the album?
I didn't arrive here by accident. I haven't released music in a long time, and part of that was because I went through the process of meeting with major record labels that wanted to offer me a deal. I kinda let that waste a lot of my time, only to find out in the end that what they really wanted was to find me a song they thought was a hit, and have me go sing it. And whenever I realized that, I would walk away from the deal.
This is what I'm supposed to be doing. Therefore, this is me on purpose.
So I told my manager, "Listen, I can't do this. If you want to release new music, of which I have plenty, then you're gonna have to find some other way to do it. I'm not gonna go that route." So I had no idea what kind of company he would come back with, but he came back with Thirty Tigers, and I loved them. The whole company, the way they do things, and more importantly, they really loved me, and didn't want to go find me songs or get a producer who would make me sound like Jason Aldean or whoever in the world they were wanting me to go sound like. They sign artists they believe in, and just let them be themselves.
So those two words really spoke to me in light of all that. On Purpose. I didn't get here by accident, and I chose to do this this way for a reason, and this is what I'm supposed to be doing. Therefore, this is me on purpose.
Producing yourself and working in your own studio, and having as much hands-on capacity as you did with this project, how does that change your work process?
It can really ruin it, you know? [Laughs]. It can turn it into a real big pile of irritation for someone. The way it changes it for me is, I really rely on my own tastes, but I don't rely on them entirely. I have a backstop with friends I trust, with my engineer, Ricky Cobble, who is more forensic about how it's gonna sound in everyone's car. So while I may be pushing things over the edge of the cliff, I am stopping to ask some questions: "Is this gonna work? Am I gonna hate this when I put it in my car? If this comes on on a clock radio in a hotel room, is it gonna bother my ears?"
So I don't rely entirely on myself, but I follow my own tastes and my own whims, and then I stop before I'm finished and ask those important questions. And then, after you're finished, you say, "I don't know what this is." I get so close to it in the end, that now I have to get away from this thing for awhile before I know if it's valid, if I really did make something that's enjoyable.
The album is notable for its diversity, and for what we assume had to be some deliberate decisions about track lists, what tempos to include, what subject matter to include to get a really broad-based album.
Well, thanks. Actually when I'm listing out songs, I will give each of them a color, which means nothing to no one. You know how you can take text on a laptop and make it blue or red or green or whatever... color for me will represent something as I'm looking at it as a whole. "There's too much green here, I've got to get rid of some green." It's hard to explain ... it sounds kind of kooky, I'm sure, but it's just a visual reference for me to understand what the makeup is if the albums, so that like a movie, you don't end up with a whole album of My Dinner With Andre, where there's no car sequence, no chase, and it's all just slow. You don't want too many ballads, but you don't want it to be all uptempo. How to strike that balance is a real struggle.
How many songs did you draw from to arrive at these 14?
Oh ... 30 or 40. That's kind of my ratio. By the time I reached my third album, I was writing about two extra albums' worth of material to arrive at an album, and in most cases, whatever didn't make the third album made the fourth album, and whatever didn't make it on the fourth or fifth album made it on the sixth album. So the songs get released over time; there are songs that didn't make it on this album that will be on the next album, because I really can't wait to get them out. But when you look at 14 songs, I think that's the most for me, and it's because some of them, I couldn't leave behind for the next project.
We wanted to talk about some of the individual tracks. Is there a single going to radio?
We've got what's known as focus tracks. "Time for That" and the new duet are focus tracks, and we'll be doing things with them, creating a lyric video, or performing them on a TV show. We haven't really narrowed down those purposes. What they're asking radio stations to play I think primarily is "Time for That," and then the secondary track for a lyric video and TV appearances is "You Still Get to Me."
What inspired "You Still Get to Me," and what made you decide to get your wife involved in that track?
I wrote that specifically for us. I asked Victoria Shaw to help me bring a woman's perspective to Lisa's voice in the song. So Victoria and I wrote that, always intending that Lisa and I — I wanted to sing a new duet, and I didn't want it to be in the vein of the other two songs we did, which were orchestral ballad kinds of things. I wanted something with a groove that would be a nice counterbalance to when she comes and sings "When I Said I Do" with me in concerts, and kinda something else that was a little bit more of a fun groove. So it was really pointed toward that, and I'm really happy with the way it turned out. It just tickles me whenever she's onstage; I get a real kick out of her being up there singing. It's a whole different world that she dips into momentarily, and I really get a thrill out of that.
A big standout on this album is "Still Calling It News." It's a really funny take on the 24-hour news cycle, cable news and blogging and so on. What inspired that?
You know, funny you picked that song. I really love the track, and love the message, and I didn't think it would be a standout. I didn't think anyone else would like it as much as I like it. So I'm really happy to hear that. It's just what you think it is. Like everyone ... you get irritated with Washington and how they do things, and you're watching stuff on the news and it just looks like the same old thing that they're doing. It's really pointed more at the politicians, I think. That was my intention.
I thought it was kind of a universal attitude. When you look at Congress' poll numbers, I thought, 'This is something we can all agree on.' There's a Don Henley line, "The more I read, the less I understand." How in the world wide web do we know what's true? It's like this circle that you run around in, and no matter what TV channel or website or whatever you go to, you're never really able to be sure about some things. Some things I think become pretty clear. But the frustration that I have just trying to explain that coherently is really what drove that song idea.
One thing about Nashville — this is not a knock, because we have a great recording scene here. But you've seen this: using the same producers, the same players, the same songwriters, we crank out a lot of factory records in Nashville. This is not a factory-sounding record. This is a very unique-sounding record because of the approach you took to it.
That's a great compliment. Thank you. That goes back to, James Stroud and I were getting ready to work on the Nothin' But the Taillights album, and I took up electric guitar right around then, and I'd been practicing a lot, but I didn't have great tones, I wasn't very proficient, and I was playing on these demos. I had these sequencers and all this new computer stuff, and I was able to peck out a bass part and put some drum parts myself, and then put these electric and acoustic guitar parts on and kinda demonstrate the songs. And James — who would always say, when I'd pick up someone'e electric guitar in the studio, "Put that down!" He'd always rib me, or if I jumped on the drums, he would just kill me and rib me, and we'd have a good laugh.
The best reason to do anything is because it'll make your album different.
Now cut to, we're getting ready for the Taillights album, and he turns to me and says, "You need to play the electric guitars on this album." [Laughs]. I grinned and waited for the joke. I was waiting for that, and he said, "I'm serious. You're not gonna set the world on fire with your guitar playing, but your album will be different, and that's why you should do it." It really struck me that the best reason to do anything is because it'll make your album different, and I'd always tried to make my record different one way or another.
Now with this album, I played slide guitar. I never played slide guitar in my life until the "Beer" song, and I forced myself through that, and I think the result is originality. If you use the same producers and the same players, it's gonna be hard to distinguish your music, until your voice comes in, from a lot of other music. I became aware of that early on, and realized that even if you are using the same players, if you push those players to do something different, they will, and they'll be delighted.
But if you're producing records for the head of a record company — because let's face it, if you're Scott Borchetta, you're ultimately going to decide what makes a good record for that record company — it really becomes very few people deciding what the sound of country music is today.
Is there anything else that's important to say about the album that we haven't covered?
The "Beer" song, with Bob DiPiero and Bill Anderson, came out of a night of them drinking. I had the flu in Dublin, and they went out and had some beers, and they told me the next day, "The beers are much stronger here." [Laughs]. They said, "We came up with a title: 'The International Language of Beer.'" And I said, "Oh, that's great! You're gonna have to wait for me, let's write that together." And I circled back before the trip was done and said, "You guys are gonna have to promise to wait for me to write that song." Even though I wasn't there having the beers that night. So they did, and I was five or six months later when we got together and wrote that, and that's one of my favorites.
Backstage at the 2015 ACM Awards With Clint Black
More From Taste of Country