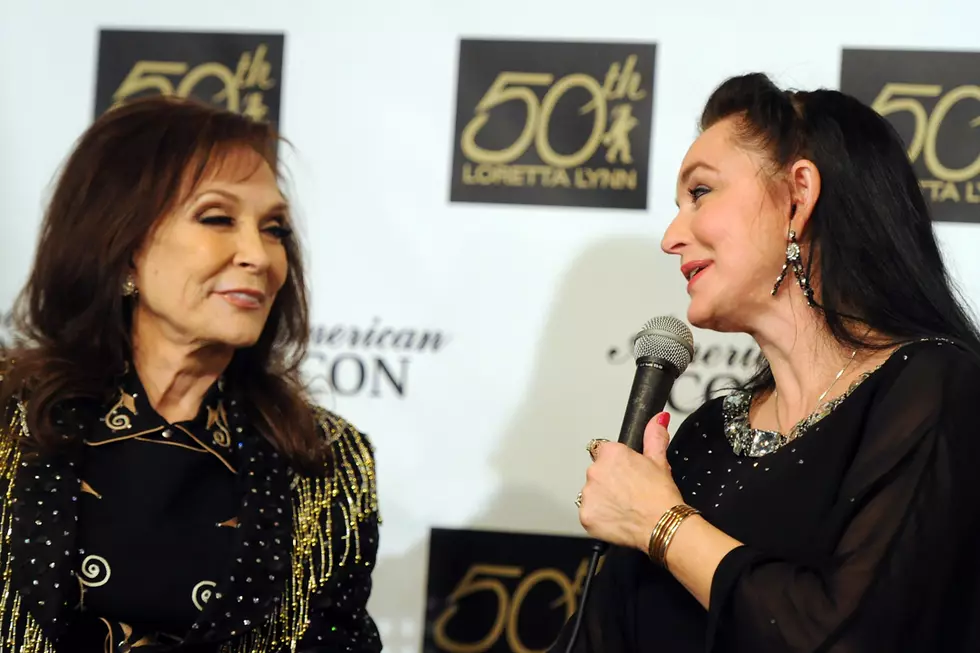 Crystal Gayle Asks for Continued Prayers for Loretta Lynn
Rick Diamond, Getty Images
Crystal Gayle is asking for fans' continued support and prayers for her sister, Loretta Lynn.
Gayle turned to social media on Wednesday (May 10) to offer an update on Lynn's condition after the country legend suffered a stroke on May 4.
"Thank you for all the prayers and well wishes for Loretta. Keep them coming!" Gayle wrote. "We are lucky, in this day and age, to have wonderful doctors and nurses taking great care of her."
The singer added a touch of humor to her update by finishing with, "Plus, they have to put up with our dramatic and crazy family and friends," adding the hashtag #PrayersForLoretta.
Country Stars React to Loretta Lynn's Stroke
85-year-old Lynn was at her home in Hurricane Mills, Tenn., when she suffered the stroke, and according to a post on her official Facebook page on May 5, the "Coal Miner's Daughter" singer "is responsive and expected to make a full recovery."
Gayle previously thanked fans for their prayers and support, noting, "We are hoping for a speedy recovery." Lynn has canceled all of her scheduled concerts for now, but the post to her Facebook indicated she intends to re-schedule them when her health allows. There have been no further official updates on Lynn's condition, but WSMV in Nashville spoke to Lynn's Lynn's daughter, granddaughter and assistant, who told the news station that she is getting better each day. The country legend has been sitting up in her recliner, laughing and talking, they report.
"The Queen of queens, Loretta Lynn. Please know, our love is with you, our strength is with you, and our money is on you," Brooks told the legend. "I know you're already running the place there in ICU. All of our love and all of our strength is with you. There's a lot of flowers waiting and a lot of love waiting for when you get out of there. Get out there soon, honey. Get back to playing music. We miss you already. I love you very, very much."
More Country Stars Offer Prayers After Loretta Lynn's Stroke
Stars Who've Faced Unbelievable Tragedy
More From Taste of Country