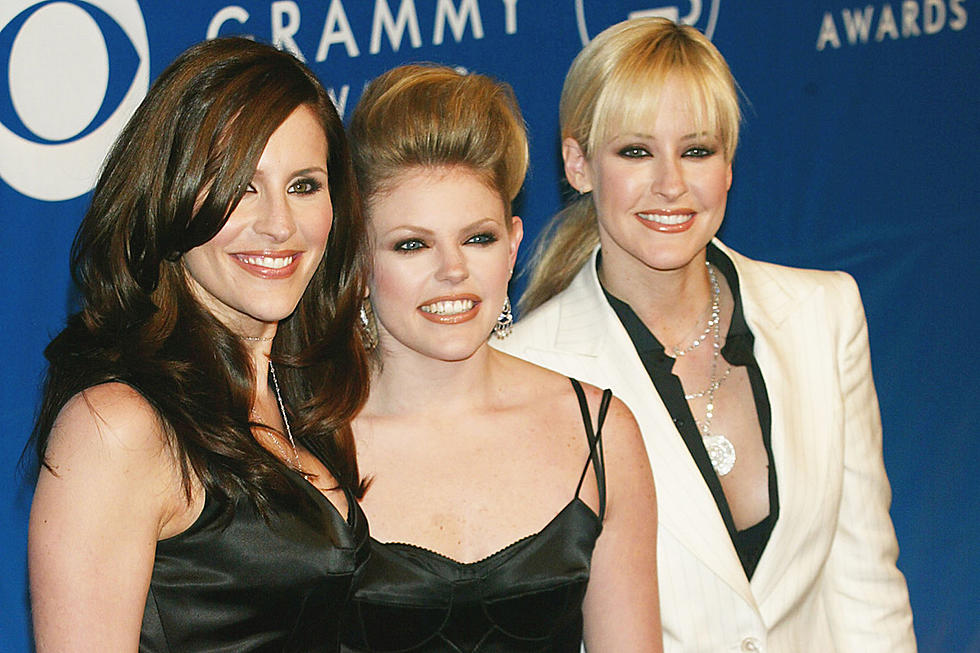 Counterpoint: The Dixie Chicks Controversy Helped Build a Culture of Fear
Scott Gries, Getty Images
It's easy to determine the true impact of 2003's Dixie Chicks controversy by imagining what would happen if a country artist said the same thing today.
March 10 will mark 15 years since Natalie Maines told a London crowd that she and her bandmates were ashamed that then President George W. Bush was from Texas, their home state. Within a short period of time the story traveled stateside and radio stations promptly began banning the country music trio.
The response was swift, dramatic and, at times, ridiculous. Who will forget the radio station that took a steam roller to their CD?  And then there is this photo, which ... in 2018 it'd be a meme!
Pretend social media existed in the same way in 2003. Maines' comments would be viral within hours, and the response would be even more divisive, because today everything is more divisive. Pundits on political talk shows and news channels would parse her 10-word statement in 10,000 directions and the spirit of her message would be used as an example of everything great and awful about America, country music, social media and human existence.
Even if an artist wanted to claim the remarks were made as a joke, in jest or taken out of context (something the trio never did), they wouldn't have time to change the narrative. But would the result be the same?
Country artists have been criticized for failing to speak out about hot sociopolitical topics of the day, like gun rights and sexual harassment within the industry. Those who have made bold statements that rub against the collective opinion of the country music fan, or that are perceived to run afoul of the establishment, have less to lose. Little-known Meghan Linsey took a knee after singing the National Anthem. Unknown Austin Rick accused high-profile publicist Kirt Webster of sexual assault. Late '90s hitmaker Chely Wright is among the most vocal about tightening gun laws in America. Nobody with airplay has been willing to sacrifice it. A high profile leader has not stepped forward.
Nobody wants to be Dixie Chick'd.
Since it's been 15 years, here's a recap of what happened to Maines and company: While a loyal fanbase continues to support them as touring artists, the trio's relevance on the radio was obliterated. "Travelin' Soldier" was peaking when the conversation erupted in March 2003. It'd become their sixth No.1 and 14th Top 10 hit in five years, but the next single, "Godspeed," stopped at No. 48. After that they'd crack the Top 40 one time, with "Not Ready to Make Nice" in 2006. They cleaned up at the Grammys with that song and the attached Taking the Long Way album (their most recent album), but the country industry continued to ostracize them at large.
So yeah, it was total abandonment of a superstar act. That they were a female superstar act as well could speak to the root of the problems women are having in country music today, but we'll save that for another Point/Counterpoint.
Within the last year a few artists have started to challenge the "shut up and sing" way of life, but understanding — as we pointed out during the September 2016 Point/Counterpoint — that there's an embedded responsibility in being a high-profile artist. It's been polite protest for the most part, and honestly that may be (as Brothers Osborne point out on Twitter) most effective.
If you're hoping for a large-scale grand overture the likes of which will ignite a firestorm and create real change, you're not going to find it in country music.
There's hope here, however. While not bold, controversial and attention-grabbing, the country music response has been deliberate, considered and patient. Instead of shocking the system, Tim McGraw and Faith Hill (with gun control), Carrie Underwood (animal rights) and Reba McEntire (#MeToo and #TimesUp) have just been keeping a conversation. It hasn't sounded like yelling, which might be the right prescription at a time when everything sounds like yelling.
The Boot and Taste of Country's collaborative Point/Counterpoint series features staff members from the two sites debating topics of interest within country music once per month. Check back on March 20 for another installment.
More From Taste of Country