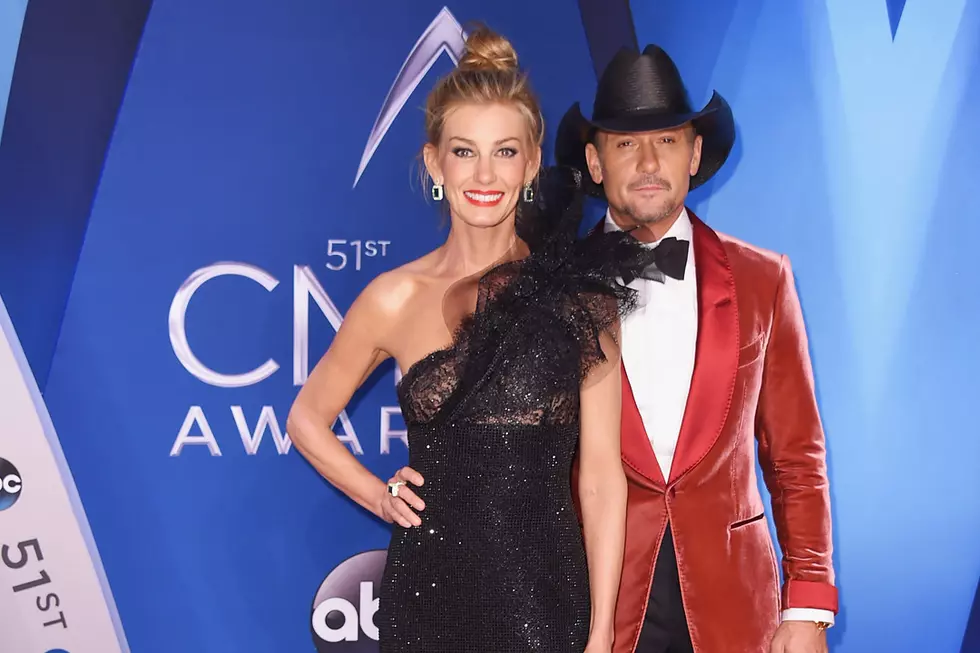 Tim McGraw, Faith Hill Call for 'Common Sense' Gun Control
Michael Loccisano, Getty Images
Debate about gun control and gun rights hid in the background of Wednesday night's (Nov. 8) CMA Awards, but Tim McGraw and Faith Hill brought the conversation to the front row with clear remarks on the divisive issue.
Both singers support common sense gun control laws, they reveal during an interview with Billboard. McGraw is an avid bird hunter, but believes some common sense is necessary when it comes to Americans owning guns. "They want to make it about the Second Amendment every time it's brought up," he says, presumably referring to gun rights activists. "It's not about the Second Amendment."
"Military weapons should not be in the hands of civilians," Hill adds. "It's everyone's responsibility, including the government and the National Rifle Association, to tell the truth. We all want a safe country." The singer also mentions people she knew at the Las Vegas Route 91 Harvest Festival in October and the horrific wounds doctors treated, who said it was like war.
McGraw and Hill spoke to Billboard two weeks after 58 people were killed in Las Vegas, but before the Sutherland Springs, Texas, shooting that killed 26.
Country's Most Political? This Group Isn't Afraid to Speak Up
To this point very few country singers have spoken up on this issue, with most believing to do so would be career suicide because country music fans are so supportive of gun rights and the Second Amendment. No one with as much clout as McGraw or Hill has said anything in the wake of Route 91 or the numerous other shootings in America in 2017. Conversely several have spoken up for gun rights, including Aaron Lewis, who said changing gun laws wouldn't make a difference. Artists like Justin Moore and Brantley Gilbert are also very vocally supportive of a gun culture. Several others like Craig Morgan and John Rich have concealed handgun permits.
More From Taste of Country