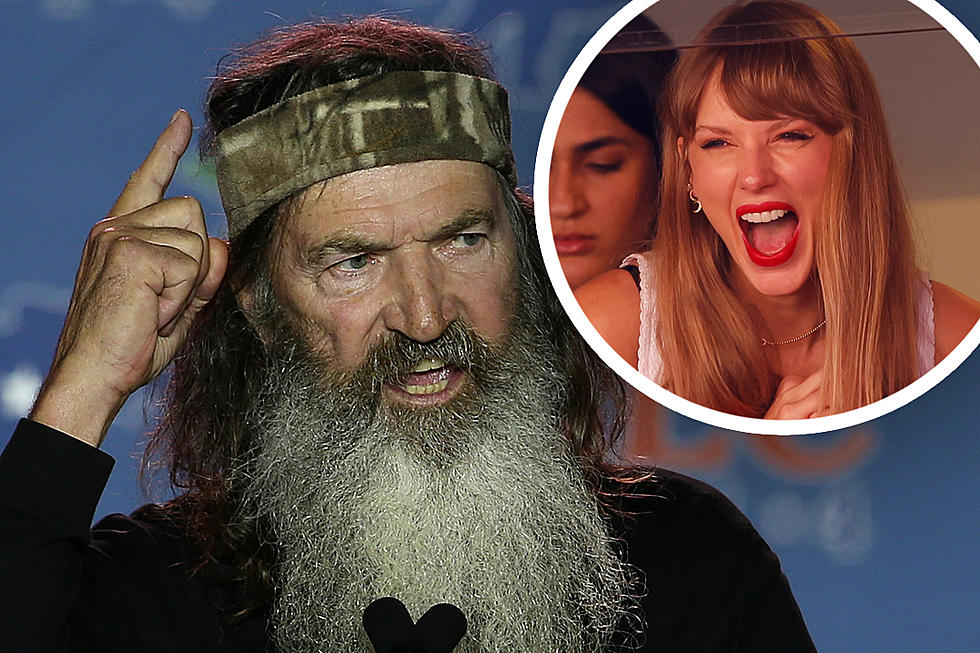 'Duck Dynasty' Crew Have Beef With Taylor Swift
Getty Images
Now that Duck Dynasty star Phil Robertson knows who Taylor Swift is, he may have beef.
The Robertson family patriarch reportedly said "Who's he?" when presented with an issue regarding his new movie. It was all part of a recent episode of the Unashamed With Phil & Jase Robertson podcast.
The Blind, a movie based on Phil Robertson's tumultuous early life, hit movie theaters on Sept. 28.
It ranked No. 5 with $4.4 million in ticket sales after opening weekend.
Taylor Swift: The Eras Tour concert film will be released on Oct. 13.
Related: How to Watch the Duck Dynasty Movie The Blind
At about the 5-minute mark, Zach Dasher explains how so many theaters are carrying Swift's film, it's actually pushing The Blind out of theaters. Fans have only two weeks to see it, he warns (in jest, we think).
Later, at about the 21-minute mark, Jase Robertson reveals he once met Swift.
Spoiler alert on that talk: The famous duck caller barely remembers what they talked about, but later tells that he tried to convince her he was in someone's band and played a duck call for them. She didn't totally bite on his joke.
What Is The Blind About?
BoxOfficePro.com says The Blind is a biopic set in the backwoods swamps of 1960s Louisiana and follows Phil Robertson's life and marriage to Kay before creating the Duck Commander brand.
The trailer shows how it zooms in on the alcoholism and infidelity that marked Robertson's early life. In the new podcast ep., the 77-year-old admits that while he's proud of the movie, he's not proud of that part of his life.
According to MovieGuide.org, The Blind is in about 1,700 movie theaters, which is less than half that carry a typical major release. Swift's movie was slated for 4,000, but grew to 7,500 to meet demand. To do that, the Unashamed team say, they needed to eject several films, including theirs.
PICTURES: See Inside 'Duck Dynasty' Stars' Stunning Historic Plantation Venue
Duck Dynasty stars Jase and Missy Robertson have carefully renovated and restored a historic Southern plantation in Louisiana as a wedding and events venue, and you can book a stay!
Gallery Credit: Sterling Whitaker
PICS: See Inside Taylor Sheridan's Historic 6666 Ranch in Texas
The massive, historic Texas ranch where the upcoming Yellowstone spinoff Yellowstone: 6666 will shoot has sold for just under $200 million, and pictures show a property that is truly part of Texas history.
The 6666 Ranch — better-known as the Four Sixes Ranch — in Guthrie, Texas, dates back to 1870. The ranch centers around a 13-bedroom, 13-bathroom, 13,280-square-foot main residence, which is constructed of quarry rock that was hauled to Guthrie by wagon. The ranch also includes vast, sweeping fenced pastures, farmland, fenced-in pens for cattle, a more recent addition for horses, a water filtration plant that serves the ranch's water needs and more.
There are separate camp manager's homes in both the North Camp and the South Camp of the ranch, which encompasses nearly 225 square miles of land. Yellowstone creator Taylor Sheridan is part of a group of investors who recently acquired the property for $192 million, and he has been shooting his new show out there in recent months.
Gallery Credit: Sterling Whitaker
More From Taste of Country