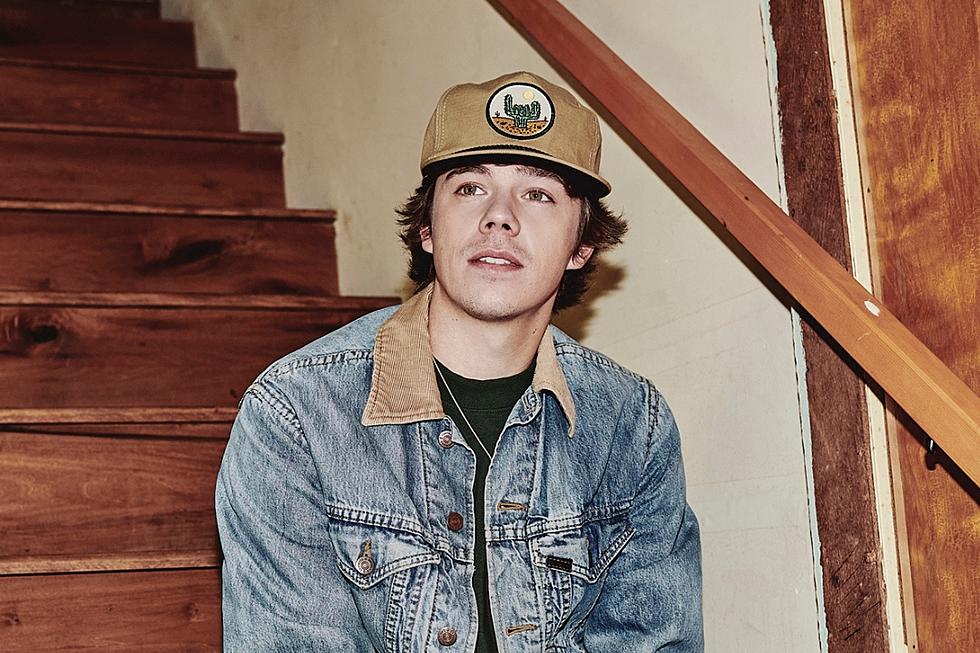 Dylan Marlowe Aims for Stardom With Faith, Humility and Authenticity [Interview]
Matthew Berinato
Dylan Marlowe's remake of Olivia Rodrigo's "Driver's License" enjoyed viral success in 2020. What was a spur-of-the-moment decision to rewrite, record and share a country rendition of a pop smash swiftly multiplied his followers across social media platforms, and soon, put him on the radar of Nashville executives.
That moment, though exciting, was also when Marlowe knew he had to pivot from being another social media sensation.
"I didn't want to be known as the 'TikTok guy' or 'cover guy" so I shifted really fast once that happened," Marlowe tells Taste of Country. "But I definitely juiced it a little bit. I think I was just in a frustrated creative headspace at the time and found some magic."
This "magic" landed him multiple record deal offers at full tilt. But instead of inking a contract right away, he took his time to hone his craft and carefully consider options before deciding to sign with his now label home, Sony Music Nashville.
"I knew I wanted to sign a record deal when the time was right. I had a few offers a year or two ago, but the time wasn't right," says Marlowe. "I knew I wanted to be ready when I signed a record deal. I was very, very, very picky because I wanted to make sure I didn't sign somewhere and get put on a shelf."
He's now part of Sony's star-studded artist roster that includes Luke Combs, Maren Morris and Kane Brown.
As soon as Marlowe's record deal was announced in January 2023, he was off to the races with "Record High," his debut release on the label. The searing heartbreak number, which was co-written with Abram Dean, Zach Abend and Screech, cleverly flips the glory of "record high" to the "record highs of the record lows," as Marlowe says, "like the timing of life, the gravel, the cussin', the never-seen-more-tears."
"It definitely comes from a real place. My last relationship definitely ended a little like that," he adds.
This lived-through storyline is brought to life in a slice-of-life music video. Directed by Tristan Cusick, the dramatic clip features Marlowe as the heartbroken protagonist who's grappling with his crushing post-breakup misery. While the 25-year-old has never acted before, let alone helmed a lead role, his presentation makes it seem otherwise.
"I'm not an actor," Marlowe humbly admits, "but they walked me through it and I think I did pretty decent acting on it. I got there and [Tristan] had this whole idea of having the happy scenes and where it turns bad. That was my first ever music video I shot being the actor. I would definitely do it again."
With Marlowe's raw, almost-palpable aching vocal delivery and a polished, yet organic country sound, it's no surprise that "Record High" has resonated with a multitude of listeners. But being the modest person that he is, instead of taking full ownership for the song's star quality, Marlowe attributes a chunk of its success to country music's ongoing "heartbreak phase."
"I think we're in a heartbreak time. Country's always a sad thing but I think right now, people are really just in their feels and maybe it's connecting that way. You see everybody blowing up with sad songs. I didn't really know what it was going to do but it's been like a rocket ship in helping my career," says the singer, before adding with a chuckle, "I got into country for the sad songs, but I don't want to write them all the time!"
Marlowe's songwriting hasn't been restricted to sad songs. For one, his first No. 1 hit as a songwriter was Jon Pardi's barn-burning single, "Last Night Lonely." Perhaps unbeknownst to fans, Marlowe actually had his eyes set on "Last Night Lonely" as his debut single. However, plans swiftly changed when Pardi's producer, Bart Butler, requested for Pardi to have it. His bargaining chip? "It'll be a single for sure." So Marlowe decided to roll the dice and, needless to say, it paid off.
"Being from Georgia, I know a lot of people got their start from songwriting first," Marlowe says, while referencing the careers of fellow Georgia natives Luke Bryan and Cole Swindell. "Honestly, it was one of the best decisions I ever made obviously for many reasons. Just getting to play it every night, the crowds love it! We've been talking to a bunch of radio [programmers and DJs about it] as well. It's just a good feather in a hat."
Songwriting is at the core of Marlowe's artistry, and a lot of it stems from his humble upbringing, as evidenced in the newly released "Grew Up Country." Because of the run-of-the-mill subject matter especially in country music, the newcomer personalized the song by focusing on the down-home values and words he was raised on.
"Money can't buy growing up without money / Running 'round the yard with your bare feet muddy / Mama made you tuck your shirt for church on Sunday / And you're thinking that you got it bad," he sings in the opening verse.
"Obviously, we didn't want to be cliched with the stuff we said, so we got really personal," notes Marlowe. "I just remember my mom used to make me tuck in my shirt before going to church on Sunday and I hated it. But looking back, like the chorus says, I really wouldn't have it any other way because it's shaped me."
Looking ahead, Marlowe says he's "doing everything in my power" to make sure "Record High" gets picked as his debut single on country radio. "It just feels so special, and I wouldn't mind that being my debut single to radio for sure," he shares.
Named as one of Spotify's 2023 Hot Country Artists to Watch, the highly sought-after newcomer is also opening for Hardy and Jordan Davis on their respective fall tours and plans to release more music than ever before.
"There'll be lots of new music this year. We've already released four, including the Kasey Tyndall feature. I have two more that I want to release in May or June. One that's done really well on TikTok so far is called 'Dirt Road When I Die.' That's on my priority list right now," he says, before hinting at a debut album, too. "I'm pushing to get a record out in the fall. It'll be insane to get a record out before the tour with Lainey and Hardy!"
While Marlowe's just beginning his ascension in country music, he's fully aware of the roller-coaster ride that this career entails. That's why, though he's invested in this passion-fueled path, he's also leaning on the sound, faith-centered advice from his buddy, Conner Smith — "You got to get off the stage and wipe the glory off."
"I just try to come down to that level every time and make sure I'm humble, have a strong faith, and know that I'm not different than anybody else," he reflects. So while he rides his rocket toward country stardom, he's resolute in staying rooted to the core of his identity — a Georgia boy who loves the Lord, his fiancé, family, friends and the people who support his career.
"I hope in five years I'm in arenas, and I also hope I'm still the same or even a better version of myself," Marlowe says. "I'm beyond blessed. I don't know what I've done to deserve any of this, to be honest. God is really good."
50 Essential 2000s Country Songs:
More From Taste of Country