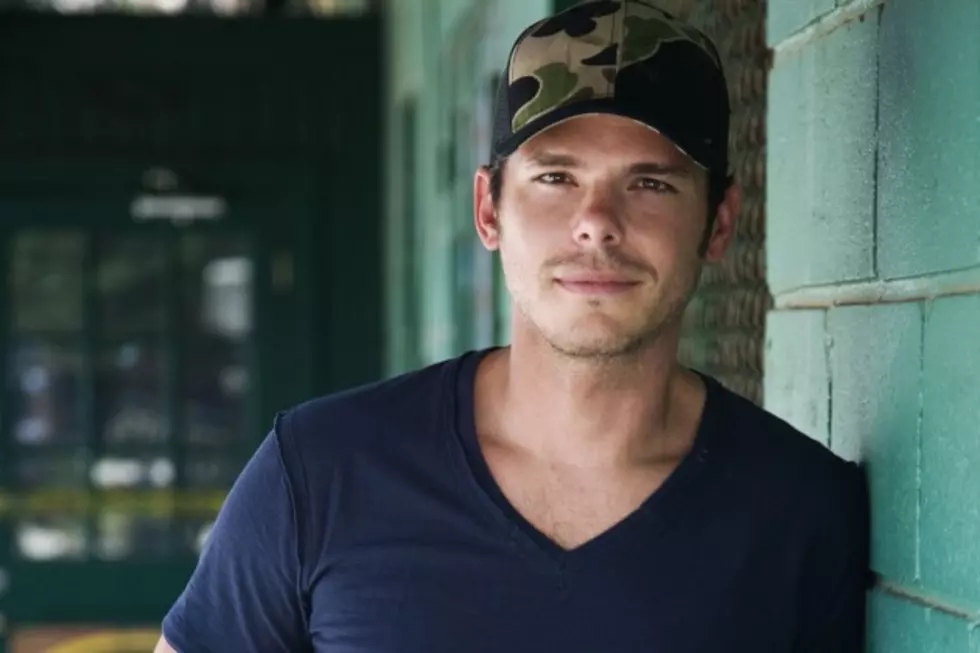 The Optimist: Granger Smith Ready to Break Through the Indie Ceiling
Courtesy of Granger Smith
Granger Smith remembers the first time Earl Dibbles, Jr. took the stage. It was July 2011 in Conroe, Texas. He'd used YouTube to introduce the character to fans two days earlier, but knew at least half in the crowd that night would have no clue what was going on.
"Yeah, I was nervous," Smith admits.
Imagine if you were there, watching this handsome, but fairly nondescript-looking country singer go on about love, life and loss. All of a sudden he stops and says, "I'd like to introduce you to someone ..."
"I didn't know what people were gonna think with … it's just a weird thing. It's a weird concept," the singer says.
All times I have enjoy'd / Greatly, have suffer'd greatly, both with those / That loved me, and alone.
Smith is Dibbles, Jr. and he talks about him like a ventriloquist talks about his puppet. The character was one he and his brother invented at their childhood ranch, and together, they're responsible for everything the rough-around-the-edges (to say the least) redneck does and says.
In the last three years, the character has evolved. Dibbles recorded his own songs and became famous. In fact, he's so famous that his social media following is now larger than Granger Smith's. He also has his own football picks segment on 'Inside College Football' on the CBS Sports Network.
Not that Smith is jealous or complaining. He never, ever does that.
"It's been an evolution from that day," the 'We Do It in a Field' singer tells Taste of Country, seated on a black couch that lines one wall of his tour bus.
"It's evolved into something I love. It's one of my favorite parts of the show, when I change. The band has kind of taken it on themselves and they become a little bit crazy."
"They've really bought into what's happening," Smith explains.
This transformation into a Beech Nut-chewin', Bud Light-swillin', flag-wavin', overall-sportin' country boy allows Smith to be something he's not. You could call it an escape, but he doesn't hide his more introspective side. Follow him on Instagram to get a daily dose of positivity through various quotes. Check out his website -- how many country singers quote Lord Alfred Tennyson's 'Ulysses'?
In conversation, Smith listens more than he talks and efficiently chooses the words to explain the differences between raising a boy and a girl, why he writes alone mostly, and how he's hoping to avoid the pitfalls that have tripped other Texas-based country singers seeking national attention through a major record deal. Smith is refined and, well, ... smart.
"When I was in high school, my to-be roommate in college ... we memorized poems all the time," Smith says when asked about 'Ulysses.' "Junior high we had contests in class and we'd compete against each other, so poetry was a big deal growing up. I went to an elementary school where each year, every week we would have to memorize one poem every week, and recite it in front of the class standing in front of everyone."
"I cannot rest from travel / I will drink life to the lees," Tennyson writes -- a line which Smith recalls in the bio section of his website. It's a perfect quote for a hard-living musician, but the next line may be more fitting of Smith.
"All times I have enjoy'd / Greatly, have suffer'd greatly, both with those / That loved me, and alone."
Plenty has changed since a teenaged Granger Smith moved to Nashville in the late '90s. Then you'd have found him at Tootsies Orchid Lounge three days a week. He cut his teeth playing Monday mornings, 10AM to 2PM.
"A lot of times it was me and the bartender," Smith recalls. "It was snowing outside, door open and I had to be playing, just in case -- God forbid -- someone walks by and needs to hear music."
On a good day, there'd be $25 in his tip bucket. But those kind of gigs build character ... right?
"They don't build anything, musically," he says, laughing. "You know, the Tootsies shows built a little bit of confidence in me, because you're up in a fish bowl, no one really cares if you're there or not and you have to make 'em look at you."
After five years in Nashville and a record deal that didn't work out, Smith moved back to Texas and focused on building his career the old-fashioned way: one song, one show at a time. He also got married (2010) and became a father, twice. Daughter London was born in October 2011, son Lincoln in January 2014.
"My girl is all about words," Smith reveals when asked about the difference between raising a boy and girl. "She is very sensitive. She wants to talk all the time. She wants to tell me how she feels all the time. And I have to listen."
Like any good father, he lights up when given a chance to talk about his kids. But there's a familiar sadness in his voice as he speaks. Smith's 60-day Yee Yee Nation Tour has kept him away from home for days or weeks at a time this fall. Follow him on Facebook or YouTube to get a glimpse at how difficult that can be.
"And she tells me when she doesn't want me. And she's so sensitive to a look," he shares of London. "A guy in a grocery store could look at her and say, 'You're cute' and she'll get really weird with me and kind of just curl into me."
When it happened with Pat," Smith begins, speaking with great diplomacy. "I liked Pat before, I liked Pat after. But there was a big difference in the two music styles. Big difference.
By most definitions, Smith has "made it." He's able to live off of his music, in addition to a tidy sum brought in by a thriving line of Dibbles, Jr.-inspired clothing. The Yee Yee brand does well without the music, and having a little extra money allows him to take chances.
"We're going to see a ceiling at some point, for what we're doing," Smith says, sitting quietly with his legs crossed on that black sofa. "That ceiling will grow slowly with us, but we're going pretty fast right now and there's a lot of restrictions that we'll start hitting without major airplay."
That means he's searching for a partner to get his music on the radio, which often means signing with a Nashville-based record label. It's a common sense move that may leave his longtime fans uneasy. People always look back on what happened to Pat Green. Smith recognizes this and diplomatically explains how he'll be different.
"When it happened with Pat, I liked Pat before (he signed to Sony Nashville), I liked Pat after. But there was a big difference in the two music styles. Big difference."
"I don't think there's gonna be a big difference for me," he insists.
Frank Rogers (Brad Paisley, Darius Rucker) has signed up to help produce the next album, a follow-up to 'Dirt Road Driveway.' While in Nashville, Smith met with various people to discuss the possibilities, and admits he's open to more co-writes. To be fair, he's never been against bringing in others to help him craft his songs, there just hasn't been time to dedicate a few weeks in Nashville.
If Smith has a love/hate relationship with Nashville, he doesn't let it show. He could be hiding something, but more likely he's just choosing to forget the bad times in favor of a (potentially) bright future. The ever-positive Texan's enthusiasm hasn't waned since those difficult days 15 years ago. He's not bitter, and those notes on Instagram aren't just wallpaper. He may be soft-spoken, but Smith is oozing sunshine.
"On the tour, I have a positivity speech, embarrassingly enough," he says. "I do it once a week, like, 'Hey guys, meeting front of the bus.'"
"Because staying positive is infectious, contagious and so is being negative," he explains. "So I wanna stay on the right side."
Did he feel the same way during those "God awful" days at Tootsies so many years ago? Smith chuckles and nods, almost embarrassed by his own pluck: "Otherwise I wouldn't have done it."
More From Taste of Country