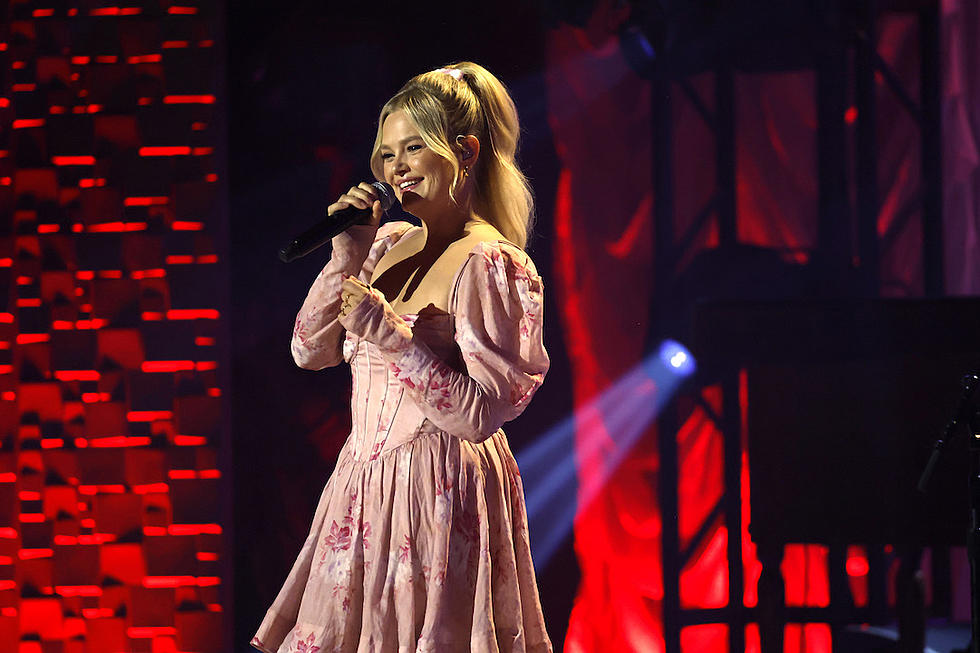 Hailey Whitters' 'I'm in Love' Doubles Down on '90s Charm [Listen]
Jason Kempin, Getty Images
Plenty of artists cite a '90s country influence; few execute that influence quite as expertly as Hailey Whitters.
More than once, she's proven herself fluent in the brand of wholesome, upbeat whimsy that fans know and love from songs like Trisha Yearwood's "She's in Love With the Boy" and Sara Evans' "Suds in the Bucket."
Whitters cracked radio's Top 20 last year with "Everything She Ain't," a single that fits squarely within that twangy '90s line. Heck — "How Far Can It Go?," a Yearwood duet that Whitters put out in 2020, has such strong '90s vibes that it's hard to believe it's not a cover.
When you're as good as Whitters is at channeling throwback country, it doesn't make sense to slow down. Her new single, "I'm in Love," is every bit as irrepressible and charmingly retro as ever, this time channeling all-American imagery to tell a classic story of small-town young love.
Whitters' songwriting is far too elegant and personality-packed to be schticky. Lines like "Sister's in her room smokin' God knows what" and "Two bottles into a bottle of wine" blow a fresh breeze through familiar subject matter, and add depth to a song that would otherwise run the risk of tipping from classically sweet into downright cavity-inducing.
In this song, Whitters can add in all the smitten, candy-coated lyrics she wants to: She doesn't run the risk of coming across as vapid, because of how carefully and creatively her song is crafted.
Anybody can write a song about young love, and cite a '90s influence while they're doing it. But it takes a special artist to do what Whitters has done: Here, she creates a wistful, immersive world, bringing the giddy euphoria of first love to life for even the most jaded listener.
"I'm In Love" was the most-added single at country radio in its first week, with 58 stations. Whitters is currently the reigning ACM New Female Artist of the Year; at next month's CMA Awards, she'll be up in the New Artist of the Year category once again.
Here Are the Lyrics to Hailey Whitters' "I'm in Love":
Beer's in the bucket, suds in the sink / Chickens in the skillet, ice in the drink / Head's in the clouds, diamonds in the rough / He's in a Chevy and I'm in love
Tappy's in Heaven, Mama's in Town / Daddy's in the doghouse, corn's in the ground / Sister's in her room smokin' God knows what / He's in a Chevy and I'm in love
Chorus:
Talkin' 'bout ooh-ooh, I'm out of my mind / Two bottles into a bottle of wine / Man's in the moon and a deer's in rut / Wind's in the chimes, stars in a line / He's in the drive and I'm in love
Tips in the apron, hair's in a braid / Mercury's all in retrograde / Silver in the spoon, no blue in his blood / He's in Levi's, I'm in love
Repeat Chorus
I'm in for it, I'm in so deep / Six songs into a Jones LP / He's in a t-shirt, all cleaned up / Good Lord almighty, Mama, don't wait up
Repeat Chorus
Chills down my spine, heart's on the line / He's all mine and I'm in love
The Top 40 Country Songs of 2023, Ranked
The best country songs of 2023 fit snugly over your life and experiences. Each is written from personal experiences, but somehow, translate as if they were custom to each of us.
We've loved, we've longed, we've lost and we've cut loose in the country.
Airplay charts, sales data and streaming numbers helped make this list of country music's
Top 40 songs of 2023
, but staff and Taste of Country reader opinion were most influential. Songs included on previous Top Country Songs lists were not eligible. A song may have been released in 2022, but it had to have the majority of recorded airplay or impact this year to count.
Gallery Credit: Billy Dukes
More From Taste of Country