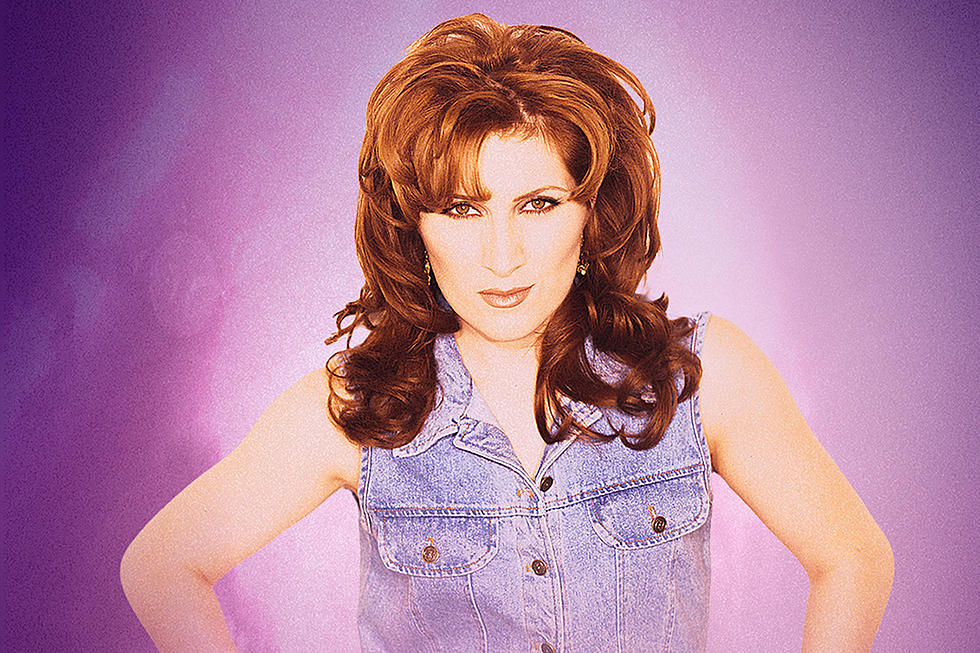 Jo Dee Messina Plots 2023 Heads Carolina, Tails California Tour Dates
117 Entertainment Group
Jo Dee Messina has announced a massive tour for 2023, and she's borrowing the title of one of her most iconic country hits to name the trek. Messina's Heads Carolina, Tails California Tour is set to visit more than 45 cities over most of the rest of the year.
The Heads Carolina, Tails California Tour is set to launch Feb. 17 in Greensboro, N.C., and run through Nov. 11, when it wraps in Indio, Calif. The new run of shows marks the first time the country hitmaker has ever toured using the title of her career-launching hit, which reached No. 2 in 1996.
"It seems crazy that we've never toured under the 'Heads Carolina, Tails California' banner before," Messina says in a press release. "We are so excited to bring people songs that they know, stories we will share and, yes, new music!"
In keeping with the throwback theme of the new dates, Messina is also using retro artwork from the original photoshoot to brand the tour:
Tickets for Jo Dee Messina's Heads Carolina, Tails California Tour are on sale via her official website.
Cole Swindell's 2022 No. 1 hit "She Had Me at Heads Carolina" referenced Messina's hit and helped reignite interest in the classic track. Messina is also set to release a hits collection titled Heads Carolina, Tails California: The Best of Jo Dee Messina via Curb Records in March. In addition to "Heads Carolina, Tails California," that project will feature 10 more of her biggest hits, including "Bye, Bye," "I'm Alright," "Lesson in Leavin'" and more. That project is set for release on March 10 and is currently available for pre-order.
See a list of tour dates below.
Jo Dee Messina's 2023 Heads Carolina, Tails California Tour Dates:
Feb. 17 — Greensboro, N.C.
Feb. 18 — North Myrtle Beach, S.C.
Feb. 23 — Grand Rapids, Mich.
Feb. 24 — Green Bay, Wis.
March 25 — Pigeon Forge, Tenn.
April 14 — Fort Worth, Texas
April 15 — Georgetown, Texas
April 28 — Wichita, Kan.
April 29 — Fort Smith, Ark.
May 13 — Kansas City, Kan.
May 19 — Doswell, Va.
May 20 — Roanoke, Va.
June 9 — Clinton, Iowa
June 10 — Decatur, Ill.
June 16 — Ashland, Neb.
June 17 — Winsted, Minn.
June 23 — Raleigh - N.C.
June 24 — Virginia Beach, Va.
June 29 — Shipshewana, Ind.
June 30 — Central City, Iowa
July 13 — West Salem, Wis.
July 14 — Chicago, Ill.
July 15 — Pierz, Minn.
July 21 — LaGrange, Ga.
July 22 — Cullman, Ala.
July 28 — Kearney, Neb.
July 29 — Mendon, Ill.
Aug. 3 — Wausau, Wis.
Aug. 4 — Detroit Lakes, Minn.
Aug. 11 — Atlantic City, N.J.
Aug. 12 — West Chester, Ohio
Aug. 19 — Calgary, Alberta
Sept. 7 — Carterville, Ill.
Sept. 9 — Savannah, Tenn.
Sept. 14 — Spencer, Iowa
Sept. 22 — Frederick, Md.
Sept. 23 — Mount Vernon, Ky.
Oct. 7 — Hiawassee, Ga.
Oct. 19 — Greenville, S.C.
Oct. 20 — Kissimmee, Fla.
Oct. 21 — Charlotte, N.C.
Nov. 3 — Lubbock, Texas
Nov. 4 — Waco, Texas
Nov. 10 — Phoenix, Ariz.
Nov. 11 — Indio, Calif.
2023 Country Music Festivals Guide
Enjoy an updated list of country music's best festivals, across America, Canada, Great Britain and more. This list of 2023 country fests will be updated to reflect postponements, cancelations or lineup adjustments.
More From Taste of Country