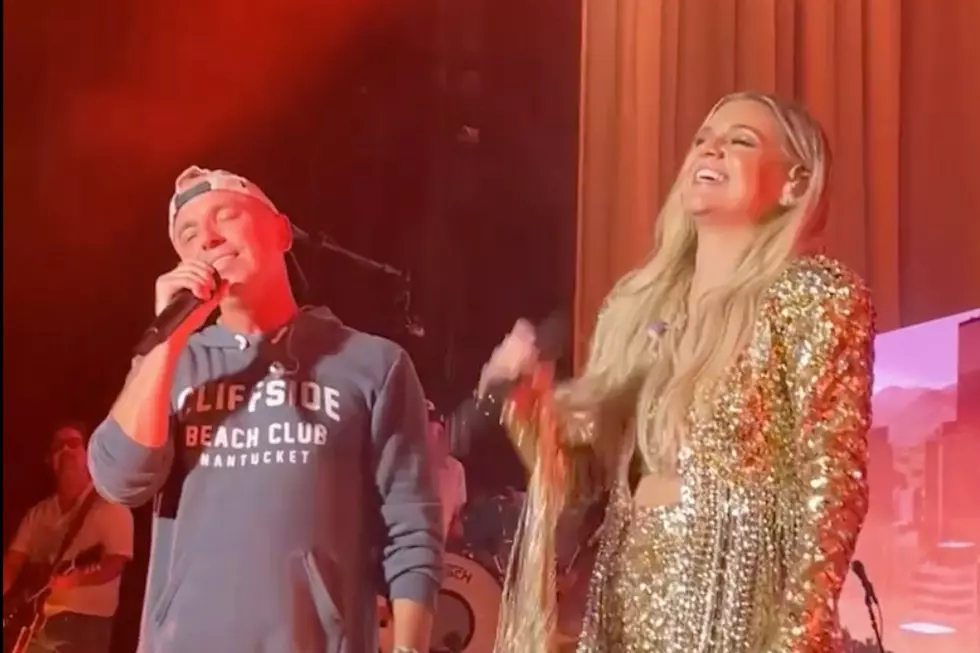 Kenny Chesney Celebrated His Birthday on a Late-Night Plane Ride With Kelsea Ballerini and Friends [Picture]
YouTube
Evan Paul is the host of Taste of Country Nights, a syndicated radio show heard on more than 100 country radio stations nationwide, every night from 7PM to midnight. He plays the best new country music and interviews today's top stars, like Luke Combs, Miranda Lambert, Dan + Shay, Keith Urban, Carrie Underwood, Luke Bryan, Chris Stapleton, Lady A, Morgan Wallen, + more! 
Kenny Chesney is one of country music's biggest living legends. With 19 studio albums under his belt and more than 30 No. 1 singles, he is still popular and touring just as he has been for decades now.
Buy Kenny Chesney Concert Tickets Here
And while he works hard, Chesney plays hard, too.
The star recently kicked off his I Go Back Tour with Kelsea Ballerini as the opener. I have spoken to Kelsea about her relationship with Kenny before, and she told me that she is his biggest fan and has been for a long time.
Both artists grew up in Knoxville, Tenn., and eventually cut a successful duet together about where they came from, "Half of My Hometown."
So while on tour, it's no shock to see the two of them hanging out together. But the most memorable picture comes to us from Kenny Chesney's Instagram:
"One fun, late night birthday plane ride after our State College, Pa. show with @KelseaBallerini. What a blast. What a tour! And happy birthday also to my drummer @nickbuda. Love ya man!! #IGOBACKTOUR" Chesney writes in the caption.
After their show in State College, Pa., recently, Kenny, Kelsea and some bandmates took to the friendly skies and had themselves a birthday party for Kenny and his drummer, Nick Buda, on a plane!
Chesney turned 55 on March 26.
Earlier that day, the star shared a video from that show of the whole crowd singing him Happy Birthday. That happened because during Ballerini's set, she got on the mic and said, "I'd be a bad friend if I didn't ask all of you at this sold-out show on a Saturday night at Penn State to sing Happy Birthday,"
"Thank you, @KelseaBallerini and State College, PA, for the birthday song," Chesney notes alongside the video. "What a night."
It really seems like this tour is a fun one, like every Chesney tour seems to be. Country artists from Old Dominion, Carly Pearce and Dierks Bentley have all told me in interviews that his tours are the most fun and that Kenny himself goes all out for the people on tour with him.
PICTURES: See Inside Kenny Chesney's Spectacular $11.5 Million Tennessee Estate
Kenny Chesney has sold his 4-bedroom, 9-bathroom, 12,599-square-foot hilltop estate in Tennessee for $11.5 million, and pictures show an opulent Mediterranean villa that is lavish even by the standards of other celebrity mansions.
PICTURES: See Inside Kelsea Ballerini's Dazzling Nashville Farmhouse
Kelsea Ballerini is taking fans inside the dazzling modern farmhouse that she now calls home in Nashville. The singer's new residence is filled with colorful furniture and bold-print wallpaper that she calls "maximalist," but it's also set on a piece of land big enough for her dog, Dibs, to have some room to roam.
More From Taste of Country