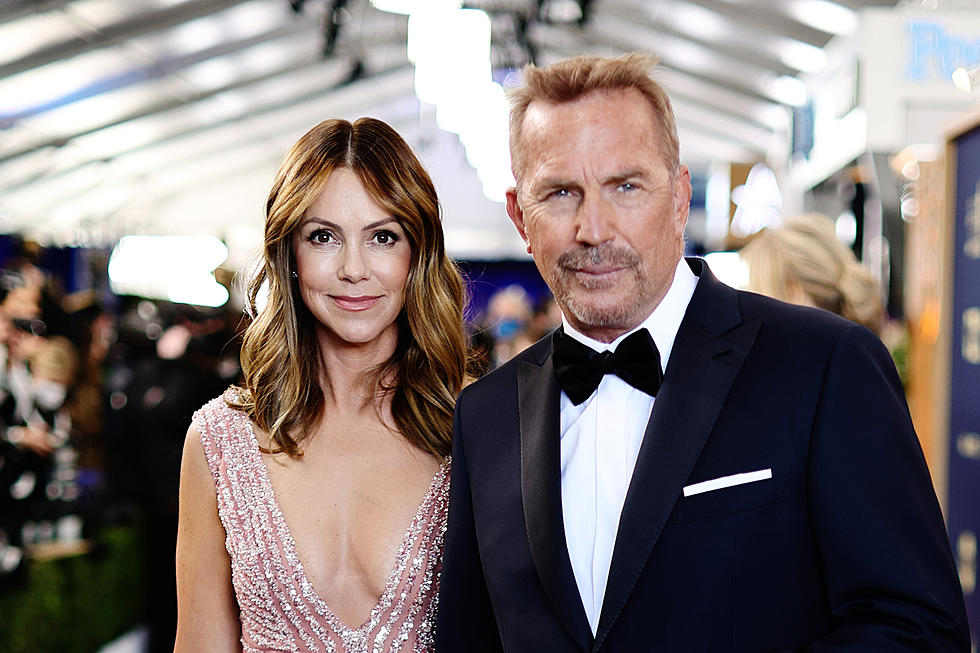 Kevin Costner's Wife 'Wasn't Happy About' His Packed Work Schedule Before Divorce Filing
Dimitrios Kambouris, Getty Images
Kevin Costner's now-estranged wife, Christine Baumgartner, was not happy with his busy schedule and extended time away from home before she filed for divorce on May 2, according to a new report — but the move still caught him off guard.
A source tells People that Costner knew his wife was unhappy, but her decision to file for divorce was an "unpleasant surprise."
Baumgartner wanted Costner to ease up on his filming schedule — which included not only his starring role as John Dutton on Yellowstone, but also a massive, four-part epic Western he's working on titled Horizon — and spend more time with her and their three children at home in California.
"During filming, Kevin is not around very much," the source adds. "His absence has been very hard for her."
Costner is directing, producing and starring in Horizon, and the source adds that his wife didn't want him to put so much of himself into another project.
"He has been obsessed with filming Horizon since last year. She wasn't happy about it," that person tells People.
"At times, his career has taken precedence over his home life," another source confirms, adding that Costner "hasn't been home very much for quite some time" due to the huge success of Yellowstone and his numerous other projects. "He has been in demand."
That source says that Costner's excitement over his career resurgence "probably took his attention away from his family more than he realized. Since it didn't look like that would change and likely could get worse, it caused tension at home."
TMZ first reported that Baumgartner had filed for divorce from Costner, citing "irreconcilable differences."
A representative for Costner confirmed the news, giving TMZ the following quote:
"It is with great sadness that circumstances beyond his control have transpired which have resulted in Mr. Costner having to participate in a dissolution of marriage action ... We ask that his, Christine's and their children's privacy be respected as they navigate this difficult time."
The news came at an already-difficult time for Costner, who's been in a showdown with the producers of Yellowstone since February over his shooting scheduling for the second half of Season 5 due to its conflict with Horizon.
According to multiple reports, they've been considering killing off his character and ending the show at the conclusion of Season 5 for months. Paramount Network confirmed on May 5 that Yellowstone will return for the second half of Season 5 in November, and the show will conclude with those episodes. The network will then launch a new, yet-untitled sequel to Yellowstone in December, with Matthew McConaughey all but confirmed to star.
Paramount's announcement did not reference Costner's participation in the back half of Season 5.
As part of Taste of Country's comprehensive coverage of all things Yellowstone, check out our Dutton Rules podcast on Apple Podcasts and Spotify.
PICTURES: See Inside Kevin Costner's Spectacular Colorado Ranch
Yellowstone star Kevin Costner lives the ranch life when he's off the set of the hit show, too. The Oscar-winning actor owns a 160-acre ranch in Aspen, Colo., that's a spectacular getaway, complete with a main residence, a lake house and a river house.
The luxury retreat also features a baseball field, a sledding hill, an ice rink, multiple hot tubs and views of the Continental Divide. The ranch property comfortably sleeps 27 people, and it's currently available to rent for 36,000 a night.
22 'Yellowstone' Facts You Probably Didn't Know
How big of a fan of
Yellowstone
are you? These 22 facts about the Paramount Network show are sure to stump even the most dedicated viewers. They're almost all about the cast members and their real-life passions and roles. John's kids? Beth's accent? Rainwater's guitar playing? Tate's spoilers? It's all part of this list of 22 Facts You Probably Didn't Know About Yellowstone.
More From Taste of Country