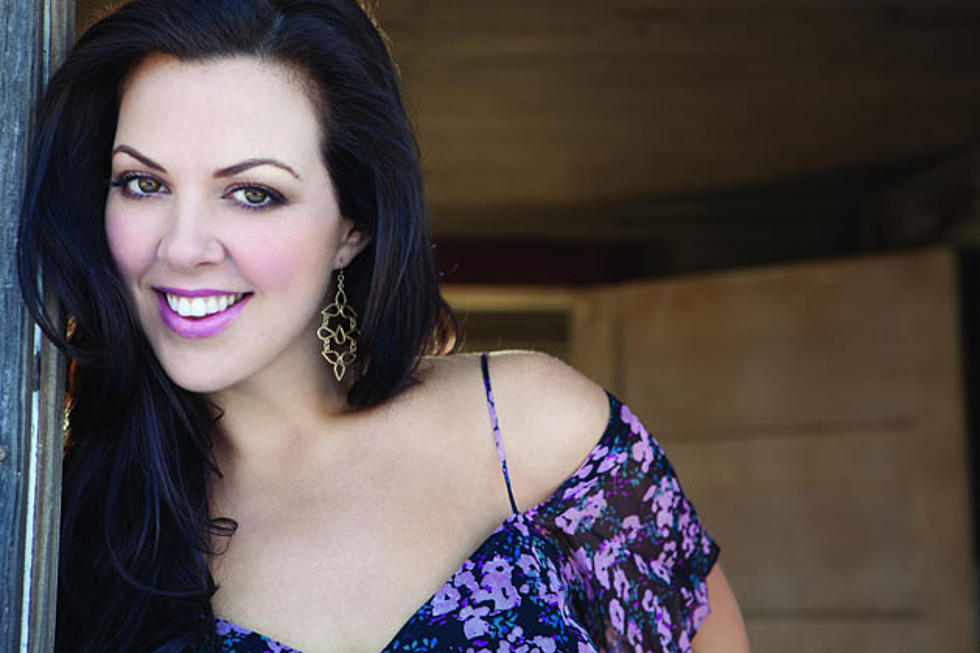 Krystal Keith Interview: Toby's Daughter Talks New Songs, Shania and Life as a Oklahoma Redneck
Show Dog Universal
Longtime country fans remember a teenaged Krystal Keith joining her father Toby Keith on stage at the 2004 CMA Awards. They sang their duet 'Mockingbird' together, and then the superstar let fans know she'd be going to college before continuing her country music education. Eight-and-a-half years later, her self-titled debut EP is available, and a full-length is coming later this year. As for that conversation between father and daughter, it wasn't exactly a 'Leave It to Beaver Moment.' 
"Well, I thought by graduation ... he meant high school," she tells Taste of Country, laughing at the memory. "And when I graduated high school I was like 'Nashville here I come!' and he was like 'No, I said college.'"
The two butted heads, and while she doesn't say so, it was probably a noisy (or terrifyingly quiet) week in her Oklahoma home. "He was like 'I don't care what your plan is, this is the plan. You're going to college and when you finish we'll go full force into music."
That's what happened, and the now-28-year-old singer is happy for it. "He really did know best," Krystal Keith says. She embraces the challenges that come with being a future Country Music Hall of Famer's daughter. In fact, she leans on him to help her through decisions as seemingly trivial as setlists. The older Keith co-produced 'Whiskey and Lace' and wrote many of the songs (three from the 'Krystal Keith' EP).
Krytsal opened up about her family dynamic and the personal songs on 'Whiskey and Lace' during a conversation with Taste of Country. Toby's daughter has a little redneck in her, and she embraces it at time -- including one that tells the true story of summer afternoons down by the river. Skinny dipping may have been involved -- but she's not sayin', she's just sayin'.
ToC: In some ways, it seems like you'd have to work extra hard to prove yourself in country music?
Krystal Keith: Yeah. It's fun shoes to fill.
What have been the challenges and what has been the reaction?
I haven't really encountered any challenges, I've kind of just done my thing and fans have been really receptive. Every show I've done I've had a great turnout and the meet and greets are awesome … About half the people that turn out at my shows just come to see live music and I don't think they even realize that I'm Toby's daughter until they start walking through and hear people talk about it.
Now that the album is written and recorded, how influential is he in your career as you're moving on to the next stage?
He's like immensely important. I'm still learning the ropes a little bit and how to do certain things, so any time I have a question I'll go to his house (she lives two miles away in Oklahoma) or I'll call and be like, "Hey what do you think I should do about this?" From setlists to everything -- he's a genius.
Did you seek the advice or perspective from another female artist?
If there is an artist that I have gotten the most advice from, from a female artist, it would probably be Mica ('Daddy Dance With Me' co-writer Mica Roberts). Just because I see her so often and every time we're around each other we talk about my career and we talk about the people I've been songwriting with and everything.
I will say, when I was younger I always used to say Shania (Twain) taught me how to sing because she was on tour with my dad and we would sit on the bus and I would sing and she would tell me "That's a little … this pitch, this is how you do this." We wouldn't have a 30 minute or one hour session, but I would be just singing songs and she would just give me tips.
So when she really hit it big, I was like, "Oh yeah, Shania taught me how to sing."
If this was an album of just one song, which song would you choose and why?
Wooo … I wish I could pick three. Maybe 'Daddy Dance With Me' or 'Doin' It.' Just because 'Doin' It' is so uptempo and so catchy and so redneck and small town that it's kind of like perfect to fit my life. And if I decided to do 'Daddy Dance With Me' it would be because that song is so personal to me and personal to our family.
What other song on the album has a really personal meaning for you?
'Get Your Redneck On,' we just wrote it, and literally while we were writing it I was like, "In high school, me and my friends went to the river and these are the scenes that were set in my real life." So it kind of tells the story of hanging out down by the river and floatin' the river and … it says "skinny dippin'" -- not that I ever did that, but there might have been people at our little river shindigs that were skinny dipping, I don't know.
I'm not buying that for a second, but go ahead.
[laughs] I wrote it, so it tells a true life story from my life.
What style or sound will surprise fans, especially fans coming from your dad's fanbase?
To be honest, I have my own sound because I'm a girl, but being related … they talk about sibling harmony, there's a familial harmony and we definitely have a lot of the same characteristics in our voice. In the studio when I was singing one song there was a musician that right after we got done with that run-through he goes, "Damn there's some family going on in here!" Because my vibrato is almost identical to my dad's.
Something that's different from the EP would be 'Muddy Water.' That is a bluesy rock song. It's a lot more growly and raspy than anything on the EP.
You're a country newcomer, but you probably know a lot more than the average newbie. Did you feel comfortable disagreeing and giving your opinions in the recording studio?
Oh yeah. I didn't have to fight very hard … My dad and I had the same view on everything, and when Mark Wright came in he understood our view and enhanced it and brought in another perspective.
Would it have been a sin to consider another label?
Ummm … It just was never discussed. I would consider it a sin. We've got some family loyalty going on.
More From Taste of Country