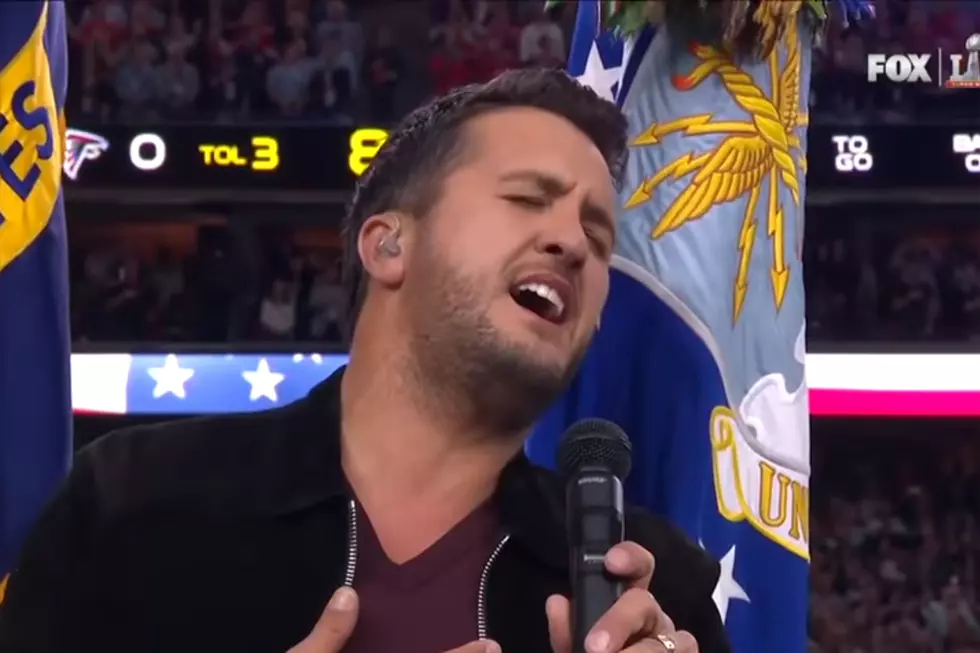 Remember When Luke Bryan Rocked the National Anthem at the Super Bowl?
YouTube
Luke Bryan stepped up to deliver a soaring rendition of the National Anthem at the Super Bowl in 2017, proving that he was equal to a very daunting vocal challenge.
The country superstar took the field at NRG Stadium in Houston, Texas, to help kick off a game between the New England Patriots and the Atlanta Falcons.
Dressed in a simple shirt, jeans and a dark jacket, Bryan delivered a pretty straight a cappella rendition of "The Star-Spangled Banner" until the end, when he threw in some vocal flourishes as Air Force Thunderbirds did a fly-by over the stadium. His performance earned huge applause from the fans in the stands at the event.
Bryan had previously given a poorly-received performance of the anthem at the MLB All-Star Game in 2012, which caused a giant controversy online when fans criticized the singer for reading the lyrics to the anthem off his hand while he sang.
Nonetheless, Bryan didn't hesitate for a second when the NFL asked him to sing at Super Bowl LI, despite the fact that the pressure-cooker gig draws enormous scrutiny.
"I said, 'Hell yes, I'll do it!'" Bryan told People. "Is the anthem challenging? Yes. Is it nerve-wracking? Yes. But I moved to Nashville to follow my dreams and singing the National Anthem on that stage doesn't get any bigger."
Bryan is part of a short list of country stars who have performed at the Super Bowl over the years. That list will get a little bigger in 2023 when Chris Stapleton delivers the National Anthem before Super Bowl LVII on Feb. 12.
Country Commercials Fit for the Super Bowl
These Country Artists Have All Performed at the Super Bowl, Too:
More From Taste of Country