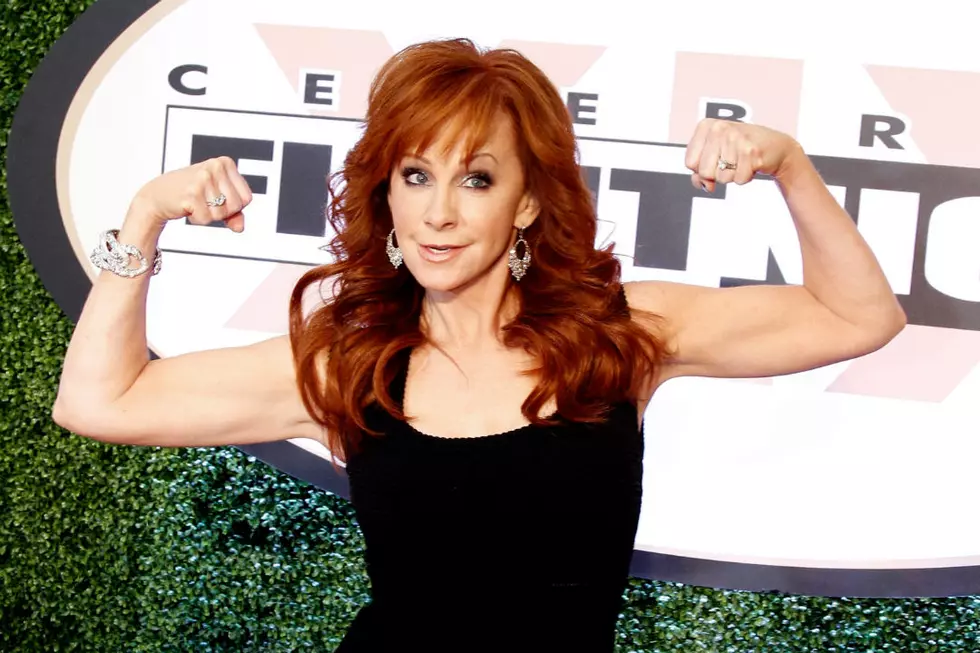 Reba McEntire Dishes on TV Acting, Her Workout Moves and That Ideal 'Cheat Meal'
Mike Moore, Getty Images
Reba McEntire sits down with Mario Lopez at "Extra" to answer fan questions. Watch!

Posted by Extra on Wednesday, April 1, 2015
Who knew Reba McEntire was such a Downton Abbey fan?! In a fun sit-down with with Extra's Mario Lopez, the country legend took a few minutes to answer fan questions submitted on social media.
McEntire covered a wide range of topics in a short time, from staying healthy to TV acting to collaborating with Kelly Clarkson. Somewhat of a hot topic right now, McEntire has been defending Clarkson from critics over the past few months and says she would love to work with her past tourmate (and daughter-in-law!) again.
"I would love to team up with Kelly again!" she shares. "We toured together in 2008 and  I'd love to do another tour with her someday. Singing with Kelly anytime is fun!"
McEntire also chatted with Lopez about another hot topic: how she stays in such great shape! The country star — now 60 — is keeping busy with the upcoming release of her twenty-seventh studio album and a new cosmetics line, but says that the secret to her healthy success isn't any one method. The "Going Out Like That" singer stays fit by working out in the morning with push-ups, sit-ups, lots of stretching and anything that gets the "body and blood pumping." And while eating right is a big part of her healthy life, McEntire says there's one thing she'll never turn down ...
"Oh, you can't beat a hamburger and fries and a strawberry malt," she admits when Lopez asks about her ideal cheat meal.
Maybe she can enjoy that burger while catching up with one of her favorite TV shows. Revealing her diverse interests when it comes to watching television, McEntire listed Game of Thrones, Empire and Downton Abbey as a few of her favorite shows right now. And as for her own acting, the redhead hinted that she many not be done gracing the silver screen just yet.
"You know, it's kinda like finding a song," says McEntire when Lopez asks if fans will ever see her back on TV. "When you find that song, you can't wait to sing it. If I found the right story to do on television again, I'd do it in a skinny minute!"
While it looks like fans may have to wait a bit longer to see McEntire on television, they can catch her iconic voice when her latest album, Love Somebody, hits shelves on April 14.
See Pics of Reba McEntire Through the Years
You Think You Know Reba McEntire?
More From Taste of Country