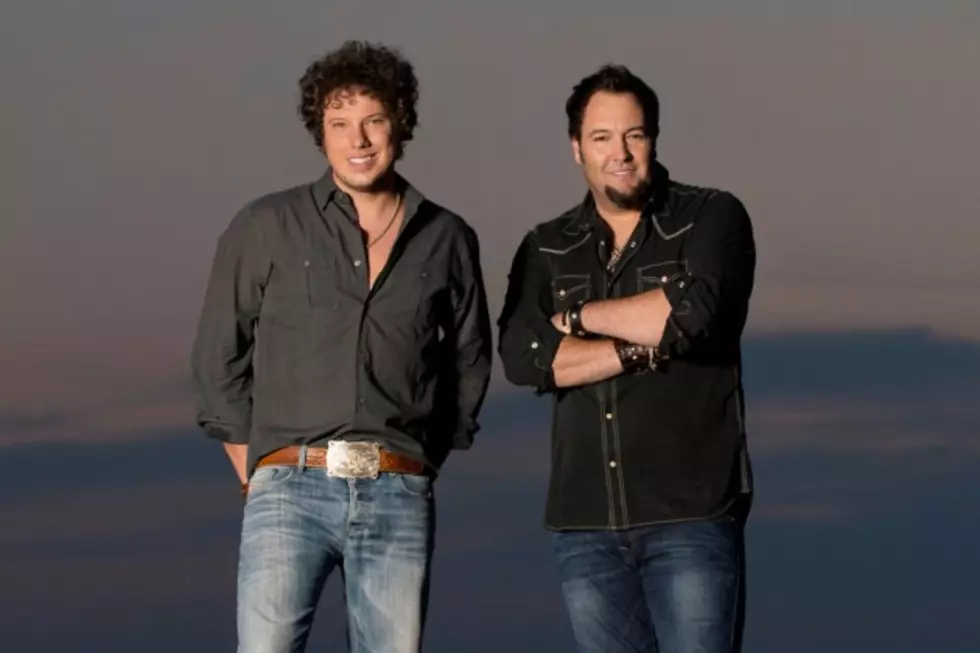 The Rise, Fall and Resurrection of Halfway to Hazard
Courtesy of Webster PR
For most of a year in the early part of the decade, David Tolliver of Halfway to Hazard sold tires at Sears for his paycheck. It's a good job for an average bloke, but most would agree it's not where a man who's written for and played with Tim McGraw should end up — Jason Aldean told him as much. His duo was hot stuff in 2007, and he knew it.
"I know definitely from my point of view, I thought we had it all and I thought I was everything and I wanted to be everything, and I was everything," Tolliver tells Taste of Country between sips of coffee at a shop on 8th Ave. in Nashville. "It's just like Chad said, a little humble pie makes you look back and go, 'Man, I shouldn't have said that.'"
Chad is Chad Warrix, Tolliver's longtime friend and bandmate. Warrix did say that, and there are lessons he's learned about life and business in the last seven years. But mostly, both men are talking about Tolliver.
I just wanted to party, I wanted to get out there and meet all the girls after the show. I wanted to drink everything I could and do everything I could.
"I'm comfortable with saying that the majority of it was my fault," Tolliver says. "I just wanted to party, I wanted to get out there and meet all the girls after the show. I wanted to drink everything I could and do everything I could."
Their first single on Mercury Nashville was the heartbreaking ballad "Daisy." Their second and final release was "Devil and the Cross." In between, they released a critically-acclaimed, but commercially unsuccessful self-titled album. Less than two years later, they were dropped. If you judge an artist's impact by chart numbers and sales figures, then Halfway to Hazard is a no-hit wonder. However, in the six years or so since their second album's release, fans have continued to ask about them. Industry and radio members wondered what they were up to. Their short commercial career cast a long, long shadow.
McGraw is responsible for that. In 2007, the singer's relationship with his own record label was beyond repair. He didn't talk to radio to promote his own music, but he'd hit the road in support of H2H. He invited Tolliver and Warrix on tour — twice! At one point, Mercury wanted the duo off the tour, and McGraw was anything but selfish.
"He loved us and the project that much that he was like, 'I'll step away from it completely if you think it will help you. Or I'll go all in with you.'"
The chose all-in,
"Our relationship with our record label never was exactly where it should be," Tolliver says. "They fired a bunch of people when we first got there … we probably had 20 (radio promotion) regionals while we were there."
"And then we had the next tour with McGraw, and I think Chad probably felt it too," he adds, "Things weren't clicking just like they should."
Things were slipping away. As 2009 turned into 2010, Tolliver and his wife separated. "About that time is when the wheels came off for him," Warrix says. The shorter-haired member of the duo decided he needed to step away, to save his marriage.
It didn't work.
"I thought if I give up music I'll save this marriage," Tolliver says. "Music wasn't the problem, I was the problem. I didn't see that at the time. It took me another year to see that ... 'What the hell have I done?'"
Warrix took a job playing guitar, first for Randy Houser, then Keith Anderson. At every stop radio deejays would recognize him and ask when Halfway to Hazard would be back. The consensus was that in 2007 they were just ahead of their time — a theory proven by how well Halfway to Hazard stands up to the albums of 2015.
Tolliver got to work, as well.
"I actually went to Sears and got a job and sold tires," he recalls, adding that he was a top salesman during his time there. "Jason Aldean came through a couple times and was like, 'Dude, what are you doing here?' I'm like, 'Bro, I got a real job. I'm a big boy.' He's like, 'Dude you shouldn't be doing this.'"
I know definitely from my point of view, I thought we had it all and I thought I was everything. And I wanted to be everything, and I was everything.
McGraw agreed. One day — not long after Tolliver finished rehab — the singer called and asked if Tolliver was writing. The thrill wasn't totally gone for the Kentucky native. He'd been quietly penning songs, but didn't know that he wanted to start it up again. They hung up, McGraw called again. They hung up again and McGraw called back ... with an offer to work for his publishing company, StyleSonic.
"He goes, 'I'm gonna pay you this much a year. Just write for me,'" Tolliver says.
You could call that the turning point, or maybe it was the day he reluctantly entered rehab and started counseling. McGraw and artists like Brantley Gilbert and Jerrod Niemann have cut his songs. H2H have continued to play here and there, and every time, they were able to shake off rust within a few chords. It's not fair to say they're now reunited. The band is now refocused.
"It feels … less frantic. It just feels a little more mature," Warrix says, comparing now to then. Both men feel the urgency of age, and both men aren't as thrilled by the thrills of being young and famous. On the road they go to bed earlier, keep the same company longer and are just all around more professional. Both have families and kids. Tolliver has a girlfriend and has patched things up enough with his ex-wife to be friends.
"I feel like I've grown more in the past three years than I did in the previous 20-some odd years, as a writer," Tolliver says. "Musically and lyrically."
There's no single or pending record deal yet. The band is in studio with their own players to record their third album, and while they're moving with purpose, they're not rushing. Halfway to Hazard still want a radio hit, so don't expect them to be satisfied with getting a song as far as Pandora. But if it doesn't work out, they know other things are more important.
"We know what goes where now," Tolliver says. "God, family, country ... show, to be frank about it. We know where we need to be. We're (going) the same direction now."
Watch Halfway to Hazard's "Daisy" Music Video
11 Must-Have Albums of 2015
More From Taste of Country