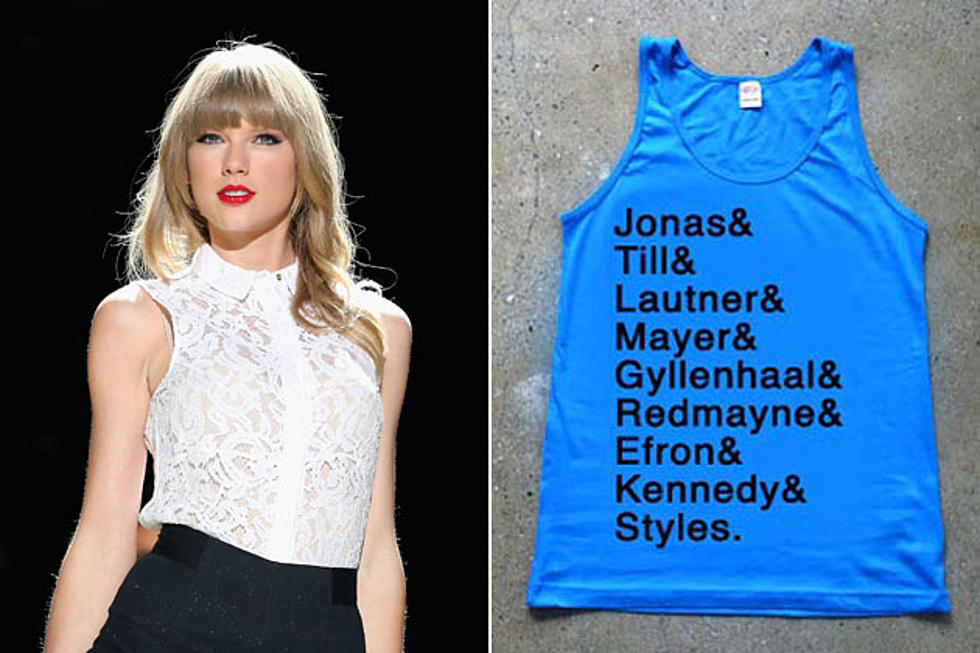 Taylor Swift Fans Threaten Clothing Company Over 'Ex-Boyfriend' Tank
Christopher Polk, Getty Images / Bad Kids Clothing
Clothing companies are starting to learn not to mess with Taylor Swift. Her fans will never (ever) put up with anyone who tries to tarnish the 'Red' singer's image. When Bad Kids Clothing created a tank with Swift's alleged boyfriends on it Swifties united in disgust at the company's website and social media pages. 
It's been less than a month since fans got a shirt made by Abercrombie & Fitch pulled from the stores. However, Bad Kids Clothing didn't think anything of creating a custom tank top for a friend planning to attend the songstress' concert. It lists the last names of ten rumored Swift ex-boyfriends, including the late Cory Monteith (before the horrific news about his death).
Swifties were not amused, as one fan wrote, "Have you not learned from the Abercrombie & Fitch incident, or is that incident that [sic] gave you this sickening, inhumane idea of a joke?"
According to TIME, a day after posting the shirt, Andi Cross (the owner of Bad Kids Clothing) reported she had already received 150 emails, 99 Twitter notications, 30 Facebook messages or notifications, and scores of text messages regarding the shirt. They weren't just messages though; they were also threats to burn down the store, predictions of the company's bankruptcy, and personal attacks at the owners. You can say that Swift's fans were really seeing 'red' with this new article of clothing.
Instead of relenting, the store blogged about the controversy, saying, "We will not be removing the shirt from our store. We will however remove Cory's name. This shirt is intended to be light hearted and a joke -- for those who can understand this type of humor." The shirt is listed on their website as"the most hated shirt in all the land" and is offered in men and women's versions. Posts at the company's Facebook page make it clear they're enjoying the attention.
They added, "We will deal with the death threats and incredible slander from here on out, when necessary, with proper authorities as it is never acceptable to threaten anyone's life. Let's collectively focus our efforts on things that matter, as we are sure Cory would have wanted that. Along with the one and only, Taylor Swift."
Although it sounds like Bad Kids Clothing intends to keep their shirt up (especially as their sales have increased due to the attention), Swift fans are pretty relentless. Hopefully the controversy will die down before things get really ugly.
More From Taste of Country