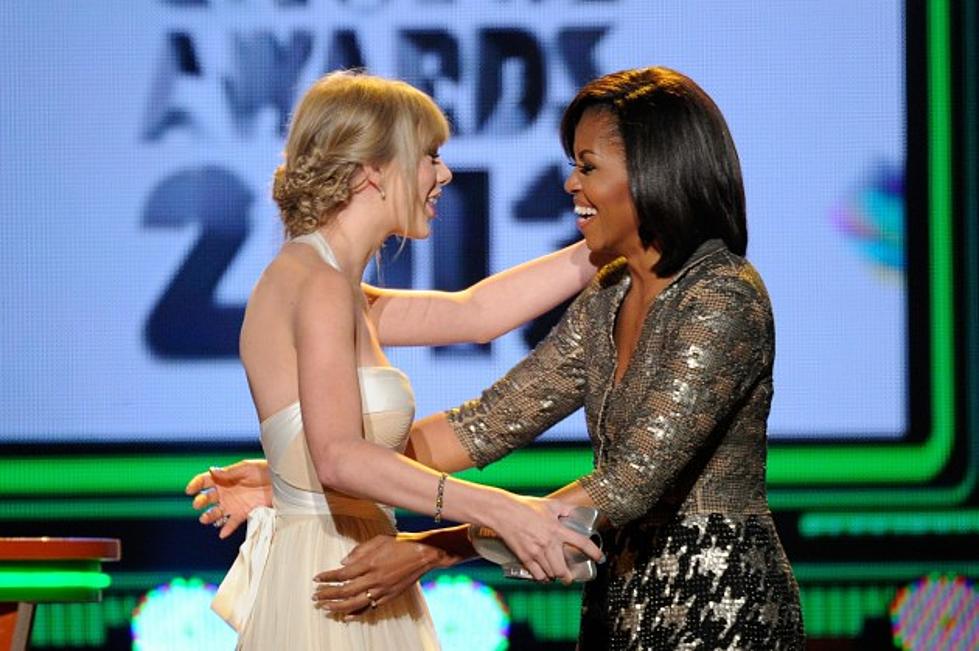 Taylor Swift Reflects on Meeting First Lady Michelle Obama
Last week's country music news was abuzz with news of Taylor Swift taking home the 2012 ACM prize for Entertainer of the Year. But you might have overlooked that before country's sweetheart was gushing thank yous onstage in Las Vegas, she was hanging out with First Lady Michelle Obama at the 2012 Nickelodeon Kids' Choice Awards. The First Lady presented Swift with the Big Help award for her philanthropic efforts.
The 'Mean' singer called the experience "amazing," and said she would never forget meeting the First Lady.
"I've never gotten to meet her before and I'd always just been really nervous about meeting her 'cause I'm such a big fan and she's such a role model," Swift explained (quote via Big Machine Records). "And she was so cool! She was so cool and she was so nice, and I met her daughters!"
Considering the Entertainer of the Year's record of involvement with charitable organizations, it's no surprise that the First Lady herself was the one on hand to give her the Big Help award. Swift is a champion for several organizations that reach out to children, including the Make-a-Wish Foundation, St. Jude Medical Center, the Red Cross, Habitat for Humanity, the Salvation Army, Nick's Kids, the TJ Martell Foundation and the Victory Junction Gang Camp.
More From Taste of Country