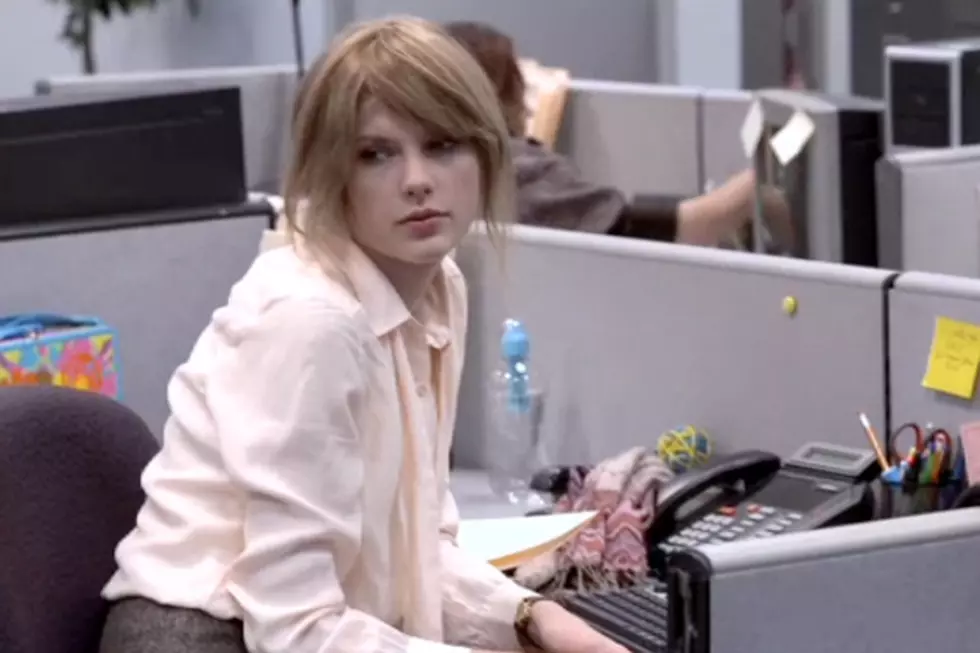 Taylor Swift Shows Off 'Corporate Not Chic' Look From 'Ours' Video – Webisode Six
Big Machine Records
The latest behind-the-scenes clip from Taylor Swift's 'Ours' video is all about her character's on camera look: bland office attire, unkempt hair and hardly any makeup. "I call this corporate not chic," Swift says in the brief video seen below, which is the sixth in a series of 13.
"These are the shoes that I come into the office with, and I change shoes at my desk because I don't want to be uncomfortable," she adds, modeling a pair of running shoes. "Nothing says 'I don't care about my job' like wearing these."
Swift's stylists had to come up with a look that felt natural and realistic for her average working girl character -- a look that is quite the opposite from the sparkly stage costumes and glamorous red carpet ensembles that she's usually seen in.
"I told Declan [Whitebloom] I really don't want this to be something where it looks like it's trying to be a cute music video as far as, like, fashion sense," the singer explains. "I didn't want it to be anything fashionable or anything you would aspire to."
In the words of Whitebloom -- the 'Ours' video director -- Swift's look is meant to be "dowdy, frumpy, not attractive."
Watch the new behind-the-scenes webisode now, and keep Taste of Country bookmarked to see the rest of the 'Ours' series as it's released.
Watch the Taylor Swift Behind-the-Scenes 'Ours' Clip - Webisode Six
More From Taste of Country