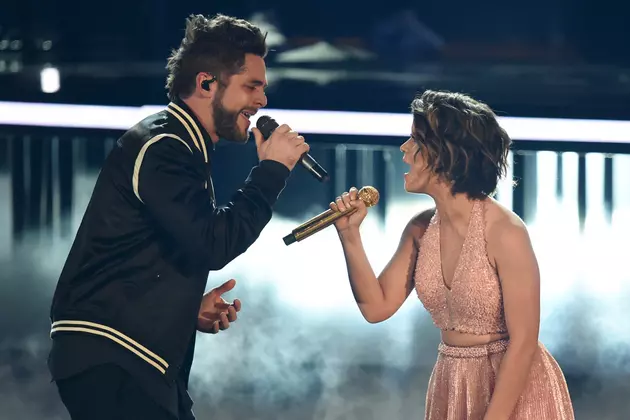 Lyrics Uncovered: Thomas Rhett, 'Craving You'
Ethan Miller, Getty Images
Thomas Rhett's new single with Maren Morris is a breath of fresh air at country radio, and according to one of the writers behind the "Craving You" lyrics, the song was just as much fun to write as it is to listen to.
Rhett was scheduled to write with Dave Barnes and Julian Bunetta on the day that "Craving You" was written in June of 2016, but missed the appointment due to illness. Though disappointed, the pair decided to go ahead with the session.
Bunetta wanted to write something upbeat and dance-y, and as Barnes recalls, the song happened very easily. He suggested the title, which he'd had for a while.
"I just remember loving the idea of craving," he tells Taste of Country. "It's such a powerful sentiment. More than wanting; it's like, 'Man, I'm not gonna do well if I'm not having this thing.' And Julian loved it."
Bunetta began playing the framework of the music, and the co-writers engaged in a friendly back-and-forth, with both stepping in to provide the "Craving You" lyrics, melody and accompanying music as needed, egging each other on. The song took just three hours to write.
"It was just a really, really fun, easy, wonderful day," Barnes recalls. "It was one of those days that you think, 'Gosh, if that was how this always was, it would feel like cheating.'"
Bunetta's background is mostly in pop music, and that allowed him and Barnes to take some big creative risks on the track, which is very progressive by country radio standards. Knowing they were writing for Rhett, who has helped spearhead a new style of pop-country hybrid in recent years, made them comfortable to take those liberties, and when they sent the finished track to Rhett, his reaction was immediately enthusiastic.
"He texted me about a week later and said, 'Man, I love this song, thank ya'll so much for writing it, I'm gonna cut it, it sounds awesome,'" Barnes says.
It was one of those days that you think, 'Gosh, if that was how this always was, it would feel like cheating.'
The "Craving You" lyrics speak to an almost obsession with the object of one's affections.
"You're like that cigarette, that shot of 100 proof / No matter how much I get, I'm always craving / That feeling when we kiss, the way your body moves / No matter how much I get, I'm always craving you / Craving you," the chorus says.
Rhett followed up with him several times, sharing some of the recording of the song via FaceTime and updating Barnes about its progress. One day Barnes received a seemingly random text from Maren Morris that read, "Man, love the song."
"I texted her back, and I was like, 'I have no clue what you're talking about,'" he says with a laugh. "She says, 'Gosh, maybe I wasn't supposed to tell you, but I went over and sang on 'Craving You,' and it sounds awesome.' And I was like, 'Well, this just got more interesting.' It's been such a fun ride, because it kept taking these little curves."
He found out it was going to be the lead single from Rhett's hugely-anticipated new album through yet another cryptic text. He was in the middle of writing another song with Jordan Reynolds, with whom he and Rhett have collaborated.
"I got a text from Thomas from out of nowhere that said, 'Congrats,'" Barnes recalls. "I scrolled backward through some texts, wondering if I had sent him something that he's checking in a day or two later." When he asked what Rhett meant, the star replied that "Craving You" was not only going to be his next single, but he and Morris were also set to debut it at the 2017 ACM Awards.
"I was absolutely gobsmacked. I got so emotional, I was trying to hold back tears, and I said, 'I'm gonna cry on the phone.' And he said, 'I'm hanging up if you cry on the phone,'" Barnes relates with another laugh.
"I really try to savor those moments, because you work so hard for these kind of things, to really be present and let it all hit you, it's hard, because you start dreaming a million different things. I was really trying to enjoy that day. I got to go in and tell my wife, and we were really both just over the moon about it. Those are the moments you really work for, those kind of little special moments."
Considering the winning streak Rhett has been on at country radio recently, it's not unrealistic to predict that "Craving You" will be his next No. 1 hit.
"That's my hope," Barnes acknowledges. "I've been so fortunate. The two singles that I've had in country music have been between Blake [Shelton] and Thomas, who are not just massive artists. When Blake released 'God Gave Me You' he was reaching his zenith, and he's still there! And Thomas is on such a roll right now, and it's so fun that it's gonna be the first single off a new record. I feel very blessed and super thankful that both of these moments have been with people I really admire and have a lot of respect for. And in these really big seasons of their career, where they're kind of everywhere. I get to keep hearing the song, and it's a really fun season. I'm really thankful it's on the radio at all, and anything after this is gravy. Just to have it out there is a win."
Thomas Rhett's "Craving You" Is Emotional
More From Taste of Country